Do you have questions about loans? Follow along as Will chats with his banker about getting a car loan in this episode of Personal Finance 101 Chats.
Please note: Due to recent upgrades to some internet browsers, the Personal Finance 101 Chats may not work well for all users. We suggest using the chat transcript below as an alternative to the chat application.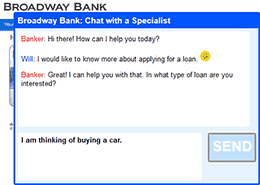 Spanish version / versión español
---
Chat Transcript
Banker: Hi there! How can I help you today?
Will: I would like to know more about applying for a loan.
Banker: Great! I can help you with that. In what type of loan are you interested?
Will: I am thinking of buying a car.
Banker: Okay, sure, I can help you! I have just a few questions. First, will this car be for personal use?
Will: Yes. I recently moved to this area and will need a car to get around.
Banker: I see! I will send you an application form. Will you be applying for the loan by yourself or with someone else - maybe your spouse or one of your parents?
Will: I would be the only one applying for the loan, so that makes me a little nervous.
Banker: Don't be concerned!
I will help you through the process. Here are some things you will have to include on the form:
Banker: 1) Your name, home and work addresses, and phone numbers, 2) Your drivers license information, and 3) information about your employer.
Will:What do you want to know about my employer?
Banker: We would need the name and address of the company, how long you've worked there, and how much you are paid.
Will: Is that all?
Banker: Yes, that's all the information we need about your employer, but we still need other information. You'll have to tell us whether you are buying a new or used car and whether it is from a car dealer or an individual. We will also need the seller's name and address.
Will: It makes a difference whether it is a new or used car?
Banker: Yes, that can affect the loan's interest rate. We will also need to know the make, model, and vehicle identification number for the car, and how many miles, if any, are already on the car. If you are buying from a car dealership, the salesman will be able to help you with this information.
Will: This should not be too painful at all. What other information do you need?
Banker: We will need to know the amount that you want to borrow. Also, for how many months you want to borrow.
Will: Oh, great! I was going to ask about the loan duration. Does it make any difference whether I borrow for 24, 36, 48, or 60 months?
Banker: Yes, it does. Generally, when you borrow for a longer period of time, your monthly payment is lower.
Will: Hey, that is great!
Banker: Well a lower payment is good. But, borrowing for a longer time also means that in the end you pay more for the car. Here is a chart that will help you better understand:
---
If you have difficulty accessing this content due to a disability, please contact us at 314-444-4662 or economiceducation@stls.frb.org.