Follow the conversation between a father and daughter as they discuss "Buy Here Pay Here" car dealers in this episode of the Personal Finance 101 Chats.
Please note: Due to recent upgrades to some internet browsers, the Personal Finance 101 Chats may not work well for all users. We suggest using the chat transcript below as an alternative to the chat application.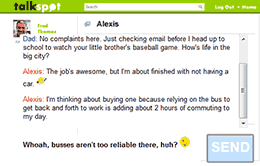 ---
Chat Transcript
Alexis: Hey Pop, how's your day?
Dad: No complaints here. Just checking email before I head up to school to watch your little brother's baseball game. How's life in the big city?
Alexis: The job's awesome, but I'm about finished with not having a car.
Alexis: I'm thinking about buying one because relying on the bus to get back and forth to work is adding about 2 hours of commuting to my day.
Dad: Whoah, busses aren't too reliable there, huh?
Alexis: Um... no.
Dad: So, what are you thinking of buying? Have you looked around, talked to any dealerships?
Alexis: Yeah, sort of. There's a place close to where I work that I see every day when I'm on the bus. They have a sign that says I can make payments right there and they don't do credit checks.
Dad: Hmmm…Those 'Buy Here Pay Here' places tend to have really high interest rates and not usually the best cars. Have you done any research on the type of car you want and the interest rates your bank offers?
Alexis: Oh, um. No, but there's an AWESOME SUV at this place that looks like it's in great shape! It's that kind of dark tan color that looks so good on those things.
Dad: What are they asking for it? How many miles does it have? What year is it?
Alexis: meh, I dunno? I just see it when I'm going by on the bus and it would be soooooooooooo much more convenient if I had a car. There's even a parking space in the lot behind my apartment that I could use.
Dad: Ok, I want you to stop by there sometime this week and find out the things I just asked, plus the interest rate they offer for financing the car there.
Alexis: Ok, cost, interest rate, mileage, and year. Got it.
Dad: Whatever you do and whatever they say to you, DO NOT SIGN ANYTHING.
Alexis: um, Dad... calm down. I'll be fine. Go see Shawn's baseball game. I'll touch base with you when I have some more info.
------------SEVERAL DAYS LATER---------------------------------------------
Dad: Hey Lex, did you get a chance to stop by that dealership?
Alexis: ugh, yes. What a nightmare that was! Those guys were super shady, Dad. Super - shady!
Dad: What do you mean? Did you SIGN anything? What happened?
Alexis: Well, first of all, they wouldn't just leave me alone and let me look around at the cars. This guy was a total creeper... all following me around the lot talking while I'm trying to get some idea what I like.
Dad: Welcome to the fun world of buying a car. But what makes you say they're shady?
Alexis: Well, I had my list of questions that you gave me and they didn't seem like they wanted to tell me the information about the interest rate.
Alexis: They just kept asking what I could afford to pay each month and said the interest rate didn't really matter, as long as they could get me in a car within my budget.
Dad: Well, that's the problem with a lot of those 'Buy Here Pay Here' type places. They're not really regulated like normal financing companies.
Dad: Technically, they're really a car dealer... but they do all the financing, so they can charge whatever they want. Did you find out anything else?
Alexis: Well, the bottom line is that I can get the SUV for a monthly payment of $334 for 4 years. The guys were creepy, but I really could afford that car payment.
Dad: Whoah, first things first. What's the price for the SUV that you want?
Alexis: It's $10,000. It's a 2002 with about 110,000 miles on it.
Dad: Ok, for starters, I'm looking at the kbb.com website right now and that car's only worth about $5000, if it's in perfect shape.
Alexis: um, what's kbb.com? How do you know what the car's worth?
Dad: Oh boy, I've got a lot to teach you about buying a car. kbb.com is the site for Kelley Blue Book. It's a company that sets appraisal values for vehicles.
Dad: It's a good place to start researching used cars when you're thinking about buying one.
Alexis: Good to know...
Dad: Now I'm using an online calculator to figure car payments and interest. Based on what you've told me, that the car costs an outrageous $10,000!
Dad: You'll be paying $334 a month for 4 years, I can see that the interest rate is going to be almost 26% on this car!
Dad: Baby, that's just outrageous! I really think you should reconsider this purchase.
Alexis: But I neeeeeeeeeeed a car, Dad! This seems like the easiest thing to do. What other options do I really have?
Dad: Well, for starters, you should talk to your bank or credit union about qualifying for an auto loan.
Dad: A loan officer there will ask you for some information about your income and other debt you've got, then will help figure out how much you can afford to spend on a car.
Alexis: Ok, but they're still going to charge me interest if I take a loan, so what's the difference.
Dad: Well, average car loans are running closer to 8-10% right now instead of the 25% these guys want to charge you.
Alexis: Ok, I get that. But isn't that same sort of car going to cost me about the same wherever I go?
Dad: NO! The thing about 'Buy Here Pay Here' places is that they offer a very particular type of service.
Dad: For people who have had a hard time with credit in the past, this is an option (a VERY EXPENSIVE option).
Dad: Dealers like this let them drive a car despite poor credit. In turn, the dealer charges a lot more for this service because their customers may be more of a credit risk.
Alexis: Is that even legal?
Dad: Yeah, of course. Sometimes, 'Buy Here Pay Here' places are really the only option, and when you need a car, you need a car.
Alexis: I NEED A CAR!
Dad: Yeah, but because you don't have problems with your credit, you would really be better off to do some research!
Dad: Check out the more traditional car dealerships on a more practical used car and talk with your bank about financing options.
Dad: With a $10,000 loan at 9 percent interest over 4 years, your monthly payment would only be $248.85.! If you can afford $334, you can certainly afford $249.
Alexis: Yeah, I could.
Dad: And, in the long run you will have spent $11,944.80—that's $1,944.80 in interest instead of $6,032 in interest—that's a huge difference!
Alexis: Ya know, Dad…sometimes you actually make a good point. Kinda scary!
Dad: Um, thanks? I think?
---
If you have difficulty accessing this content due to a disability, please contact us at 314-444-4662 or economiceducation@stls.frb.org.