Follow along as Bianca gives Luis advice about how to fill out his tax forms in this episode of the Personal Finance 101 Chats.
Please note: Due to recent upgrades to some internet browsers, the Personal Finance 101 Chats may not work well for all users. We suggest using the chat transcript below as an alternative to the chat application.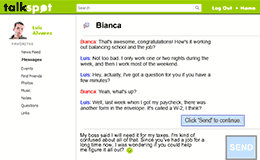 ---
Chat Transcript
Bianca: ¿Qué pasa Lucho? How's my baby cuz?
Luis: Hola Bianca! I'm so happy! With the money I've been making at my new job I just got this new computer! I love it!
Bianca: That's awesome, congratulations! How's it working out balancing school and the job?
Luis: Not too bad. I only work one or two nights during the week, and then I work most of the weekend.
Luis: Hey, actually, I've got a question for you if you have a few minutes?
Bianca: Yeah, what's up?
Luis: Well, last week when I got my paycheck, there was another form in the envelope. It's called a W-2, I think?
Luis: My boss said I will need it for my taxes. I'm kind of confused about all of that. Since you've had a job for a long time now, I was wondering if you could help me figure it all out?
Bianca: Of course! It's super easy when you know where to look.. Hang on and I'll set up a screen sharing session so I can show you where to find everything you need on the computer.
Luis: Binky that would be so awesome!
Bianca: Don't call me Binky!
Bianca: Ok, click 'Accept' and you'll be able to see my computer screen:
Luis: Ok, that's easy enough with my new computer!
Bianca: Ok, so the easiest thing to do is to just print the form from the IRS website. You can just do a web search for 1040EZ and it should come right up. The only other thing you'll need is the form from your work, the W-2.
Bianca: Right, ok, so this first section is pretty self-explanatory. You need to know your Social Security Number. Since you're not married, you don't need to include any of the spouse information.
Luis: Ok, that all makes sense.
Bianca: This next section comes straight from your W-2 form.
Bianca: Here I pulled up this sample W-2 form to help show you what to do. On the line marked 1 on the 1040EZ, you write the dollar amount that is in box 1 of the W-2. From this sample we've got, it's $4150.27
Luis: Yep, found it on my form.
Bianca: Ok, so for lines 2 and 3 you probably don't have anything.
Luis: Um, not that I know of?
Bianca: yeah, no worries. For line 4 you just use the same number as line 1, since you didn't have anything in lines 2 and 3.
Bianca: For line 5, Check the box for "You", since your mama will definitely claim you on her taxes, then scroll down to the worksheet on page 2 to the section called "Worksheet for Line 5 – dependents Who Checked One or Both Boxes"
Luis: Uh oh, do I need more information for this?
Bianca: Nope, this is the easy stuff. In the box to the left on Line A, just put the amount from Box 1 on your W-2. Then add $300 to that number and enter it in the box on the right. They already did line B for you. In line C just put whichever number is bigger, the one in line A or the one in Line B.
Luis: Line A will be bigger for me, since I made a little more than $200 this year.
Bianca: Ok, good. Unless you got married to your chica without telling anyone, you'll enter the "single" amount in line D, which is $5800.
Luis: Ha! No, not married quite yet…
Bianca: so line E is another easy one…just put whichever is smaller between line C and D… and in your case it sounds like that'll be line C, since you made a lot less than $5800.
Bianca: Now on line F you enter 0 because you're single. Then line G will just be a repeat of line E. This is the number you put in Line 5 on page 1.
Luis: This is crazy like some kind of scavenger hunt!
Bianca: I know, right? Line 6 is easy. If line 4 is bigger than line 5, then you just subtract line 5 from line 4 and put that number in line 6. If line 5 is bigger, then just put 0 in line 6.
Luis: Ok, that makes sense. Well not really—but I understand what to do.
Bianca: Ok Lucho, not to look at your Payment, Credits, and Tax. Line 7 should come from box 2 on your W-2.
Luis: Ok, I see that on my form.
Bianca: Ok, you won't have anything for line 8, since you're still in school and your mama can claim you. Line 9 is another easy one, you just bring down the number from line 7.
Bianca: Now for you, line 10 should be 0, since line 6 was 0… but just in case, the tax table in the instruction book they're talking about on line 10 is easy to find. Just do a web search for "1040EZ Instructions."
Luis: Whoah! That looks complicated!
Bianca: It's really not so complicated, and if your numbers are different next year and you need help using this table, you can always ask me or your mom or another adult who is close by.
Luis: Ok, thanks Binky!
Bianca: Don't call me Binky!
Bianca: Ok, are we ready to talk REFUND?
Luis: YES!
Bianca: In line 11a, you just subtract line 10 from line 9. But if line 10 were BIGGER than line 9, you'd have to fill in line 12… which would mean you owe money!
Luis: Hey, what's this about having my refund directly deposited/ Can I do that?
Bianca: Yeah, if you have a checking account, it's easy!
Luis: I do! How can I do this?
Bianca: Ok, just grab one of your checks. Along the bottom there will be three sets of numbers. In 11b you'll put the Routing Number, which is the set of numbers on the left side of the bottom of your check.
Bianca: In 11c, you'll check that it's a checking account, then in 11d you'll put your account number, which is the set of numbers in the middle of the bottom of your check.
Bianca: The last set of numbers on the right side of the bottom is just the check number. You won't need that now.
Luis: Ok, got it! Now I'm good to go? Wait, what's this about a 3rd party designee?
Bianca: You can use that box if you want the IRS to be able to ask someone else, like me or your parents, about anything on your taxes that isn't clear.
Bianca: That's totally up to you, but if you put someone's name and phone number there, you should plan on going over your tax info with them so they know what to expect.
Luis: Ok, that makes sense. I think I'll just leave it blank.
Bianca: Ok by me. Now you're almost ready to send it in. You'll just need to sign with an ink pen (no pencils!).
Bianca: Then make sure that you make a copy of the form if you filled it in with pen, or print a second copy if you filled it in on the computer. You always want to keep copies of your tax documents for your own records.
Bianca: You can also file electronically if you want, which means you'll fill all this information out online through a tax preparation website, then submit the form electronically.
Bianca: Sites such as turbotax.com, efile.com, or hrblock.com have simple instructions and they walk you through the whole thing.
Luis: Awesome! This wasn't hard at all Binky, you're the best big cousin a kid could have!
Bianca: DON'T CALL ME BINKY!
---
If you have difficulty accessing this content due to a disability, please contact us at 314-444-4662 or economiceducation@stls.frb.org.