Morris Goes to School Lesson for Grades 1-3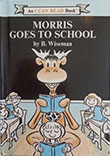 "Human capital" refers to the skills, education and talent that people possess. People invest in their human capital through education, on-the-job training, and practice. Throughout their school careers, students make investments in their human capital. Introducing this concept to younger students can help them understand why school is valuable, and allows us to build on their initial understanding of human capital in later years.
In this lesson, students learn about human capital and why it is important to improve theirs. They first observe a skit about a boy who could not read and then listen to a story about a moose who could not read or count. They then learn how investing in human capital helps both the boy and the moose achieve their goals. After thinking about their own human capital, students identify human capital needed by various workers to do their jobs. Students survey adults about their skills and investment in human capital and how and why the adults invested in their human capital in the past year. On Day Two they analyze the results of their surveys. Students draw generalizations about the skills the adults have and how and why they improve their human capital. They compare their own knowledge and skills with those of the adults they interviewed. Finally, students answer the question, "Why do we need to go to school?"
This lesson plan is designed for teaching grades 1, 2, and 3.
Book written by Bernard Wiseman (ISBN: 978-0-06-444045-5). Braille and Talking Book versions are available via the National Library Service for the Blind and Print Disabled. Library of Congress catalogue numbers are provided for accessible versions. The books can be accessed through BARD (Braille and Audio Reading Download). The book is available in Talking Book LCCN 2016994564.
Awards

This lesson received the 2017 Curriculum Gold Award from the National Association of Economic Educators.
Read more about our award-winning resources »



---
If you have difficulty accessing this content due to a disability, please contact us at 314-444-4662 or economiceducation@stls.frb.org.
Find More Economics and Personal Finance Resources