Meet Kit: An American Girl Lesson for Grades 3-5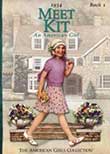 Students listen to the story Meet Kit about a young girl's life in America during the Great Depression. They learn through discussion and role-playing about the impact that unemployment and reduced consumer and business spending can have on people's lives.
• Lesson (pdf)

• Whiteboard (SMART/notebook)

• Whiteboard (ActivInspire/flipchart)
This lesson plan is designed for teaching grades 3, 4, and 5.
Book written by Valerie Tripp / ISBN: 1-58485-016-7. This book is in print and available.
---
If you have difficulty accessing this content due to a disability, please contact us at 314-444-4662 or economiceducation@stls.frb.org.