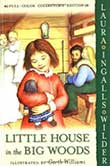 Little House in the Big Woods describes how the Ingalls family produced the goods they needed to survive while living in a log cabin far from their nearest neighbors. In this lesson, students will define the production function as the combination of inputs that results in outputs and will identify the inputs as human resources, capital resources, natural resources, and intermediate goods.
• Lesson (pdf)

• Whiteboard (SMART/notebook)
This lesson plan is designed for teaching grades 4, 5, and 6.
Book written by Laura Ingalls Wilder / ISBN: 0-06-058180-8. This book is available in print and electronic format.
---
If you have difficulty accessing this content due to a disability, please contact us at 314-444-4662 or economiceducation@stls.frb.org.