Glo Goes Shopping Lesson for Grades K-3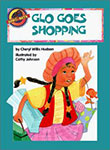 Students listen to the story, Glo Goes Shopping. They learn about saving, spending, decision making and opportunity cost. They learn to use a decision-making grid to make decisions. Mathematics skills include learning about rows and columns in a grid.
This lesson plan is designed for teaching grades K, 1, 2, and 3.
Book written by Cheryl Willis Hudson (ISBN: 978-0940975842). This book is in print and available.
---
If you have difficulty accessing this content due to a disability, please contact us at 314-444-4662 or economiceducation@stls.frb.org.
Find More Economics and Personal Finance Resources