Encuentre respuestas rápidas a preguntas frustrantes sobre finanzas personales que aparecen de vez en cuando. Seleccione un tema y vea un breve intercambio de mensajería instantánea (pregrabado) con un experto financiero.
Please note: Due to recent upgrades to some internet browsers, the Personal Finance 101 Chats may not work well for all users. We suggest using the chat transcript below as an alternative to the chat application.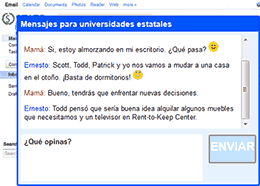 versión inglés / English version
---
Transcripción de conversación
Ernesto: ¡Hola ma! ¿Tienes un minuto?
Mamá: Si, estoy almorzando en mi escritorio. ¿Qué pasa?
Ernesto: Scott, Todd, Patrick y yo nos vamos a mudar a una casa en el otoño. ¡Basta de dormitorios!
Mamá: Bueno, tendrás que enfrentar nuevas decisiones.
Ernesto: Todd pensó que sería buena idea alquilar algunos muebles que necesitamos y un televisor en Rent-to-Keep Center.
Ernesto: ¿Qué opinas?
Mamá: ¿No pensaron en otras opciones?
Ernesto: ¿Cómo qué?
Mamá:Juntar muebles usados de algún familiar o comprarlos en un local de ventas de caridad.
Ernesto: Muebles usados, ¡no tiene onda!
Mamá: No será buena onda, pero es más barato.
Ernesto: Bueno, buscaremos en nuestros sótanos o en la casa de nuestros abuelos. ¿Y el televisor?
Mamá: ¿Alguien ya fue a Rent-to-Keep Center?
Ernesto: Sí, nos dimos una vuelta para ver si había algún televisor y enseguida el tipo nos pidió que firmáramos un contrato.
Mamá: ¿Sabes lo que es un contrato, qué significa?
Ernesto: Creo que sí.
Mamá: ¿Sabes qué son las partes competentes, la contraprestación y el acuerdo mutuo?
Ernesto: ¿Eh?
Mamá: Un contrato es una promesa legalmente vinculante entre las partes que es exigible por ley. Por ejemplo, los jugadores de fútbol profesionales firman contratos con sus equipos. Nosotros firmamos un contrato con el pintor que pintó el exterior de nuestra casa, cosas por el estilo.
Mamá: Existen elementos clave para entender un contrato: partes competentes, contraprestación y acuerdo mutuo.
Ernesto: Ah, de acuerdo. ¿Debo saberlo?
Mamá: Sí, por supuesto. Las personas que firman un contrato deben entender las condiciones que están aceptando. Entonces, una persona que tiene una discapacidad mental no se debería considerar parte competente. Y los menores de 18 no pueden firmar un contrato sin el consentimiento de los padres.
Ernesto:¡No sé si te entiendo!
Mamá: La contraprestación es algo de valor que las partes intercambian en un contrato. El pintor pintó la casa y nosotros le pagamos.
Mamá: Acuerdo mutuo significa que cada una de las partes debe entender claramente los detalles esenciales del contrato. Parece pura palabrería. Pero significa que debes entender los derechos y obligaciones que se establecen en el contrato.
Ernesto: Entonces lo primero que tenemos que hacer es leer el contrato, ¿verdad?
Mamá: Ese sería un buen comienzo. Y no firmen nada antes de consultarme y que tus amigos consulten a sus padres.
Mamá: ¿Por qué prefieren el arrendamiento con opción a compra en vez de comprar el televisor?
Ernesto: No contamos con el dinero para comprar uno grande de pantalla plana ahora, pero con el arrendamiento con opción a compra lo podemos tener ya. ¡Ni siquiera tenemos que pagar por adelantado!
Mamá: A ver ¿cuánto sería el pago mensual? ¿Y cuántos meses deberían pagar para ser propietarios del televisor?
Ernesto: Bueno, nos dijeron que serían $159.20 durante 12 meses. Y entonces sería nuestro.
Mamá:Según mi calculadora, eso sumaría $1,910.40. ¿Cuánto costaría si lo compran directamente en una tienda? Fíjate en Google.
Ernesto: Dame un minuto.
Ernesto: Oh, podríamos comprar uno igual por $1,449.50. ¡Uy, casi $500 menos!
Mamá:¿Y qué pasaría si no pueden cumplir con alguno de los pagos del contrato de arrendamiento con opción a compra?
Ernesto: Tendríamos que devolver el televisor.
Mamá:¿Todavía piensas que es una buena idea? Creo que entre los cuatro pueden encontrar una idea mejor para comprar un televisor.
Ernesto: Bueno, hablaré con ellos. Pero por lo menos con esta opción, tendríamos el televisor de inmediato.
Mamá: Sí, claro, pero entre los cuatro pueden ahorrar algo de dinero en los próximos meses y obtener el televisor por mucho menos que la opción de arrendamiento con opción a compra.
Ernesto: Quizás tengas razón.
Mamá: ¡Me alegro!
---
En caso de experimentar dificultades de acceso al contenido de esta página, en especial debido a alguna incapacidad, favor de contactarnos al 314-444-4662 o vía el correo electrónico: economiceducation@stls.frb.org.