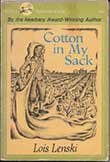 In this lesson, students learn about sharecropping and tenant farming by listening to the story Cotton in My Sack by Lois Lenski. In the words of the author, "They [the sharecroppers] were part of a vast economic system ... but they did not know they were part of it." In the lesson, students investigate the life of sharecroppers and identify the economic system to which they were connected. Students read and analyze informational text and cite specific textual evidence, comparing and contrasting sharecroppers and tenant farmers. Students complete a chart to identify references to saving, spending, labor, and income as they apply to the sharecroppers. Students use the book's index to locate specific information in the book. They evaluate the spending and saving choices made by the Hutley family and identify opportunity costs. Students also use evidence and information from the story to complete a writing assignment.
This lesson plan is designed for teaching grades 3, 4, and 5.
Book written by Lois Lenski / ISBN: B000W77OVO
---
If you have difficulty accessing this content due to a disability, please contact us at 314-444-4662 or economiceducation@stls.frb.org.