Harold Cole (University of Pennsylvania)
Paper: "Analyzing the Effects of Insuring Health Risks: On the Trade-Off between Short Run Insurance Benefits and Long Run Incentive Costs"
The paper's main takeaways, according to Cole:
In writing down an explicit model, we saw exactly where the frictions were that drove the regulation in various ways and, in particular, the need to try and regulate the form of the insurance policy and to mandate participation.
Thinking seriously about the ability of people to control their health and the impact of their health on both their income and their expenditures seems like an important component of thinking about what we should be trying to get people to do, whether we should have programs to try and push more of that effort on their part.
The Federal Reserve Bank of St. Louis hosted its 40th Annual Fall Conference on Oct. 15-16, 2015. David Andolfatto, a vice president and economist with the St. Louis Fed's Research division, sat down with each of the conference presenters and discussed their work in plain English. The content below is from those interviews. All interviews have been edited for clarity and length, so the content below should not be considered a transcript.
ANDOLFATTO
What's the basic idea behind this paper? What question are you asking here?
COLE
First of all,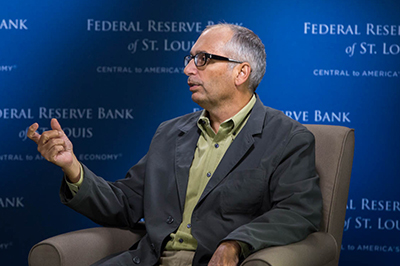 we were interested in to what extent health translates into either income or medical expenditures. To what extent do you face health risks? We were really primarily concerned about the years between when you start work and you finish work at retirement, thinking: "Is that big, and to what extent those risks are controllable by your own behavior?"
We all read about the obesity epidemic and various other things, the increased onset of diabetes. And, truth be told, the things we get interested in are motivated by our own life experiences. I have young kids, and I've had to deal with doing sports with them. I found myself back in the gym working out, thinking I've got to survive until pretty late out there.
So I was thinking about how much I was working to try and affect my health, and about the kind of risks and trade-offs that people face and the extent to which people can or are not incentivized to do something about things.
ANDOLFATTO
Your paper is specifically about examining the likely incentive effects of different certain legislations concerning health care. Can you describe what specific legislation you're interested in and your interest in what potential effects it has on the incentives for people to lead more or less healthy lifestyles?
COLE
One of the things that struck me was to what extent employers are being forced to basically eat the health-related costs associated with their employees. I started thinking about to what extent that then feeds back on the incentives of employees to take care of themselves.
I started thinking about it also in terms of Obamacare. Yes, we're going to be insuring a lot of people against their health-related things, and insurance obviously has big positive benefits. But at the same time, it might be affecting the degree to which they had an incentive to be more careful and take care of themselves.
ANDOLFATTO
Oftentimes as researchers when we approach questions—it's been my experience and I'm sure yours as well—we're motivated by things we actually see out there. Do you see examples of how people have modified their behavior in light of being insured in general or specifically owing to this legislation?
COLE
A lot of it is somewhat internal, which is that I certainly see myself responding, as I was suggesting, to the incentives and to the need to go out there and still be able to beat my kids in soccer and various other things. I see myself responding, so I assume that others, probably to a fair extent, will do so as well.
One of the big things we were trying to do was think about how you would model these policies. What's a nice environment in which to model these policies? Then we try and think about how you would take such a model to data.
A number of things came out that I thought were interesting. For example, we have a stylized version of Obamacare.
In the data, we have data on health status. So we're going to treat that as your pre-existing condition: If you have excellent health, that's your pre-existing condition. If you have the lowest—fair health, which is actually poor—that would be your pre-existing condition. And then the question is, "What kind of program would you have to put in place to prevent an insurance company from trying to price discriminate across the various groups?"
What impressed us was the extent to which you had to intervene. You could see that in the model, which is the extent to which you had to try and stop these guys from structuring the benefits—you know, what we would pay for—to try and prevent you from cherry picking.
ANDOLFATTO
Give me an example of that.
COLE
Let's think about the price/expenditure trade-off. If you have someone who has very low risk of some of these things, then if I take that out of the mix, that's not going to bother them very much. If you have someone else who thinks they face a much higher risk of those kinds of expenditures, then you might take…
ANDOLFATTO
Young versus old, for example?
COLE
Young versus old, but also the idea that people report things about their health status. They report in these surveys that we use, and what you find is they're fairly predictive in the sense that people who report good health status or excellent health status have significantly lower medical expenditures during that ensuing six years than people who report poor or fair.
ANDOLFATTO
Do you have, in your data, measures of how much time people allocate to maintaining their health?
COLE
What we have is one panel dataset called the PSID, Population Survey of Income Dynamics. That follows people, and we have a bunch of data in there.
But in terms of effort-related stuff, we have two measures of exercise: light and heavy. Light covers things like even housework and gardening. It really is a nice, general measure of walking, stepping, doing any kind of thing. Heavy exercise is what it sounds like. And then, also, there's smoking. So these are fairly limited measures.
We need that in addition to measures of income, because we were trying to use that to think: "OK, what is the connection between the effort you're exerting and your income?" Then we also use that to think, "What is your health status today? What is your effort today? And what is your health status tomorrow?"
ANDOLFATTO
You mentioned that the paper constructs a dynamic model of health insurance to evaluate the short- and long-run effects of policies that prevent firms from conditioning wages on health conditions of their workers and that prevent health insurance companies from charging individuals with adverse health conditions higher insurance premium. That's what you are specifically interested in?
COLE
Yes. There are two big policy interventions. One, where I think we really closely capture it, is Obamacare. They really are doing pretty much literally what we're suggesting. Then there's the Americans with Disabilities Act and its amendment.
And, basically, the act and the amendment are trying to limit the extent to which employers can discriminate against workers with respect to hiring, firing, promotion and wages for any kind of health-related issues. Now, the extent to which they're constrained, there are limitations on that. It has to be somehow reasonable expense and reasonable accommodation, but my understanding is that it can be reasonably expensive, and you can have to make a fairly significant accommodation for someone.
ANDOLFATTO
Let me step back a bit here and take a look at how you approach this question of evaluating these government interventions. You begin with a model, first of all, that's completely absent of government intervention. You model what you call a "competitive insurance market." By construction, this market does not work fully well. It provides some insurance, but there are frictions that prevent a fully idealized situation from occurring. And it's in the context of this model that you evaluate these two restrictions?
COLE
Yes. Let me say a little bit about what does that. Both the labor contracts and the insurance contracts are short term in the sense of, for whatever the period length, that's the length of the contract interval. So that limits a lot of the insurance. Also, what's true is those contracts are not conditioned on the effort you make to take care of yourself. That's an assumption we made.
ANDOLFATTO
And that's an assumption that you think is a reasonably good approximation of the type of health policies we see out there?
COLE
Yes. When we go to the data, we're going to look at a period length as being six years. So the notion here is that any sort of reasonable amount of labor mobility—people moving across jobs and moving across insurance companies—would probably wipe out that kind of conditioning.
ANDOLFATTO
And one property of your model is that after six years, the time length that a person is in a pre-existing condition, he has to become reinsured with a pre-existing condition?
COLE
Yes, that's right.
ANDOLFATTO
Now, you consider two types of policies that prevent firms from conditioning wages on health conditions, because firms do this in your model, I presume.
Secondly, the restriction that prevents health insurance companies from charging individuals with adverse health conditions higher premium. You study each of these interventions individually and then jointly. Tell me what happens here.
COLE
One of the things we were interested in is where the big health-related risks that people face are. It turns out the big chunk of it is actually with respect to income and wages, and it's not medical expenditures. So that's the more important risk that you face.
I'm going to throw out a rough number. If you go from the highest health status to the lowest health status, you're looking at something like a 30 percent drop in income, just in terms of the averages, conditioning on health status. That's a lot of risk.
One thing that's true with respect to the medical risk: We're looking at people between the ages of 24 and 60. If you think about medical expenditure risk, a lot of that is going to be after 60. So we are looking at a certain period. But conditioning on that, the big risk is earnings risk. And it looks like your health can have a significant impact on what your life cycle profile of earnings looks like. In many ways, it looks very reasonable.
We look at people's earning profiles if high school educated or less and then above high school. You see a fair amount of sensitivity in both. But it's more pronounced in the high school or less.
ANDOLFATTO
Let's take one of these policies individually. Pick whichever one you want. You want to evaluate the effect that it has on the prime-aged population that you're looking at. Describe to me how in the model people behave in terms of their willingness to remain healthy, to do exercise, and how it impinges on their lifetime earnings profile. I presume they're made better off by the policy individually.
COLE
One of the things I found that was surprising when I started thinking about this is that I thought the incentive effects and the incentive costs would be very negative. So when we came at this, the vision we had was the incentive you have in terms of taking care of yourself doesn't help you this week or this month, but over some longer horizon it's going to affect things.
The time unit here is six years, as I said. So the updating of your health status between this period and the next, we thought that you could actually significantly affect with health-related effort. That's supposed to cover a lot of things: diet, whether you brush your teeth, the whole gamut of things that you're supposed to be doing.
The vision we had was that people do that stuff for a reason, and the reason is to maintain themselves. People probably have an innate desire to maintain themselves. But you're also responding to the economic incentives. If we just think about professional athletes, they're exercising like crazy during the offseason so they can show up and still function.
The vision we had was that people were probably going to be reasonably sensitive to this. Then the question comes up. What happens is you put in policies that look very good in the short run in terms of providing a lot of insurance and filling holes that exist in the market as we saw it, but at the same time remove the future risks that were driving you to take care of yourself, and through that you have this longer-run incentive cost.
What we were interested in doing was thinking: "If we go about trying to model the policies carefully and then quantify the trade-off, how much insurance is efficient?" The answer we found, which surprised me, was that you do want to provide quite a bit of insurance. We looked at the socially efficient level, given that you face the same incentive problem as the market, that you can't control people's effort to maintain themselves. You end up still wanting to provide a lot of insurance to them, say, roughly 85 percent of their health insurance risk.
ANDOLFATTO
One question I wanted to know: Are people healthier with this intervention or without it?
COLE
They're definitely less healthy.
ANDOLFATTO
That's kind of provocative. The statement is that this type of intervention actually promotes overall welfare through the insurance effect, but it seems to have these predictive adverse consequences in how people maintain themselves over their life cycle.
COLE
That's completely correct. Now, it is, one could argue, a little bit built in by assumption. Let me explain what I mean by that.
We're thinking about insuring you against within-period health risks. The impact of these health risks, the way we model them, lowers your productivity within the period. So your health status comes in as a factor that's going to affect your likelihood of getting a negative shock within the period.
Then you go into the next period, and it's only the health status that you have in the next period that's going to affect your productivity. There was a reason for that, which is that the updating of your health status only depends on your effort, and it didn't depend on medical expenditures that were made on you.
The reason why is, when we looked at the data, certain things cried out. If you look at health status, does it affect earnings? Yes. If you look at health status, does it affect medical expenditures? Yes. If we looked at medical expenditures within the period, how does that affect updating? The effect was extremely weak and, if anything, negative.
Now you might think that there's a reason why people are getting those medical expenditures. But at least at the first rough pass looking at the data, you did not see that as a first-order piece of business. So we dropped that in terms of assuming that that was irrelevant to the updating.
ANDOLFATTO
In the model, how are these programs financed?
COLE
The way in which we financed, for example, our version of Obamacare was that we simply had actuarially fair insurance that everyone had to pay, the common premium. Basically, the program was self-financing. When we do the no-wage-discrimination in the theoretical section, what we looked at was just compressing everyone to some sort of health-, education-, age-related average wage.
We thought any attempt to really force the pattern of who works for what at what wage, that would have significant cost. So we explored putting a little bit of costs in.
What we found in general was that it's very easy to rationalize putting in Obamacare as a welfare-improving program. The wage readjustment means that you don't really like the no-wage-discrimination policy. You prefer Obamacare. And that comes out as the policy recommendation in the paper. But what you don't want to do is insure people against all of their health-related risks. You want to leave them with some incentives to take care of themselves.
ANDOLFATTO
You mentioned that you consider the welfare benefits and the incentive effects of each of these programs individually, and you find that, individually on net, people would prefer these programs relative to your benchmark. But, jointly, that's not the case. And what is the reason for that?
COLE
First of all, there's a lot of risk that people face. But one of the things we do, which is kind of cool, is we can follow people and we can ask people: "How do you feel based on your health status? And how do you feel when you're young based on your health status as opposed to when you're old based on your health status?"
ANDOLFATTO
When do you ask them?
COLE
We could ask them in the model. What's kind of cool about that is, as you get out there, your health risks are shrinking as you go out, because whatever you're going to get, you've got. For example, if we've got someone, say, our age and in excellent health, you really are against these programs. You like the competitive program, because basically in any version of these programs, you're going to be subsidizing the people with less health risk. And the insurance benefit to you is small, because the window left in our setup to get a negative draw is shrinking.
So you're very open when young to these insurance programs, and then as you go forward, depending on where you are, your attitudes sort of diverge. If you get a bad outcome, you're very much for the program. And if you get a good outcome, you become increasingly hostile to the program.
ANDOLFATTO
That sounds perfectly natural. We change our minds all the time as we age, right?
COLE
Exactly. But it does explain some of the voting patterns out there if you think about it that way.
ANDOLFATTO
Hypothetically speaking, in your model, if the government were to propose the joint provision in these two programs, I presume that it would be voted down.
COLE
Yeah, especially if you think that the older people vote more than younger people.
ANDOLFATTO
And older here is still under 60.
COLE
Absolutely. The model doesn't go beyond 60, that's correct. So I thought there was an interesting political economy dynamic there.
ANDOLFATTO
You mentioned that one thing that surprised you was you found potentially large welfare gains from the provision of these programs. But I noticed one property of your model—a simple, basic framework to start with—is that you do not permit people to save. There's no financial market. For some purposes, that would be an appropriate abstraction.
In this case, I wonder how sensitive the welfare effects would be. If people had the ability to build precautionary savings as a substitute for the missing insurance, do you think it might be worthwhile to pursue this investigation along those lines? Or do you have some reason to believe it's not important?
COLE
I think your instinct is exactly right. If I was to say what's really missing from this model, I think that would probably be first on the punch list. When you write down a model and you try and construct its implications and take it to data, there's a real desire to hold down the number of moving parts and to add moving parts slowly. The reason is that you want to have some idea of what's really going on, what's driving your results, what are the implications of your model.
Having savings I think is the next step. And I think it's important exactly for the reasons you said. We chose deliberately to leave it out, because what it meant was that we could have this one period or static version of the model, and then when we go to the dynamics, you just have to worry about the dynamic incentive to maintain your health.
So you get a nice, simple characterization of how you'd want to do that. And it allowed you a nice, clean way to go after the data. We didn't have to worry about the amount of savings that people had when we thought about effort and updating and all those kinds of things. But that it allowed for a lot of transparency, which is a good thing in terms of what we're doing.