Interview with Fatih Guvenen (University of Minnesota)
Paper: "Use It or Lose It: Efficiency Gains From Wealth Taxation"
The paper's main takeaways, according to Guvenen:
In any modern economy, there is a lot of wealth that is allocated to individuals who are not especially good at using it. We are proposing wealth taxes, which are an automatic way of shifting the tax burden from young, productive investors who have low wealth to typically older and wealthier individuals who have low return.
There is a global aspect to this in terms of whether this will contribute to some investors taking their wealth and going away. I predict the opposite to happen: High-productivity, high-wealth individuals from other countries actually might want to relocate to the United States or any other country that has wealth taxes.
The Federal Reserve Bank of St. Louis hosted its 40th Annual Fall Conference on Oct. 15-16, 2015. David Andolfatto, a vice president and economist with the St. Louis Fed's Research division, sat down with each of the conference presenters and discussed their work in plain English. The content below is from those interviews. All interviews have been edited for clarity and length, so the content below should not be considered a transcript.
ANDOLFATTO
What do you mean by "use it or lose it" and wealth taxes?
GUVENEN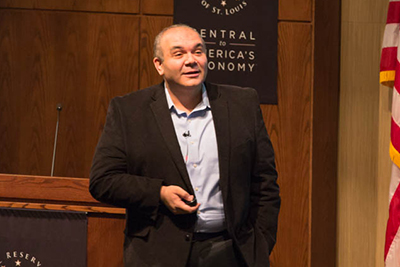 If we just look at some broad numbers on how much the United States government is collecting in taxes on capital, the numbers are astounding. It's about 8 percent of the GDP. At a gross domestic product of $15 trillion, the total amount is $1.2 trillion per year. Effectively, the government is taking this enormously large chunk of money and using it for various purposes.
Now, there's a good reason why: We need this money, because there are government expenditures. But the sheer size tells us that we should be extremely careful in how actually we are taxing the different components of wealth. By that, I mean we are raising as the government a lot of money from capital gains taxation, from corporate income taxes, from taxes on dividends and from various other sources of capital. The main thesis of our paper is that there is a more efficient way of doing this.
The key idea is that we should be taxing the stock of wealth rather than the income that results from that wealth. As an example, imagine there are two investors with the same wealth, and one earns no return on this because he or she is not a great investor. And the second individual is a great investor who earns, say, 50 percent return per year on this wealth.
The current system is only taxing the successful individual and raising the funds from that individual alone. And because the first individual is not earning returns, we are not collecting any from that individual.
What we are proposing, rather, is to actually look at the wealth that you own and tax that stock. In this example, the first individual, even though he or she is not a great investor, has a lot of wealth. So we would be taxing the stock, reducing the wealth of the inefficient individuals.
ANDOLFATTO
You point out that the taxation of capital income presently in the United States is large. How much of total tax revenue comes from capital income taxation?
GUVENEN
It's about 27 percent.
ANDOLFATTO
So that's a sizeable fraction of total tax revenue from capital income taxation. You're not taking a stand on the size of that, but rather, what components of that wealth should be taxed. And you're suggesting not to tax the income component, but more the stock or wealth.
But shouldn't it be the case that the low-return guys should allocate their wealth perhaps through the banking sector to those that are better able to use it?
GUVENEN
Some of that is happening. But imagine that you are a very high-return individual like Elon Musk. What are your incentives to share that high return with somebody who just has the money?
If you think about how the funds flow in the economy through intermediation: If I have a high return, I will try to borrow, for example as a company, in the bond market. There's this well-known fact in financial economics that if a corporation issues a stock, the market views that as bad news. The idea is that if, as the insiders, I think that I have a great project with high future returns, I will not issue a share of that profit to you.
Instead, I will issue a bond, so issuing a bond is viewed as good news, because it shows that I trust my returns. I want to keep it. So in the example that you give, yes, there will be funds flowing. But the low-return individual will never get the high return of the investor.
ANDOLFATTO
OK, not quite the high return. But of course low-return investors could invest in the bonds that high-return investors issue. And they would get a higher return, just not the highest return associated with the equity finance is what you're saying.
GUVENEN
I can give you a few examples. If you had the foresight to buy Apple stock in 1980 at the IPO price, between 1980 and 2015 you would have earned an average annual return of 20 percent. If you look at some very successful hedge fund managers, like David Tepper, who is a billionaire, his average return, again, is estimated to be 20 percent.
If you compound that, the value of the Apple Corp. has gone up 400-fold. This is far above what the U.S. stock market pays on average. And it's incomparable to what the bond market pays. So there are these huge differences across the returns that individuals get, and there's some evidence that these are very persistent over time.
ANDOLFATTO
So maybe this is related to my comment I'm about to make, but you're picking the cherries here, the winners. Of course, the winners are making these huge returns. But we don't know who's going to win beforehand.
GUVENEN
Sure, but that's precisely the idea. We can prove that, in our framework, if you impose wealth taxes without knowing who earns what, it will select automatically, going forward, those who have the high return. They will keep that high return. And those who have low return will automatically actually be pushed down.
ANDOLFATTO
So the wealth tax then is taking the appropriations out of the wealth and not the income. This is the sense in which it constitutes a relative subsidy to the high productivity?
GUVENEN
Absolutely. The way I describe it is, it's a wealth redistribution from the nonproductive wealthy to the productive wealthy. If you look at the data, you see a lot of children of very successful entrepreneurs inheriting billions of dollars, but then they have other ambitions. And so some of them give to philanthropic causes, which is fantastic. But at the same time, you might wonder: "Well, if I give that to a startup with great ideas…" We are not literally transferring it, but the system does this automatically by lowering the tax rate on the startups and young entrepreneurs and taxing instead individuals with huge wealth and no return.
ANDOLFATTO
The way we're speaking here is as if the policy is actually appropriating funds from the less productive and reallocating it to the more productive. But that's not what's happening directly. The simple point is that the government wishes to collect some revenues through taxing capital. What's the best way to do this? We can tax capital income. Of course, higher capital income is indicative of a higher skill, so we're penalizing skilled entrepreneurs. And as opposed to, say, somebody who just owns wealth that earns zero return. They would escape a capital income tax, because they generate zero capital income.
So that's a sense in which we're penalizing the productive entrepreneurs and subsidizing the not-so-productive. But you're recommending sharing the burden more equitably in a sense and at the same time increasing the after-tax return on capital. Is that basically it?
GUVENEN
Yes. I can give you an example that applies very well to developing countries. I'm from Turkey. When I grew up, the wealthiest individuals in my town were farmers, very large farmers owning like 10,000 acres of land. As we know, it's a very low-productivity business, but you have so much capital—in this case, land—that you can make a very good living out of that. In the 1990s, Turkey, and my town in particular, switched to textiles.
These are factories and manufacturing earning much higher returns, especially in the '90s. A lot of these farmers did not have the right skill to switch into textiles. So in this example, you have a slow-growing sector like farming. A new technology arrives that grows much faster. Capital income taxation will actually collect all the taxes from the small but very productive textiles and leave untouched the farmers, whereas wealth taxes will make them say, "Wait a second." For the one who is more productive, the return will fall much less, because the tax base will be extended to the farmers.
ANDOLFATTO
So, essentially, we're just arguing for a more efficient form of wealth capital taxation here. And you built a formal mathematical model to try to estimate the gains to such a switch. Do you find that your model estimates that the gains are potentially large? Or could you identify the circumstances where they may be large or small?
GUVENEN
Yes. By comparable estimates of different policies that economists have studied: What if we reduce capital income taxes or increase labor income taxes? There is a large literature in public financing macroeconomics studying this. By comparing to the numbers in those literatures, yes, the potential welfare gains are quite large. One interesting feature of the change, if we were to change today from capital income taxes to wealth taxes—in a revenue-neutral way, because the government keeps the same revenue—the economy will adjust such that, on average, there will be less need to accumulate wealth in the economy. So the overall what we call the wealth-to-output ratio or the wealth-to-GDP ratio will fall by about 10 percent.
And the reason that you can do that is because the capital will be allocated to the more productive individuals. Overall, we will have to hold less wealth, but output will go up, wages will go up, and welfare will go up. Again, all of it is coming from removing this misallocation of capital to low-productivity individuals. So, many policies that are recommended by economists, they pay off in the long run, like what we call the steady state.
You change the rules of the game. You change the tax law. After 10, 20 years, you reach a new kind of plateau where things look better. But oftentimes along the transition path, along those 10, 20 years, there will be some suffering. You will have to accumulate capital. You will have to consume less. In the policy we are studying, it's the opposite, actually, because you will move from a high-wealth economy to a low-wealth economy, so you can dissave along the way and still produce more.
ANDOLFATTO
So we could finance a consumption boom along with this: higher material living standards for everybody as we deplete our wealth. We don't need as much wealth, because it's going to be allocated in a more efficient manner.
GUVENEN
That's the key idea.
ANDOLFATTO
And, actually, our incomes will generally be higher, real wages?
GUVENEN
Even those who don't have wealth benefit from this, because wages go up.
ANDOLFATTO
In terms of the practical considerations of tax collection, is there any reason to believe that collecting a wealth tax might be more difficult than taxing capital income at its source?
Let's suppose that I'm an idle rich person, I have this account that's currently sitting somewhere, and I'm a U.S. citizen. It's very easy to switch citizenship, I suppose, or perhaps move the account offshore; I don't know how it works. But capital income though is generated domestically. You have to file income tax. I'm wondering as a practical matter the possibility of avoiding the wealth tax.
GUVENEN
I think there are two separate issues, and you raised one of them. If we start taxing the low-productivity wealth, you might want to shift your wealth. And we do see individuals actually having their hedge funds or their investment accounts in Bermuda, in Grand Cayman, in some other places. In that regard, I frankly don't find it to be too different.
There's a separate issue, which is the reporting and documenting of the wealth. If anything, it might be easier than what we currently have, because currently at the end of the year, brokerage houses send to the IRS every single transaction on our investment accounts. If I sell a stock, is it a short-term gain? A long-term gain? What's the cost basis? So that system is already in place. Rather than taxing the income that accrues and looking at every single transaction, you can just look at the total wealth that you have.
Wealth taxes have also been implemented in about 10-15 OECD countries over the past century, so some countries actually started in the 1920s and have taxed throughout the century. Norway is an example. Sweden is an example. France is an example.
When you look at the actual reasons they tax, there is always an argument about equity. But there hasn't been an argument or a theoretical quantitative study that shows that you can actually have efficiency improvements from this, which is the contribution that we make.
ANDOLFATTO
That is the interesting part of this, and the fact that you find that the gains are potentially large. If I understand correctly, the redistribution that occurs sounds like it might occur at the upper levels.
GUVENEN
It does very much so. If you look at the numbers, the top 1 percent holds about half of the stock market, both directly and through mutual funds. So they do also pay a very large fraction of individual income taxes. The estimates range from 35 percent to about 40 percent. So, yes, this change will be mostly a redistribution within the very rich and we hope in the right direction from an efficiency perspective. But the rest of the population, they will be positively impacted through the productivity gains and higher wages.
ANDOLFATTO
I should have asked this earlier. When you say "wealth," exactly how is it measured in your model? Does your model say something about the type of wealth? Should it be that people's equity in their homes be taxed? Or are you talking about something else, like financial wealth?
GUVENEN
We always have to be careful when we map a model into the data for, you know, the reasons that you just raised. My personal view, partly influenced by our study, is that we are not really talking about housing wealth. We are talking about capital that can produce goods and services.
ANDOLFATTO
Well, housing produces goods and services, right?
GUVENEN
It does. So I actually wanted to put that carefully. It produces services just for the owner, whereas if you're a factory, you can produce for thousands of people. And if you look over the century at the returns that you get on housing, they are very low across the board.
And I believe there is a much bigger luck component. A lot of my very good economist friends have lost huge sums on their housing investments. So I think luck plays a much bigger role. These are regional shocks, and they are very hard to forecast. So the thinking is: It should be actually what I call broadly productive capital.
ANDOLFATTO
This program sounds like it might be especially attractive to emerging economies. Is there a reason to believe that's the case?
Fatih Guvenen: Yes. There is this idea in economics going back to Simon Kuznets, which is called structural transformation. As economies develop, they move from agriculture into manufacturing and then from manufacturing into services.
Countries like the United States are in the last stages of that, where we are switching out of manufacturing into services. But in many developing countries, I think they are still moving from agriculture to manufacturing. And there's a lot of evidence that the productivity of agriculture in developing countries is very low. In that situation, you are going to accelerate the transition, and you can potentially improve the speed of growth in those countries.
ANDOLFATTO
I suppose the politics might get in the way of this in many of these economies. Do you get the feeling?
GUVENEN
That's true. Whenever we talk about taxation, the economics of the problem is one issue, but the political economy is another one. There are definitely challenges there, but there are also challenges about taxing capital income.
ANDOLFATTO
I guess one way to address it is, people have to have an incentive to adopt these proposals, and we're speaking here about a change in one dimension of the tax code. But possibly, everybody would be on board with a more efficient tax code. Are there other dimensions of the tax code that could be changed at the same time while these policies are being proposed? Does your paper speak to that at all?
GUVENEN
Yes. The main analysis is an optimal taxation exercise. And by that, we imagine a government that has policy tools. These are labor income taxes, consumption taxes, and in one scenario, we look at capital taxes, while in the other scenario, we replace capital taxes with wealth taxes. Then we say, "If you are a government that has to raise a certain amount of revenues, and you can choose freely among these three policy tools, how do you choose?"
One thing we find is, when you switch from capital to wealth taxes, because it's more efficient, it actually allows you to reduce the taxation on labor, because labor taxation is quite distorting. And the way we are doing the wealth taxes, it's not. So there's an additional benefit that comes from the ability to lower labor income taxes.
ANDOLFATTO
In a representative democracy, this type of tax reform should garner a large support, one would hope.
GUVENEN
Absolutely. We find that in the most general case we study, about 88 percent of the population from all age groups and all wealth groups would be in favor of it.