Interview with Edward Prescott
Paper: "Monetary Policy with 100% Reserve Banking: An Exploration"
The paper's main takeaway, according to Prescott:
I'd like the theory to advance to provide better guidance to the design of a better system. There'll be some benefits to the people of having a better-functioning payment system.
The Federal Reserve Bank of St. Louis hosted its 40th Annual Fall Conference on Oct. 15-16, 2015. David Andolfatto, a vice president and economist with the St. Louis Fed's Research division, sat down with each of the conference presenters and discussed their work in plain English. The content below is from those interviews. All interviews have been edited for clarity and length, so the content below should not be considered a transcript.
ANDOLFATTO
I'm a little surprised to see you get into monetary issues, given your reputation to abstract from matters financial and monetary. You've very much focused on what we might call real factors. What motivated this line of research?
PRESCOTT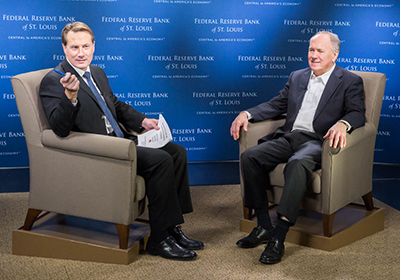 Over the years, I have done a few things in the monetary area. It's an interesting and difficult area. What motivated this investigation was the monetary policy questions people were asking. I didn't have the slightest idea as to the answers to these questions, and I didn't see that anybody else had good answers.
I felt there was a need for more investigation of this in a serious way that matches in close with the way they do it in the national accounts and balance sheets, the way data are reported. Some facts were puzzling for conventional theory.
ANDOLFATTO
I guess a lot of people have been asking questions, especially since the financial crisis we've just lived through. I presume that that's what's been motivating these questions that you didn't have good answers for?
PRESCOTT
You see so much in the news about, "Should we increase the interest rate? Or should we have an inflation rate target?" And people's answers are not based upon strong theory.
ANDOLFATTO
The monetary crowd would have called this a form of narrow banking, where the demandable liabilities issued by financial institutions would have to be backed 100 percent with some form of cash. It's a very old idea, and people have largely promoted it as a remedy to prevent what they perceive to be bank run phenomena. What are you doing here that's complementary to or different from what people have done so far?
PRESCOTT
Many say or think that there were problems in the financial system that gave rise to the Great Depression. We've looked at that in a systematic way using modern theory. And we found that businesses had all kinds of money to invest, and they didn't. They increased distributions to owners. Why? The answer is that businesses did not perceive they had profitable investment opportunities.
I don't think financial crises are a big deal. Tom Sargent, along with others, examined the U.S. financial system in the 19th century. There were numerous financial crises in that century. There was a long period where there wasn't any central bank. During that century, the U.S. economy grew at a healthy rate in spite of repeated financial crises. It became the richest industrial economy in the world as measured by living standards.
ANDOLFATTO
Let's take a look at that history. I'm thinking of economic historians, like Gary Gorton in particular, who have pointed out the U.S. national banking era from about 1863 to 1913, the founding of the Fed. That was an era of great prosperity for the United States in general, also generally a deflationary episode as well. Nevertheless, that era was punctuated by several rather severe business cycle episodes. And many of them were associated with financial crisis, banking panics and what people have labeled bank runs.
Even though there was no lender of last resort or Federal Deposit Insurance Corporation, no central bank, as Gary has pointed out and others, there were nevertheless what you might call central bank-like interventions, in the sense that prominent bankers like J.P. Morgan would coalesce the banking sector, suspend redemptions, issue clearinghouse certificates, and essentially operated what looked like private sector lender of last resort operations. So these episodes were associated with disruptions in payments and a large loss in output.
There was a general perception that, rather than relying on the private sector to serve in this role, we might need something like a central bank. Are you arguing that these panic episodes were essentially symptomatic to other things? I mean, businesses fail in a crisis. That's just the natural thing that happens during a recession. Is this desire for a lender of last resort facility, together with a fractional reserve banking system, misguided?
PRESCOTT
The facts you cite are correct. The nature of the fluctuations was well documented by Milton Friedman and Anna Schwartz in their Monetary History. You'd see their measure of money supply—they called it M2, which is checking plus savings deposits at commercial banks—go down maybe 10 percent. And a little bit later, output would go down 10 percent. And then convertibility was suspended the ways you described. Businesses figured out ways to carry out transactions in these towns. The economy's output and the money supply recovered within six months.
Currently, we're depressed about 10 percent or 12 percent relative to pre-2008 trend on a per capita income basis, and this has been for six or seven years. In the Great Depression, it lasted for 10 years, and the depression was 25 percent. It was not a matter of the payment system being disrupted for the entire decade.
The mortgage markets went out of existence, virtually, in 1981 when there were very high interest rates. Remember 18 percent interest? That's when we made the payment at the last minute. The year I moved from Carnegie Mellon to the University of Minnesota, I had to sell a house in Pittsburgh and buy one in Minneapolis. The financing was not through the banks. I issued a mortgage to buyers of our Pittsburgh residence, and the people that we bought a residence from in Minneapolis provided financing. Once things settled down a couple of years later, we refinanced with a mortage issued by the banking system. This arrangement diversifies some idiosyncratic risk.
ANDOLFATTO
But if I'm understanding you correctly here—maybe I'm not—it sounds almost like you're suggesting that this fractional reserve banking system really didn't do much in terms of creating the downturn or propagating the downturn. If that's the case, then why this radical proposal to impose 100 percent reserve banking? Is it solving a problem that doesn't even exist?
PRESCOTT
Rahm Emanuel said, "Don't waste a crisis." When there's a crisis, government uses it as an excuse to do things. They used this one to put in a lot of policies that depressed real output and depressed productivity.
ANDOLFATTO
You're suggesting that they should have used this crisis as an opportunity to pass a radical banking reform?
PRESCOTT
No. Scandinavian banks all went bankrupt in 1992. They instituted good reforms, and their economies did well afterwards. They did not waste their crisis. Japan had a crisis at the same time. They instituted a bad policy regime and lost a decade of growth.
ANDOLFATTO
The recent banking crisis was not centered in the retail sector. We have the FDIC, the Feds there. Retail level bank runs in the United States have been a thing of the past since about 1933. Are you specifically thinking more shadow banking sector reforms here in this paper?
PRESCOTT
I don't want a financial crisis to give people excuses to institute a bad policy regime. When I say policy, I think people should get together, examine it and think long run, not what will happen tomorrow. We want a good set of rules to follow that facilitate an efficient payment and credit system that's sound. That's valuable. With the new technologies, this system is going to change. And we want to have a better one to institute. Our financial systems have been getting better.
ANDOLFATTO
I guess there's two dimensions to the financial system. One is the payment system. And I think you're absolutely correct. There's been rapid technological change in this space that's permitting more efficient, more secure payments. We also see this really wild innovation out there in the cryptocurrency space: Bitcoin, the blockchain, the potential applications. So there's that element.
But apart from facilitating payments through the banking system, banks also perform other functions. Maturity transformation is a classic one. The Diamond-Dybvig model is a classic formalization of this notion that banks actually perform a socially useful role, but that requires fractional reserve structure, the issuance of highly liquid demandable liabilities.1 If everybody exercises the redemption option simultaneously, there's just not enough reserves in the system. You end up in fire sales and the payment system disrupts, etc.
Where do you see this paper fitting in and contributing? Is it on the payment side? Let's take seriously the new technologies that are there. Let's permit everybody to have an interest-bearing account, either directly or indirectly, with the Federal Reserve. Or do you see this prescription more dealing with the ills that you see with fractional reserve banking systems?
PRESCOTT
The transaction part of the financial system is a small part of the system. The major functions of the financial system are to channel our savings for retirement into investments in productive assets, to not use up a lot of resources in the process and to diversify idiosyncratic risk that averages out. Our system has gotten quite good in these regards. I'm worried about the transaction part being the tail that wags the dog and want to separate that out in a nice, simple, clean system. Only a small part of commercial banking activities is tied in with that transaction.
Most of the assets under management are in trust, where people put up their money and finance a project, and many take a little piece of a number of those projects in order to diversify risk.
But there's a time inconsistency problem of policy. It seems that governments, if there's a financial failure, bail out the lenders. Who ends up paying for this bailout?
There is a lot of U.S. money abroad. I talked to the former prime minister of China once in 2005. Everybody was yelling about them holding huge amounts of U.S. dollars as reserves. I said, "If you want to make it cheap for me to borrow, I don't mind."
Some people estimate half our national debt of about an annual GNP, which is a big number, is held by foreigners. The Chinese economy is getting too big to peg their currency using foreign reserves, which are mostly U.S. dollars.
ANDOLFATTO
In terms of the moral hazard issue that you raise, I think that's true. But it's probably not specific to banking per se. There is a tendency for special interests to ask for the handout. One thing that's true under 100 percent reserve banking is that there would likely be no need for FDIC, for example. The deposits would be 100 percent insured. And this is including very large deposits. There's no need to bail out.
PRESCOTT
There'd be no need to bail out with a 100 percent reserve system. Whenever there's a transaction, somebody's account gets credited and somebody's account gets debited by equal amounts. Before the exchange, you can make sure that that person making the payment has sufficient deposits.
ANDOLFATTO
It's an attractive idea that way, and there's a long history promoting this idea. Now I want to spend just a little bit of time talking about the formalism that you used in your talk. You developed a mathematical model to introduce this issue of evaluating the costs and benefits of a 100 percent reserve banking system, a narrow banking system. What was the purpose of formalizing it in this way?
PRESCOTT
To begin, the purpose is to develop better intuition as to whether inflation rate targeting is good. All the big central banks seem to have gone to the 2 percent target. Should we focus on inflation rates or interest rates? There's debate as to this question. And does this make sense?
We want to have each of our sectors be more efficient, and this is just one sector in the economy.
ANDOLFATTO
Well, one sector that interlinks several sectors in the sense that it performs the bookkeeping, and a lot of people have argued that it's a very important sector. Another way to phrase my question is that there's already a large body of models out there that attempt to address these types of issues. Maybe there's something you find unsatisfactory about the existing body of research? Or did you just want to explore a slightly different tact?
PRESCOTT
The tradition was to focus on the traditional bank, the banks that would take deposits and lend to businesses. The major places where people put their savings were in banks, in insurance companies through whole life insurance—which was really a pension plus life insurance—and in state and local government debt. That was pre-Federal Reserve period. People would hold that debt to maturity.
But now things have gotten more complicated, and the system works quite well. It can do so much. Things get pooled and averaged out. When I issued a mortgage, I was nervous. I bore a lot of idiosyncratic risk. I could lose a lot if some misfortune fell on that family. But if you hold a small part of a large number of mortgages, this risk gets averaged out.
ANDOLFATTO
Those elements of risk sharing are there in some older models as well. But are you suggesting things have changed in a manner? Technology has progressed where it's worthwhile to leave that older class of models and explore different avenues?
PRESCOTT
The financial system has been getting better. And the spread between borrowing and lending rates has come down. We as a household like to borrow at a low interest rate, and we like to lend at a high rate. The spread between those two has shrunk since the '60s.
ANDOLFATTO
Every person who studies this question of banking design and monetary policy the way you do here has to address the question of how the monetary policy and fiscal policy interact. Does it even make sense to speak of monetary policy without at least being explicit about what's happening on the fiscal side?
PRESCOTT
Within a range you can, but Venezuela and Argentina, for example, are not in that range. Lots of countries have high inflation. Russia, Iran, Brazil inflation is 10 percent, and those other countries 20 percent.
That's really a fiscal theory of the price level it comes down to if you start using the monetary system to tax through "the inflation tax."
ANDOLFATTO
Do you think that's the case for the United States? There is this huge worldwide demand for U.S. Treasuries. With the yield on U.S. Treasuries so low, they practically look like Federal Reserve liabilities. But these Treasuries are issued not by the Fed. They're issued by the Treasury. So what does it mean to conduct monetary policy without reference to what's happening on the fiscal side, even in the United States, never mind Venezuela?
PRESCOTT
In this paper, I tried to keep it as pure monetary policy as possible. It was impossible. Because a constraint is that government expenditures equals its receipts plus change in government debt.
ANDOLFATTO
It follows from the consolidated government's budget constraint, in other words.
PRESCOTT
Yes.
ANDOLFATTO
I know this is a preliminary investigation and just a paper to stimulate discussion. But when you were working on the model and performing some policy experiments, did you discover anything surprising in the model?
PRESCOTT
One thing was satiating businesses with money. Money is virtually costless to produce. The Fed only pays for the printing cost and the transportation cost. Given that it's virtually costless to produce and it contributes and facilitates the businesses entering into more productive contractual arrangements, Friedman satiation makes sense. With a 100 percent reserve system, there can be satiation with inflation.
ANDOLFATTO
The idea of satiating individuals or businesses with liquidity sounds very much like the Friedman rule.
PRESCOTT
He proposed satiation. He's one of the first to propose it. The Friedman rule said to deflate at the real return on capital.
ANDOLFATTO
That was in the context of zero interest-bearing money.
PRESCOTT
That's why the interest-bearing currency was a big difference.
ANDOLFATTO
You want to equate the rate of return of money with other safe assets?
PRESCOTT
Yes, and keep it simple for people. Don't make businesses have to guess what the inflationary policy is going to be, so they can worry about producing more efficiently.
ANDOLFATTO
Give them a nice, safe payment system. No need for federal deposit insurance. And …
PRESCOTT
There's lots of regulation. There's no new banks being created recently.
ANDOLFATTO
Right. Interest-bearing accounts for individuals, either directly with the Fed, or maybe an account through the intermediary.
You spent a little bit of time discussing possible problems with this system. One thing you said was: "Before initiating the system, one would need to consider, among other things, privacy protection and shadow banking." What are your concerns here?
PRESCOTT
Currency can be pretty anonymous, and privacy is important. We've got to protect that. It's a difficult thing to handle, because some governments have been known to abuse that, and some private agencies too. Data breaches are a problem.
ANDOLFATTO
What can we do about shadow banking? You know how clever bankers are. It seems like the whole shadow banking sector exists just to bypass existing regulations. Do you think this type of proposal would eliminate shadow banking to some extent? Or would it push more business toward shadow banking? You see it as a substitute?
PRESCOTT
They would carry out the transaction with a little smaller spread between the interest rate in these worlds where there's just two interest rates, which there's not. There's all kinds of interest rates. Which one you're referring to is ambiguous. And a lot of resources are used up in that sector of the financial system.
ANDOLFATTO
The defining characteristic of banking and shadow banking is the mismatch between the asset and liability structure.
PRESCOTT
There are financial clearinghouses which carry out huge amounts of transactions. The amount of transactions in dollar terms carried out in a day is something like 60 percent annual GNP, and most of this is done by the clearinghouses.
Clearinghouses did not get into trouble in the recent crisis. All these transactions contributed to making the market more nearly efficient and increased liquidity of traded assets. The bid-ask spread on publically traded stocks has gone down virtually to zero. I think that this is evidence of improvement in the transaction system.
ANDOLFATTO
You also had a slide in your presentation on a possible solution to the shadow banking problem, and one of your bullet points is intriguing. You suggest taxing net interest income at a 100 percent rate for limited liability businesses.
PRESCOTT
All households are a household business. I want to let them lend money at positive interest and not have the interest income taxed at 100 percent. That is why I propose the 100 percent tax on net interest be imposed only on limited liability businesses. The households are what are important. They really own all private property either directly or indirectly. They own the firms that own the assets. Or sometimes they own the firm that owns the firm that owns the firm that owns the assets and incurs the liabilities. What I want is to get rid of limited liability gamblers who borrow at low interest rates and lend at high rates.
ANDOLFATTO
This is profound. Ed Prescott is suggesting that a tax rate out there is too low and that the appropriate tax rate is 100 percent.
PRESCOTT
It's on a particular type of income, net interest income these gamblers make. And then they've got to be limited liability, so losses are borne by the taxpayers. The lenders to them get bailed out by the taxpayers. If there is 100 percent tax on net interest income, there will be no financial intermediaries borrowing at a low rate from one set of agents and lending to another at a higher rate. This tax on net interest income is designed to eliminate shadow banking, not to collect taxes.
ANDOLFATTO
Do you actually experiment with these tax reforms in your model?
PRESCOTT
Maybe a 100 percent tax on the net interest income of limited liability businesses would not eliminate this gambling. If it was imposed, maybe financial experts would figure out a way to get around it. That's one of the reasons I put it on the table.
Endnotes
1 Diamond, Douglas W.; and Dybvig, Philip H. "Bank Runs, Deposit Insurance and Liquidity." Journal of Political Economy, 1983, Vol. 91, Issue 3, pp. 401–19.