John Kennan, Richard Meese Professor of Economics, University of Wisconsin, Madison
Paper: "Spatial Variation in Higher Education Financing and the Supply of College Graduates"
The paper's main takeaways, according to Kennan:
The decisions that people are making seem quite purposeful.
If you think about the reasons that lie behind the choices that people make about going to college or not, going to college for a year or two and whether to continue, or going to a community college and finishing in a four-year college, there seems to be some evidence that these choices are quite system­atic and that the subsequent migration choices are similarly quite systematic.
You can actually predict what the consequences of changes in different policy variables will be, and I think that's encouraging.
The Federal Reserve Bank of St. Louis hosted its 39th Annual Fall Conference on Oct. 9-10, 2014. David Andolfatto, a vice president and economist with the St. Louis Fed's Research division, sat down with each of the conference presenters and discussed their work in plain English. The content below is from those interviews. All interviews have been edited for clarity and length, so the content below should not be considered a transcript. To read the papers presented at the conference, visit http://research.stlouisfed.org/conferences/annual/39th.html.
ANDOLFATTO
Can you tell us a little bit about the questions that you are pursuing in this investigation here?
KENNAN
There's a lot of money spent on financing higher education, mainly by the states in the U.S., and the amount of money spent is quite variable from one state to another, even for states that are quite close by, for example, North and South Dakota.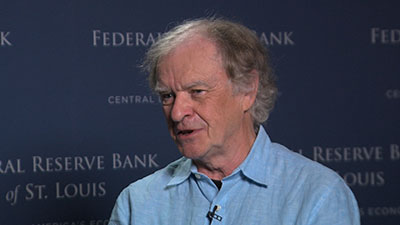 The question that I'm interested in is what the states are getting for the money, that is, what the effects are of the differences in spending, and in particular whether a state that allocates a lot more money—by way of spending on the col­leges in the state or subsidizing the tuition payments for the students—sees a change in the composition of the labor force in the sense that the state has more college graduates some­time later than they would have had if they hadn't introduced these subsidies.
The issue, to a large extent, is whether the intervention that affects college enrollment decisions actually sticks in the place where it's applied. There is an incentive for people to move toward labor markets where they can, obviously, get the highest return for their education. So if a state subsidizes its students to acquire college degrees, the students might wan­der off and go use that human capital in some other place.
ANDOLFATTO
It would seem odd that a state would subsidize its educa­tion for students within the state only to see them leave. What do you find? What do you discover? What is the answer to the question of why this heterogeneity exists?
KENNAN
The effects are quite substantial in terms of the choices that students are making on enrollment, not just in terms of completing college degrees, but enrolling in two-year colleges or community colleges and emerging with at least a partial university education. So on that margin, these policies, both changes in expenditures and also changes in tuition levels, have substantial effects. But there's not much indication that the effects are dissipated through migration. These are people, particularly the college graduates, who migrate a fair bit.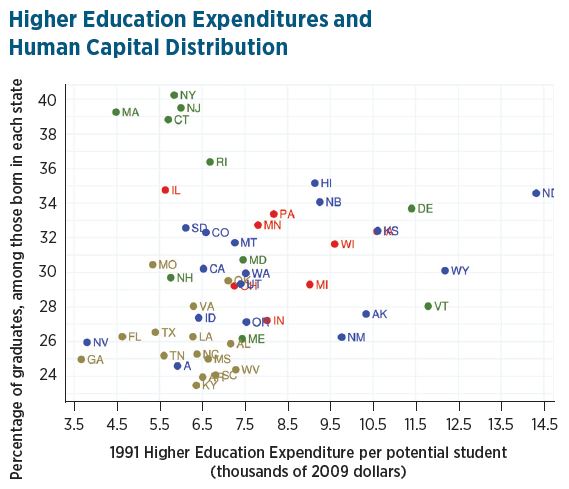 The exercise I do in the paper is to look at the distribution of people at age 36, starting at 19, making enrollment decisions along the way and then making migration decisions, and just count the number of college graduates at age 36, the number of people with some college and the number who are just high school graduates.
And the effects seem to stay where they're applied. Something on the order of a 20 percent change in tuition or subsidies gives rise to something like an 8 percent increase in the num­ber of college graduates in the state sometime later, like 15, 17 years later. So the migration activity is pretty active, but it doesn't undo the effects of these subsidies.
I should say these are preliminary estimates built on a model that uses individual survey data from the Labor Department. And the estimates so far have been done just for a single state. But that's the finding.
ANDOLFATTO
You mention in the introduction of your paper that this is not the first paper to investigate these types of questions. But what's distinctive in your paper is that the migration is explicitly modeled. What do you mean by that? How do you distinguish what you've done here vis-à-vis what's been done elsewhere earlier in the literature?
KENNAN
There are two kinds of things that have been done. One is to look at the effects of specific tuition subsidy programs, where there are, for example, merit scholarships given out to selected individuals. I think Georgia was the first state to do this, and a number of other states have introduced it, the HOPE Scholarship.
What was measured was the effect of that kind of a sub­sidy on the decisions that these students would have made regarding going to college or not. The effects that were found were quite substantial, but that doesn't answer the question of where these people will end up. And it doesn't answer the question of what happens when you do that kind of subsidy for everyone in the state, not just for a select few.
The other kind of work that's been done is to consider look­ing at just a count of the number of new college graduates or the number of new M.D. degrees produced within a state, and then when there is a surge in the flow of new graduates, come back maybe 10 years later—this is a paper by John Bound and co-authors at the University of Michigan—and ask, "Does that surge in the flow of new graduates correspond to a substantial increase in the stock of college graduates 10 years later in the state?" And the finding there was that it really doesn't tend to stick if you measure it that way.
What's distinctive here is not just to take the flow as some­thing that's given for some extraneous reason, but to try and think about what would happen if you deliberately change the flow of new college graduates by means of a specific policy intervention, and then, rather than just doing a count of what the numbers are now and 10 years later, keep track of how individuals make these choices, both choices about whether they go to school and choices about where they want to live and work.
ANDOLFATTO
So your model helps identify the reasons?
KENNAN
It certainly keeps track of the reasons that people are making the choices, and it allows you to think about the choices that they would make under alternative arrangements and alterna­tive policies that they might face.
ANDOLFATTO
Does your paper speak at all to the reasons for the variation that we do see in subsidies?
KENNAN
Not really, and that's somewhat mysterious. The subsidies, the amount of money that's allocated for higher education is very substantial. And, of course, that has to be financed by taxes on the residents of the state. So the people who end up as college graduates are in some sense paying for themselves, but the people who end up not going to college are also pay­ing for the college graduates.
These kind of policies involve an implicit transfer from people who don't have so much money to begin with and giving the money to people who already have quite a bit, so a transfer from someone who is a high school graduate to someone who is a college graduate. That's a little surprising to see. To see that these decisions are made very differently across the U.S., that's not something that the paper really addresses. Indeed, it treats those variations as the outcome of some, perhaps political, process where it's largely accidental how the numbers turn out. But that's a very interesting question in its own right.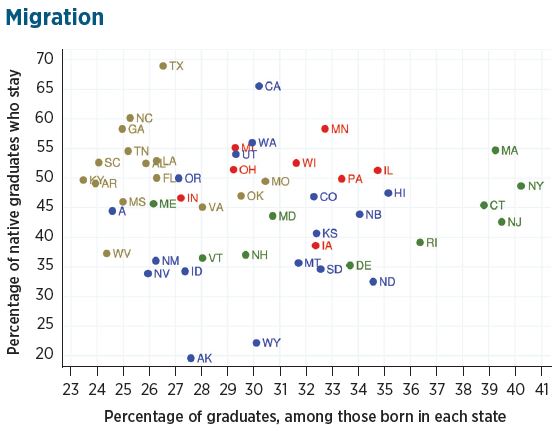 ANDOLFATTO
Perhaps not this paper, but this line of inquiry you're pursuing, how might it feed into the policy debate? How might it inform policymakers? Do you see any role for your findings in how educational policies might be designed going down the road?
KENNAN
I think it brings up the question of whether it's beneficial for the residents in the state as a whole to augment the level of education in the state labor force. You will see the argument made that, by having a more educated workforce, everybody benefits, not just the people who have the extra education, but that it spills over to the others in the state as well. It cre­ates jobs. It enhances the labor market in some way.
I don't really get into that in this paper, but, certainly, you want to know—if that's your view of how the labor market works—whether these large expenditures are actually going to pay for themselves in the long run through some mecha­nism like that.
ANDOLFATTO
There are many ways to attract human capital to a locality, such as offering an environment that's conducive to entrepreneurs or startups, that would be independent of where they were educated. But I think what you're getting at here is the suggestion that the homegrown talent is eventually going to come back, that the locals who are financing this endeavor can rest assured that your findings suggest that they will be coming back and contributing.
KENNAN
One thing that's really important in looking at migration data is that there is a very strong tendency for people to want to live where they grew up. They will leave in many cases, but they'll often come back. So if you're trying to change the composition of the workforce in the state, you might try to do it by attracting college graduates from other places, but it's likely to be much more effective to produce more college graduates from your home population, because those are the people who are most inclined to be in this location in the long run.