Gianluca Violante
, William R. Berkley Term Professor of Economics, New York University
Paper: "What Shifts the Beveridge Curve? Recruitment Effort and Financial Shocks" (with Alessandro Gavazza and Simon Mongey)
The paper's main takeaways, according to Violante:
What we hope to learn is whether the recruiting intensity channel, or the search intensity on the firm side, can play an important role in business cycle fluctuations.
This is something that has not been emphasized enough in our view with one notable excep­tion, which is the paper by Steven Davis, John Haltiwanger and Jason Faberman that inspired our work.
The Federal Reserve Bank of St. Louis hosted its 39th Annual Fall Conference on Oct. 9-10, 2014. David Andolfatto, a vice president and economist with the St. Louis Fed's Research division, sat down with each of the conference presenters and discussed their work in plain English. The content below is from those interviews. All interviews have been edited for clarity and length, so the content below should not be considered a transcript. To read the papers presented at the conference, visit http://research.stlouisfed.org/conferences/annual/39th.html.
ANDOLFATTO
Why don't you start off by explaining to people what the Beveridge curve is and why anybody should care about it?
VIOLANTE
The Beveridge curve is the empirical relationship between the unemployment rate and the vacancy rate. The unemploy­ment rate is the fraction of individuals in the labor force who look for jobs, and the vacancy rate is, loosely speaking, the fraction of idle positions or open positions in the economy. Obviously in an ideal world, in a world without frictions and in our perfectly competitive models, both the vacancy rate and the unemployment rate are zero, because of market clearing in the labor market.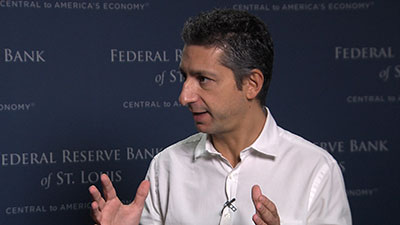 In the data, it is not the case, and in a large class of fric­tional labor market models, this is not the case, meaning that unemployment and vacancies coexist in equilibrium. Typically in the data, there is a negative correlation between unemployment and vacancies. For example, in an expansion, firms post more vacancies, so the vacancy rate goes up, and workers find jobs at a faster rate, so the unemployment rate goes down. This generates a negative correlation over the business cycle between unemployment and vacancies.
As a consequence, typically, the Beveridge curve, this empir­ical relationship, is negatively sloped. Now, in the data every once in a while, this correlation changes sign and becomes positive. For short periods, or long periods depending on the country we look at, unemployment and vacancies are positively correlated. This means that we see in the data simultaneous increase in the unemployment rate and in the vacancy rate. This is a sign that there is a deterioration in the way the labor market works, because the fundamental role of the labor market is that of putting together idle jobs and idle workers. If they both increase at the same time, it means that there is a decline in what economists call aggregate matching efficiency, or the effectiveness of the labor market in combin­ing job seekers and idle positions.
After the Great Recession, we did observe one especially significant instance of positive movement between unem­ployment and vacancies, or in other words, an outward shift in the Beveridge curve. For example, before the recession, an unemployment rate of around 7 percent was associated with a vacancy rate of, say, 2 percent. After the recession, the same unemployment rate of 7 percent was associated with a vacancy rate of almost 3 percent, so more unemployment and more vacancies that coexist in the labor market.
ANDOLFATTO
Is it a common phenomenon during recessions for this Beveridge curve to shift or for this efficiency of the matching process to deteriorate? Or is it something that's kind of special with respect to the last recession?
VIOLANTE
The quality of the data before, say, 2001 is not as good as after 2001, so it's difficult to make a historical statement about this. If you compare the 2001 recession with the 2008 recession, for which you have high-quality data and compa­rable data, then in the Great Recession there was a remark­ably large shift in the Beveridge curve.
ANDOLFATTO
What is the set of questions you're interested in pursuing in light of the facts of what the Beveridge curve is and how it's behaved?
VIOLANTE
In this paper, we are trying to understand the sources of this observed shift in the Beveridge curve or this decline in aggregate matching efficiency. We have in mind a mech­anism that is based on an interaction between recruiting intensity on the firm side and financial shocks. The idea is very simple. The mechanism is based on three observations.
The first observation is that the job-filling rate—meaning the rate at which firms fill vacancies—increases with the firm's growth rate. In the data, the firms that grow fast are the ones that recruit with the highest intensity or the ones that post their vacancies and spend a lot of resources— advertisement, networking, screening, and so on—in order to get quickly the workers they need.
The second fact is that it's the young firms that have the highest growth rate and contribute disproportionately to job creation. For example, 20 percent of total job creation is due just to startups, and almost half of job creation is concen­trated in firms that are younger than 7 or 8 years old. So much of the job creation is in the young firms, and these are the firms that grow the fastest and have the highest degree of recruiting intensity.
The Great Recession has been characterized by a financial shock, and this financial shock had a disproportionate effect on young firms. To give you an example, we know that hous­ing equity has fallen dramatically in the Great Recession. Housing equity is a key source of financing for startups, so young entrepreneurs often take a second mortgage on their house in order to finance the startup, at the birth of their enterprise. The inability of exploiting this important source of financing in the Great Recession, has reduced the ability to create new young firms, and those are the firms that recruit with the highest intensity.
So how does that translate into a fall in matching efficiency or a shift in the Beveridge curve? Basically what it means is that even if we do see a lot of vacancies in the data, these vacancies are not associated with a high recruiting intensity. Firms post a lot of vacancies, but they don't recruit with high effort. And so it's possible that we see high vacancy rate and high unemployment rate because the employers are not really looking hard for the workers.
ANDOLFATTO
This is one interpretation of the so-called shift in the Beveridge curve. I suppose there are other interpretations as well. How does yours compare with, say, some prominent explanations? And what are the key strengths of yours versus these more conventional explanations?
VIOLANTE
Another prominent or certainly plausible explanation of the shift in the Beveridge curve is an increase in occupational and geographical mismatch between unemployment and vacancies. The recession hit mostly the construction sector and manufacturing sector, and there were other sectors like, for example, health care that actually kept growing. After the recession, what happens is that you have a lot of workers that are fired from the construction and manufacturing sec­tors, but the available vacancies are in different sectors. That means that there is a misallocation or mismatch between unemployment and vacancies and that can, again, contribute to this coexistence of a high vacancy rate and a high unem­ployment rate.
ANDOLFATTO
So basically a structural disturbance that makes matching across sectors more difficult than within a sector. What would be wrong with that interpretation? Would it be complementary with your interpretation?
VIOLANTE
Exactly. I worked on the measurement of mismatch in a separate paper, and we did conclude that that mechanism can explain at most, I would say, between one-quarter and one-third of the drop in aggregate matching efficiency. So there is scope for other explanations, and this is one of the reasons why we started working on this paper.
ANDOLFATTO
There are a lot of people working on this issue: the Beveridge curve, why it's moving around, how to interpret it. What motivates your research in terms of what potential policy lessons might come out of this? Do you think your research might at some point bear on some labor market policies?
VIOLANTE
Certainly, but we are still at a very preliminary stage of the project, so I want to be very cautious in terms of possible policy recommendations. The reason why what we do is interesting from a policy perspective is that there has been a great emphasis, I think, and for the right reasons, in trying to understand what the effect of the generous extension of unemployment benefits was on the unemployed workers' search effort. There was a lot of focus on the job seeker side with the idea that if we're extending unemployment benefits for too long, if the unemployment benefits are too generous, there is a disincentive effect on the unemployed and that can actually prolong the recession.
We're shifting the focus a little bit towards the firms, essentially. We're saying it's possible that it's actually the firms that are reducing their recruiting intensity, their search effort, and the reason is that this recession has been espe­cially detrimental for young firms. If you want a fast recov­ery, one possible policy prescription, with all the caveats, would be to try to actually foster job creation.
Fostering job creation—which is another point that I think John Haltiwanger makes very clearly in a number of academic and policy pieces—doesn't mean helping small firms, because there's a big distinction between young firms and small firms. There are a lot of small firms that are not young that don't have any growth potential. I think about the drug stores around the corner. They are at their optimal size. It's not like they need to grow further. But there are many young firms that are small and at the same time have significant growth potential, and those are the ones that need to be targeted if they are suffering because of disruption in the financial system that is supposed to channel resources towards them.
Of course, doing it right is very hard because we know there are many young firms that start well and then close shop after a few months because things go wrong. So it's extremely challenging to target, even among the young firms, those that have growth potential, and that's really an important challenge for policy.
ANDOLFATTO
The challenge I guess would be for policy to actually identify them. There are a lot of people and firms that would like credit extension, a public credit policy or even wage subsidy I suppose could potentially work.
VIOLANTE
Yes, or hiring subsidies. Exploring the impact of these poli­cies in the context of our model is on our research agenda.
ANDOLFATTO
Your paper would speak to more of a direct credit market intervention, I suppose. These are financial frictions that are holding them back.
VIOLANTE
Yes. One of the conclusions of our paper is that these finan­cial frictions were especially sharp in the recession, and so easing that friction would have helped. But once again, this conclusion is preliminary.