Richard Rogerson:
Professor of Economics and Public Affairs, Princeton University
Paper: "Retirement, Home Production and Labor Supply Elasticities" (with Johanna Wallenius)
Andolfatto
Tell us what the main question is here, what you're pursuing.
The paper's main takeaway,
according to Rogerson:
The main takeaway is that our analysis points to people being quite willing to adjust the amount of market work in response to changes in incentives.
Rogerson
Well, the main question that we are addressing in this paper is to understand the preferences that individuals have for some of the key things that guide their decisions. People value consumption. People value leisure. And as things change over the lifecycle or in the economy, that causes people to make changes in terms of what they do there.
So one of the important places where this shows up is in the amount of time that people devote to market work. In the United States, for example, we know there's been in the recent recession a huge drop in the participation rate. There's a lot of discussion about what might be behind that drop in the participation rate. One possibility is that the participation rate has dropped because people think it's too hard to find jobs, and therefore they've given up the search. But another idea which is out there is that in the face of very minimal wage growth, there are many people whose situations in life are such that when they look at the options facing them, the wage opportunities in the market are such that they prefer to actually stay at home. For families that might have young children, if they go to work they might need to pay for child care. Wages are a very important factor in terms of whether it's best to seek work in the market or stay at home.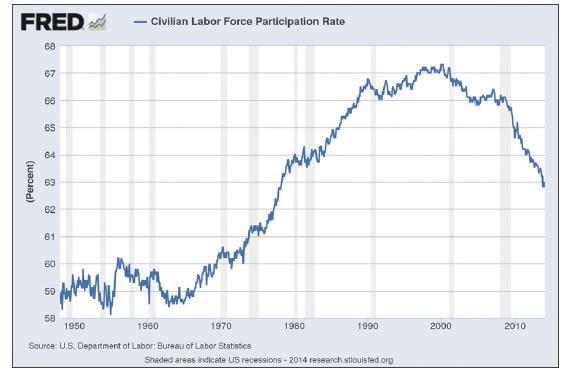 And so this paper is trying to estimate some of what economists call the features of preferences. But it's the way people feel about those choices, which helps us understand how they respond in different situations.
Andolfatto
When you say preferences, you mean things like the willingness of people to substitute into different activities or different commodities?
Rogerson
Yes. For example, people have some money to spend and they need to decide what types of goods to spend that money on. And we know that that is influenced both by the things they like and possibly by the prices of those things that they like. As the prices change, that may influence their choices. But how they feel about different things also influences. And another setting where this matters is: How do they value leisure versus consumption?
Andolfatto
So estimating these parameters that dictate individuals' preferences is important for economists, for example, to predict the effects of changes in the economy or the effects of government policy?
Rogerson
Yes, absolutely. When wages change, that will have an influence on the choices that people seek to make. If we have a change in retirement programs, the extent of benefits, the age of retirement, that can influence people's choices. When health care benefits change, that can influence people's choices.
Andolfatto
So tell me what do you find in your work here? What have you discovered? Have you discovered something that people out there might find surprising that the people in the literature have missed? I mean, what have you added to the debate?
Rogerson
For people in the economics profession, it's no surprise that there's been some controversy over the years about some of the, what we call, preference parameters that we're estimating. But, again, what this amounts to is how responsive is the time that people devote to market work to things like wages and tax rates. And one view is that people have a certain amount of time they want to work in the market and that's kind of fixed. And that's influenced relatively little by changes in wage rates or tax rates, that people just have for some reason, some amount of time that they want to work. And the opposite view is that people are actually quite responsive to changes, incentives in terms of the time they devote to market work. And so that's a long controversy in the economics profession. And this particular paper comes down, I would say, on the side of saying that people are quite responsive to incentives in terms of those choices.
Andolfatto
And how did you discover this? I understand you used a particular type of data to weed out this information.
Rogerson
Yes. In all of these, any exercise of this sort, the idea, of course, is to look at the choices that individuals make in different settings. And the idea is that if you see the choices that people make in certain settings, that's a way for you to learn something about what motivated those choices. And here, what we look at is what happens to the way people allocate their time when they retire. So for a person who retires, if they were working full time, this means counting the commuting time to work, they're working something like 45 hours a week. So when you move into retirement you basically have this extra 45 hours a week freed up. And the question is what do people do with that?
And the key margin that we focus on is how do people allocate this time between two categories that we call home production and leisure. So leisure is activities like watching TV, going out to movies, perhaps traveling, just reading a book, relaxing. This other category that I talked about, home production, that's something that economists use to describe activities like doing housework, cooking meals, taking care of children. And the idea is that home production activities are things that people could either do for themselves or there's an opportunity for people to purchase those services in the market. One of the simplest examples is one that I just mentioned: child care. You could either take care of your child or you could hire somebody to take care of your child.
And so one of the key attributes of home production is this substitution. You can either pay for it, or you can do it yourself. And that interacts with the choice of how much you work in the market, because if you work in the market, you've got less time for these things, but you have more money to spend on those things. And our paper is trying to understand how people are willing to substitute among those things.
Andolfatto
So how do people tend to spend their time upon retirement? They have this 45 hours a week, you say, that's freed up.
Rogerson
We use a relatively new data set that the Bureau of Labor Statistics collects called the American Time Use Survey, which has people fill out in detail, in various detail how they spend their time during the day. And from these data we can look at people before and after retirement. And what we find is of this 45 hours, roughly 30 percent of it, so approximately 15 hours goes into what I called home production. And the other 30 hours basically goes into leisure. So there's quite a big increase in leisure.
Andolfatto
So the specific way that people divide their time at this point of retirement, between home production and leisure, that number featured prominently in your estimate of this labor supply elasticity, you say, this estimate of the willingness of people to adjust their work effort in response to wages and taxes? What if that number had come in at 90 percent or 10 percent?
Rogerson
One of the keys to using this type of data to infer preferences is you have some structure for what influences people's choices. You observe the choices and from that you can infer the factors that influenced those choices. If we had found that people devote almost all of the additional time to home production, that would tell us that leisure changes very little when people retire. And if leisure changes very little when people retire, that would suggest that having some extra leisure for people is not very valuable. But the fact that in retirement what we find is people take a lot more leisure, suggests that people are quite happy about having additional leisure. And if people are quite happy about having additional leisure, this suggests that they will presumably respond with the amount of leisure to incentives.
Andolfatto
So it suggests that they are quite a bit willing to substitute into and out of leisure depending on the incentive structure out there. How would you say that your results bear on any policy debate? Any contemporaneous policy implications?
Rogerson
I think one of the most important settings where these types of labor supply elasticities matter is in the context of arguments about how do taxes on labor income influence the amount of time that individuals devote to market work. And that shows up in lots of different contexts. For example, just in terms of standard reforms to the tax system, that's an important issue. And, of course, this comes up in all the discussions among the different political parties, often very charged in terms of ideology. But these types of estimates are important for that.
Also, if you're going to change features of the retirement program in terms of the replacement rate, it would matter for how changes in retirement policy influence the age at which people retire. So in all of those policy discussions how much labor supply responds turns out to be very important.