Ricardo Lagos
Professor of Economics, New York University
Paper: "Trade Dynamics in the Market for Federal Funds" (with Gara Afonso)
Andolfatto
What is your paper about, what questions are you asking, and what sort of answers have you received?
The paper's main takeaways,
according to Lagos:
The fed funds market is something that most people who look at the macroeconomy seem to care about.
And I would say we know surprisingly little about how it actually works, about the plumbing of the fed funds market. And I think it can be important in cases where the plumbing doesn't work so well.
I would say the main takeaway of the paper is that we're trying to provide this model that one could estimate and simulate and use in a lab to see if things go wrong somewhere, what impact that would have on the rest of the system.
And, in cases where, for example, the Fed is trying out new policy tools, such as increasing the interest on reserves, it may be a good idea to try it out in this controlled environment and see what you might expect.
Lagos
Maybe I should start with the fed funds market. So what are fed funds? Fed funds are basically loans of reserve balances, which is cash that commercial banks typically hold at the Federal Reserve.
Andolfatto
To operate in this market, do you need an account at the Federal Reserve? And these Federal Reserve funds are credits in your account that you can lend or borrow?
Lagos
That's right. So the way to think about it is that you have a cash account. If you were a commercial bank, the bank you bank with is the Federal Reserve, and that's where you keep your cash. And then sometimes you may want to borrow cash from another bank. And the way that happens is the other bank will also have a cash account at the Fed, so he will credit to your account whatever you're borrowing and then you promise to repay. Those things that you're borrowing and lending, they're called fed funds. It's actually loans. There are different maturities, mostly it's overnight, and it's uncollateralized.
Andolfatto
Why do banks do this? Why do they borrow and lend overnight in such short term in this market?
Lagos
One way to phrase the question is: Why do banks hold cash? And then we may have to think about why sometimes you feel your cash is very low and you need to borrow some. These reserve balances, which is basically the cash that the banks hold at the Fed, they're used between banks as means of payment. So if you want to buy some assets from another bank, that's how you pay. In this case, it's not physical cash. It's just entries at the Fed, computer entries. But, of course, they could become cash with just a phone call and they get shipped to your bank.
So you hold them as a means of payment. You also hold them because you have to. There's something called reserve requirements, which is a fraction of the deposits that you issue in your bank you have to keep to make sure that you're financially sound. It's an imposed demand of cash that the regulator imposes on the bank to make sure you have enough cash to satisfy reserve requirements.
Andolfatto
So what sort of question are you asking then in your research paper?
Lagos
This market is almost like ground zero of monetary policy implementation because it's the place in which monetary policy is conducted. So every six weeks the FOMC, the Federal Open Market Committee, would get together in Washington and they would vote on a reference interest rate, which is the fed funds rate that makes the newspapers. And that's the way they change their stance on monetary policy. So sometimes they want to increase the fed funds rate, sometimes they want to reduce it.
Now, what is the fed funds rate? It's actually the interest rate on these fed funds loans. The FOMC will send a memo to the fed funds trading desk at the New York Fed, and they will say please make sure that these fed funds are trading at target. And often in the academic literature there's a gap there. We all understand that this memo is sent, and we all understand that somehow what the memo said should happen happens. But there's a gap in terms of how it is that it happens. So what this paper is about is looking at the plumbing of this market to see exactly how it is that these bilateral loans between banks happen to trade at target or not.

Andolfatto
So why would it be important to understand the details of the plumbing as you say, as to the determination of this federal funds rate, this key policy rate in normal times for the Fed? Why is that plumbing important to understand?
Lagos
So that's the reason why I used "plumbing." When things are working well, plumbing doesn't matter. You never look. And when things are clogging up, then you're really interested to know exactly where everything goes to find the problem. And there are instances where these markets clog up, and then you're concerned because if some bank cannot get the loan that it needs, that might get passed on as curtailing credit to its clients, and then it affects the real economy.
Andolfatto
One basic question that you ask in your paper is: What are the determinants of the federal funds rate? And how does your answer differ from, say, standard treatments of that question? I mean, most people would say, well, something like supply and demand, but it's something more involved than that.
Lagos
That's always the right answer. I would say the differences are more operational. At some level, it's supply/demand. But if I ask you for a number, like if the Fed increased the interest on reserves by 25 basis points, then your answer can't just be supply/demand. And what this model does is it allows you to quantify. Basically it tells you how to go to data and try to estimate what the demand would be.
Andolfatto
One thing I recall in the paper you pointed out was many people have the idea when they think of supply and demand that there's a unique federal funds rate, but indeed there's a distribution of rates that this market isn't as well connected as one typically thinks. It's what they call over the counter, where you have these bilateral meetings and negotiations and so indeed there's a distribution of federal funds rates? And this distribution evolves over time possibly, over the day? And that's important?
Lagos
So the standard view of this market is that it's a standard textbook, supply/demand cross. So it's completely static and competitive. And like you were saying, that doesn't seem to be the way the market works. Supply/demand requires some kind of auction or some frictionless marketplace where everybody gets together and trades without any impediment. This market does not look like that, like you were saying. It's bilateral.
So there's not a grand marketplace where we all go and bid for loans. In fact, it's a disorganized market. We have brokers or dealers or people working at banks calling each other up, having conversations like, "I need 10 million. How much will you charge me for it?" And then they bargain. If you have a guy who's very desperate meeting a guy who's not so desperate but can help him a little bit, then, probably, if the loan occurs, there will be a very high interest rate. So like you were saying, depending on who happens to call whom and what time of the day, there's going to be a whole distribution of interest rates that get quoted. And then what the newspaper reports as the fed funds rate is basically an average of those.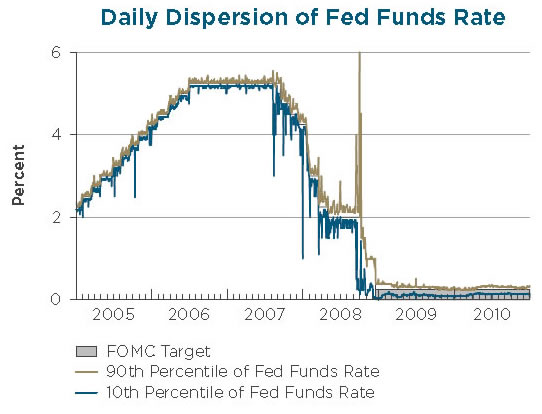 Now, presumably, we're interested about the financing costs of banks. We like to understand exactly what the bank is facing, and the average may not be representative for everybody. So that's why it's important to look at the plumbing.
Andolfatto
You say that you use the model for quantitative analyses of policy issues facing modern central banks. So what's an example of the way you use your model for a policy issue facing central banks today?
Lagos
Let me give you two facts and the motivation. In 2007, for example, if you looked at the whole banking sector in the U.S. on a typical day and you added up all their reserve balances—this cash that they hold at the Fed—they would be holding something on the order of $50 billion, of which over 90 percent or over 95 percent, depending on the day, would have been required reserves, meaning that cash they had to hold at the Fed to satisfy the reserve requirements. So the banking sector as a whole was running very lean on cash. It was only at 5 percent or whatever the holding was excess for precautionary reasons or whatever.
Now, take a postcrisis example. Early 2008, 2009, even today, if you look at the total amount of cash held by the banking sector in their Federal Reserve accounts, it's multiplied by 20 or now by 25 or 30. So it's trillions of dollars now as opposed to $50 billion. If you ask what proportion of those trillions of dollars are required reserves, it's only on the order of 5 percent. So most of it is excess reserves, a huge amount of excess reserves.
Now, that poses a challenge in the following sense. Right now, for the fed funds rate they quote a target: It is between zero and a quarter percent. Suppose that in a year from now or two years from now for whatever reason the FOMC decides to increase the fed funds rate. How will they do it? Now, the traditional way to do it would be to make liquidity or make cash scarce. And the way you do that is by, for example, doing a sale of Treasuries. So you give the private sector (the banks) Treasuries and then that reduces the amount of reserves. And that would naturally mean in these bilateral phone calls, since cash is more scarce, the loans would go at a higher rate. And that's how you manage the rate up.
The concern with that is, that worked well in a situation where the open market operation is relatively big relative to the reserves in the system. So you can have enough traction by selling these Treasuries. Now, with only excess cash of like 5 percent or $50 billion, that's doable. Today when you have trillions of excess reserves, how big would the open market sale of Treasuries have to be to make the rate go up any meaningful amount? It is probably not practical, aside from debt limits which is another issue. So the concern with that is, if for whatever reason the Chairman or the Board decides they want to increase the reference rate, they might have their hands tied.
Now, there's an extra tool that they've introduced since 2008, which is they've been paying interest on reserves. Interest on reserves is when you're parking your money as a bank overnight at the Fed, how much you get paid for it. Before the crisis it was zero and now they pay 25 basis points. So the hope now is that even if there is still that excess cash out there, maybe the Fed can still increase the fed funds rate by increasing the interest on reserves. And what we do with the model is we basically estimate some parameters and we use the model as a laboratory to perform those exercises and see if the Fed today increased by, say, 25 basis points, the interest they pay on reserves, by how much would the equilibrium fed funds rate increase?
Andolfatto
Suppose that the Fed is interested for whatever reason in putting upward pressure on the federal funds rate, this policy rate that's been a key policy rate for a long time. A traditional way to do it is to engage in some sort of open market operation, but this would potentially have to be so humongous as to render it impractical. Your model suggests that the alternative method of using the interest on reserve tool might be a more conducive way of achieving that goal. That's what your model suggests?
Lagos
Chairman Bernanke in several speeches has said that if the Fed wants to increase the fed funds rate before these excess reserves have been drained out, one natural way to do it would be the interest on reserves, so we can't claim authorship to that idea. But what we do is we can offer Chairman Bernanke a number. If you wanted to increase the interest rate by 1 percent, by how much would you have to increase or announce you're going to increase the interest on reserves?