Martin Eichenbaum
Charles Moskos Professor of Economics, Northwestern University
Paper: "Unemployment and Business Cycles" (with Lawrence Christiano and Mathias Trabandt)
Andolfatto
I was wondering if you wouldn't mind telling us a little bit about the question that you're addressing in this paper and what sort of findings you have.
The paper's main takeaway,
according to Eichenbaum:
The key takeaway is that wages are sticky and the reason they're really sticky matters. It's not innocuous to just assume it.
Eichenbaum
The paper is part of a larger project trying to develop richer models of labor markets that can be used to understand events like the Great Recession. Why did the labor force participation rate and the employment rate drop by so much? Why did unemployment rise so dramatically and what can we do about it?
A central puzzle that goes back to the beginning of modern macro, which I date with a paper by Bob Lucas and Leonard Rapping, is the observation that employment is incredibly volatile and real wages aren't. That fact has been a basic roadblock for lots of theories, including Real Business Cycle and New Keynesian models.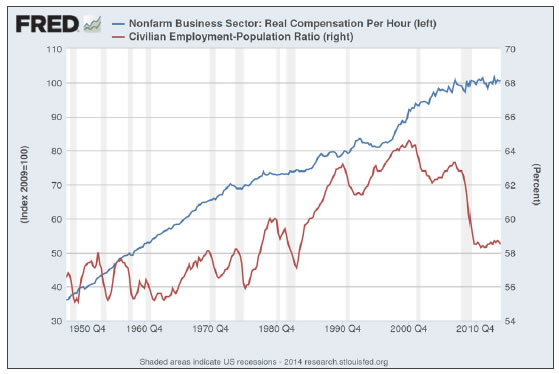 The basic problem is that in those models, real wages rise dramatically after an expansionary shock to the economy. That rise chokes off or mutes the expansionary forces associated with the shock. The prediction that real wages rise a lot after expansionary shocks is just counterfactual. The kind of models that are very popular in policy circles, including those that Larry Christiano and I, along with coauthors, have developed, solve the problem but in a very mechanical way. We just say, "Look, wages are sticky. We don't know why. But it's better to be shallow and right than deep and wrong. So let's just assume that wages are sticky and get to work."
That's fine for some purposes, but it means that we can't address many interesting questions. For example, what happens if you raise unemployment benefits? In standard DSGE models, the answer is nothing. Those models are just silent on the question. Wages are sticky, workers work, and that's that. But of course reality is more complicated.
Given those limitations, you might ask why do we trust the answers to other policy-related questions that we can address. Questions like what are the effects of a change in the federal funds rate, the effects of increasing government spending or the effects of quantitative easing? The answer is we trust our model more than the existing alternatives because of its relative empirical performance. But we won't really know if the answers that our model gives us are reliable until we develop better models that explain why wages appear to be so sticky—rather than just assume that they're sticky. And that's what we're up to now.
Andolfatto
Does your model have any advice to offer to central bankers in terms of the effects of programs like quantitative easing in times of a recession, a deep recession like what we've witnessed recently?
Eichenbaum
At this stage, we're more focused on fiscal rather than monetary policy. For example, we're currently analyzing the costs and benefits of unemployment benefits. Our model suggests that extending the duration of unemployment benefits has some beneficial effects in terms of stimulating aggregate demand. But it has another effect that's a much less obvious feature: a high level of unemployment benefits increases the sensitivity of the economy to other types of shocks. So it's like you're driving faster. If nothing goes wrong, you get where you're going more quickly. But if you get into an accident, then the damage will be worse.
Andolfatto
What sort of interpretation of the most recent recession and lackluster recovery does your model offer?
Eichenbaum
That's a great question. Simple New Keynesian models predict that inflation should have fallen by much more than it actually did during the recent recession. The data and our model suggest two explanations. First, in this recession, the financial market disruptions caused large rises in the cost of working capital. Second, the growth rate of total factor productivity (TFP) slowed down a great deal. Both factors caused persistent rises in firms' marginal costs. In our model, these rises generate an increase in the rate of inflation. There's a lot of independent empirical evidence that suggests that these forces are real and important.
So simple New Keynesian models suggest that the recession should have unleashed powerful deflationary forces. But the rise in the cost of working capital and the slowdown in the growth rate of TFP provided important countervailing forces on the inflation rate. The net effect is the inflation rate hasn't moved very much. Those forces, along with contractionary fiscal policy and ongoing weak aggregate demand, have combined to generate a very slow recovery.
Andolfatto
Many commentators have pointed to external forces as either causing or exacerbating the recession or the slowdown in the recovery. Does your model have anything to say about that?
Eichenbaum
Open economy variants of the model predict that a decline in exports has a contractionary impact on the U.S. economy and that those effects are particularly powerful when the zero lower bound is binding. But the model also has a lot to say about labor market exposure to developments in countries like China and South Korea. Standard sticky wage macro models have little to say about how U.S. wages respond to firms' potential to offshore production. In contrast, in our setup where workers and firms are bargaining with each other, firms' option to offshore puts labor in a weaker bargaining position.
Andolfatto
So let's say this weaker bargaining position, owing to the competition offered by China, might manifest itself how exactly?
Eichenbaum
In a bad way: lower wages and higher short-run unemployment rates.
Please note that the content in this section is based on the interview but should not be considered a transcript.