Larry Jones
Professor of Economics, University of Minnesota
Paper: "Is There 'Too Much' Inequality in Health Spending Across Income Groups?"
(with Laurence Ales and Roozbeh Hosseini)
Andolfatto
Would you like to start off by describing your work to us?
The paper's main takeaways,
according to Jones:
The first one would be: There's already quite a bit of health care insurance provided in the U.S. in the current system for people who are needy.
Because of that, maybe we want to be a little bit careful about exactly how far we try to push things when we're making policy changes. We should be informed about that stuff.
Maybe what that first thing tells us is the focus should be on the delivery system and not kind of the overall quantity so much.
Jones
What we're trying to do is to come to a little bit better understanding. We felt we didn't know or have a good enough sense about what health spending should look like for the difference between rich people and poor people. This problem is handled in different ways in different countries. In some countries, basically rich and poor people get the same kind of health care coverage. Canada is the prime example. Many countries in Europe have this sort of dual system where pretty much everybody is enrolled in a sort of single-payer, government-run system, but very wealthy people typically opt out of that system voluntarily and pay for additional higher-quality care for themselves out of their own funds. In poor countries, basically you're on your own. So this is handled in a lot of different ways in a lot of different countries. And the U.S. has had a unique system where mostly it's been handled through private insurance through people's jobs for a large fraction of the population. With this system, a large fraction of the population, once they turned 65, reached retirement age, were covered by a government-provided generally funded system. So we felt like we didn't have a good understanding of why these different systems exist at the same time. Is it true that in certain circumstances one is the best system or a better system, in other circumstances the other kinds are a better system? What is it that determines which one is a good system or a better system than the other? So we wanted to get some sort of idea about that.
And, in particular, since we're going through a big change in the U.S., a lot of the discussion about these systems has been: Do people at the bottom of the income distribution get enough health care? Economists have buzzwords that they use to describe these things. They describe something called the social safety net, which is a series of social programs which make sure that if you're particularly unlucky, that you don't get hit too hard. So there are different kinds of programs like food stamps, housing programs, some medical care programs like Medicaid for poor people. So we wanted to know how big should that social safety net be on the medical care part. That's what we were interested in.
Andolfatto
And so how does one go about trying to ascertain how much is the right amount for people?
Jones
It's kind of two parts to the question. First is to ask: How much is there? So like I said, some people seem to have this idea that there's no health care for poor people, and that's just not true. There are several different methods that it gets delivered, and maybe it's just that those systems are good or not. There's the Medicaid system, which some people are eligible for. There's also the emergency room care system, which is something's wrong with you, you show up in the emergency room. They're required by law to treat you. And there's some other issue about whether you pay for it or how it gets paid for, if it gets paid for at all.
So the first thing is to just get some idea about the magnitudes of the amount of money that that system is spending currently. And so we analyzed this data set called MEPS data set, Medical Expenditure Panel Survey, which collects data on individuals about how much is spent on their medical care and what it's for and what the source of funding for it is. So did they pay for it out of their own pocket, did they have an insurance company pay for it, did Medicaid pay for it, did Medicare pay for it? So it's a rich data set which has a lot of information about medical expenditures.
So that's the first thing is to look in the data and see what this thing looks like. How do medical expenditures differ for rich and poor people? And it turns out total expenditures don't differ that much for rich and poor people in the U.S. If you looked at the top 25 percent of the income distribution relative to the bottom 25 percent of the income distribution, the ratio of total expenditures across those two groups is about 1.2. So one would say that it's the same. I think most people would guess that it's much bigger than that. They would think it's like three or five or something.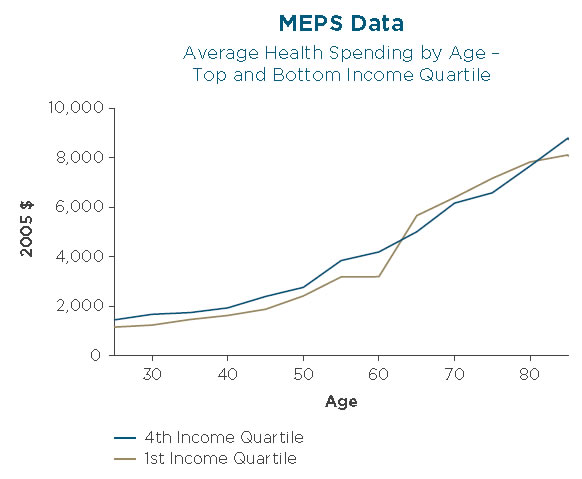 For example, if you look at other kinds of consumption expenditures, you get numbers like five or seven for that ratio. So it's quite a bit less. So that tells you that there's quite a bit of insurance going on already in the U.S., even though it doesn't have a formal system like Canada does. So it's quite a bit more than what people think. So that's the first thing.
There are other issues about the way that money is being spent. For example, for poor people, a lot of the way they get medical care delivered is to go to the emergency room. And one of the things that people are concerned about when they're talking about changing the way the health care system in the U.S. works is the fact that if you're poor, you have to go to an emergency room in order to get medical care. Going to the emergency room is a miserable experience for anybody. It's a hassle. You have to wait a long time. So what people worry about is maybe people put off getting taken care of for too long, so that when they do get treatment, they're in worse shape. So maybe if we had a different kind of system, we could get them treated early, they would be healthier, and it would cost us less. So that's the kind of thing that people talk about. But unfortunately this MEPS data set doesn't have the distinction between preventive and curative kind of care.
Andolfatto
What you just reported about the differences in health care spending across income classes, that's quite astounding. Did you control for people of different ages or sex or other demographic characteristics?
Jones
Yes. That number depends on age. And so we've got it conditional on age. It's about the same until you get to post-retirement years. Then it goes up a little bit. So it doesn't depend that much on age.
Andolfatto
Now, you've also in the paper written down a theoretical model, as economists are prone to do. Explain what that part is for.
Jones
Well, the next thing we want to do is get some sort of idea about, is 1.2 too big, too small? And that's a really difficult question, but that doesn't scare economists. So how do we handle it? You just make a bunch of outrageous assumptions and try to get a start at figuring out whether that number is too big or too small. We know that not everybody can get the same health care. Everybody can't get treated as well as President Obama does. I know that I'm not going to get treated as well as he does and we all sort of accept that. So some amount of inequality is acceptable. My take on the reason he gets treated better than I do is he's more valuable than I am in some sort of fundamental sense. The world would keep on working just fine if I didn't go to work tomorrow or if I got sick. It's a much more difficult situation if he has some sort of serious medical problem. So we try and use an economic model which takes into account that fact. It sort of gives some idea of what that difference "should be" like.
Andolfatto
I see here actually a line from your paper. You say: We show that under the efficient allocation—so under an efficient delivery of health care—health care spending should increase with labor productivity. So more productive members of society should receive more health care. Among other things, it prolongs their longevity, I suppose, and keeps them healthier.
But this recommendation that comes out as a byproduct of the assumptions your model makes says also that this should only be true during the working years, that once people retire this is no longer the case, that everybody should more or less be treated equally.
Jones
Right. It captures exactly that idea, that somehow President Obama is doing more important stuff than I am, so we want to make sure that he gets to keep doing it. It's more important to make sure that he gets to keep doing it than I do. Now, that means maybe I'm going to be sick or maybe I'm going to die younger than he is, that kind of stuff is just part of that. But we sort of all accept that that's part of it. Once he's not doing anything important anymore and I'm not doing anything important anymore, then that distinction goes away and the model says we should get the same kind of health care.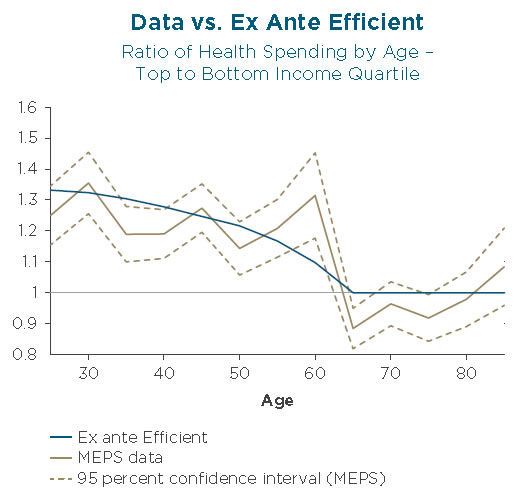 Andolfatto
I realize that this is, like you said, a first approach. But in reality, productivity differences might be a bit difficult to observe. They might have to be inferred indirectly by their salary, for example, which we know that in reality your salary might not fully reflect your productivity per se but other factors. Is that a concern?
Jones
Sure. I guess I would say it's a little nuanced version of what you said which is: Salary and wages are imperfect indicators of what some sort of underlying social productivity is. President Obama is also not the highest paid person in the country. So there are imperfections like that. We inherit that imperfection. I don't think that means you shouldn't do it at all. It just means that you do this as a first cut, and if somebody comes along with something better, then I'm all for it.
Andolfatto
So your theoretical setup kind of allows you to ascertain what a desirable allocation of health care spending should be in a society and you try to match that up with the data to kind of evaluate?
Jones
We don't try to match it. We try to do what economists call a quantitative or calibrated version of that model to see what that 1.2 number, how does that compare to what we get out of what the model says we should get. And one of the things which is interesting is the model said it should be about 1.2. You know, it's not exact but it's very close.
Andolfatto
So we have to be careful though, I guess. This is not a statement about insurance or anything like this. The Affordable Care Act, does this have any repercussions? Does your model have anything to say about that? Is it desirable in general?
Jones
It doesn't really say much about that, other than be a little bit careful. To the extent that that law is directed at trying to get more health care to the lower part of the income distribution, it doesn't look like we need to do too much on that dimension. To the extent that it's to try and get to redistribute the payments for that care, maybe we could do some of that. Because, of course, one big part of the plan—and, as you know, the Canadian plan, for example—is the health care delivery part, another part is the payment part.
And let's just take Canada as an extreme. Roughly speaking, everybody gets the same health care coverage in Canada. But how much you pay is proportional to your income. So that makes it a very unusual kind of good provision.
Andolfatto
So I guess what I was getting at was: It could very well be the case that people by and large in America are getting the right level of health care at the end of the day, more or less. But that in some cases those who are uninsured, those who lose their jobs, those who have pre-existing conditions, they lose their insurance, and if they have any assets, they might lose their house, for example, in the event they get sick. They'll still get their optimal amount of health care, it's just that they're going to lose their house. And your model doesn't speak to that part.
Jones
No. And also the other thing which we mentioned, which came up briefly before, that maybe because of those effects they put off getting treated. And that makes their health worse, it makes it more costly to cure them or improve their health once they actually do get treated. That's going to be hopefully one of the big benefits of the new system is if you're insured, then you don't wait until you have to go to the emergency room.