Introduction | Community Resources | Consumer Resources | Mitigation Toolkit
Foreclosure Mitigation Steps
Step One: Assess the Foreclosure Situation
Step Two: Reach Troubled Homeowners
Step Three: Establish Post-Foreclosure Support Systems
Step Four: Stabilize Neighborhoods
Step Four
Stabilize Neighborhoods
Foreclosures are not only devastating to the homeowner, but can also be destructive to neighborhoods and communities, especially when they happen in large numbers and in a concentrated area.
Research suggests that foreclosures reduce surrounding property values, which in turn can lead to more foreclosures, vacant and abandoned properties, and other neighborhood blight. Foreclosures also tend to be a magnet for crime, including property damage, trespassing, squatting and vandalism.
While foreclosure prevention is a critical component of a community foreclosure strategy, equally important is mitigating decline from existing and future foreclosures by protecting foreclosed properties, neighborhoods and the community tax base. The Federal Reserve sponsored Recovery, Renewal, Rebuilding, a series of forums to generate discussion on the aftereffect of the foreclosure crisis and explore solutions for community recovery, rebuilding and preparing for the future.
Identifying Ownership and Registration of Vacant/Abandoned Properties
One common problem faced by cities with vacant or abandoned properties is identifying the person responsible for the property. Often ownership or servicing of the mortgage will be transferred between parties several times over the life of the loan.
A title search will identify the last owner of record, and generally some kind of contact information will be available on the title.
The local tax assessor can identify the name, address and possibly the loan number of the loan servicing agent on properties where the first mortgage is impounded for taxes and/or hazard insurance.
A good starting point for locating appropriate contacts for bank-owned property is the Mortgage Bankers Association website that includes a list of property preservation contacts for numerous large loan servicers from around the country.
The National Vacant Properties Campaign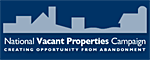 This campaign exists to provide individuals, advocates, government agencies, developers, nonprofits and others with information resources, tools and assistance to support their vacant property revitalization efforts. Vacant properties are defined as vacant residential, commercial and industrial buildings and lots that
Pose a threat to public safety, and/or
The owners or managers have neglected the fundamental duties of property ownership, such as failing to pay taxes or utility bills, defaulting on mortgages or carrying liens against the property.
The goal of the campaign is to help communities prevent abandonment, reclaim vacant properties and once again become vital places to live. Four actions fulfill this campaign:
Creating a national network of vacant property practitioners and experts,
Providing tools and research,
Making the case for reclamation,and
Building capacity of local, regional and national practitioners and decision makers through technical assistance and training.
The Local Initiatives Support Corporation, LISC, is a co-founder of the National Vacant Properties Campaign as part of the LISC Vacant Properties Initiative . LISC provides practitioners and policymakers with models, research and technical assistance to turn vacant properties into vehicles for positive change.
The city of Minneapolis recently conducted an analysis of the cost of boarded and vacant properties. The analysis revealed that the true cost to the city was over $6,000 per property. Some communities have set up a building registry to record unfinished, abandoned, substandard and vacant properties left by homebuilders and other developers. New construction permits are not approved until the builder/developer has corrected existing problems.
A vacant property registration ordinance requiring owners of vacant or abandoned properties to register with the municipality may allow community officials to more easily monitor and inspect the properties and enforce code compliance. Safeguard Properties, a privately held field services company, works with loan servicers to preserve and maintain foreclosed properties. Safeguard provides a list of vacant property registration ordinances for numerous cities around the country.
Land Banking
One option for dealing with vacant and abandoned properties is to create a land bank through which a municipality may buy and hold property for future sale or development.
The Genesee County Land Bank in Flint, Mich., has been touted as a national model. In 1999, the Michigan Legislature changed the way foreclosed properties were handled by giving outright ownership of these properties to the local county treasurer after only two and a half years. This change in the law opened the door for communities to reclaim, reinvest in and rebuild their neighborhoods.
The Genesee County Land Bank Authority (GCLBA) uses the new law to acquire abandoned land through the foreclosure process and determine the best use of that land. The GCLBA assembles land for transfer to adjacent homeowners, develops long- and short-term green spaces, and assembles land for new housing and commercial development.The objective is to restore the integrity of the community by removing dilapidated structures and redeveloping abandoned properties.
The Land Bank has spurred re-use of more than 4,000 residential, commercial and industrial properties that it has acquired since 2002 through the tax foreclosure process. In addition, with revenue generated from tax delinquent property fees and interest, the Land Bank has developed an $8 million self-sustaining fund to support cleanup and reinvestment.
Neighborhood Stabilization Program
To curtail the decline of communities severely affected by foreclosures, Congress created the Neighborhood Stabilization Program (NSP) as part of the 2008 Housing and Economic Recovery Act.
NSP funds may be used for:
purchase and rehabilitation of foreclosed properties,
demolition and redevelopment of demolished or vacant properties for rent or sale to lower-income households,
down payment and closing cost assistance programs,
creation of land banks, and
other housing-related activities to stabilize neighborhoods.
Living Cities, the National Community Development Initiative
In 2008, Living Cities, a collaborative of corporate and philanthropic organizations, launched the Foreclosure Mitigation Initiative. This 10-city pilot supported new and existing programs to mitigate the impact of concentrated foreclosures by returning foreclosed properties to productive use.
The programs selected for this pilot demonstrated promising local initiatives in strong, moderate, and weak housing markets and used tools such as New Markets Tax Credits, land trusts and nonprofit real estate brokers.
A report on the results of the pilot along with a series of policy recommendations is now available.