Grants in the Gateway: How Is CED Funding Distributed?
Community and economic development (CED) nonprofits provide critical programs and services to foster economic resilience and mobility in low- and moderate-income (LMI) communities, but limited analysis exists on the philanthropic sector's financial support of these organizations.
The goal of this report is to help CED practitioners, researchers and foundations understand the flow of grant-based funding in the St. Louis area and map regional dynamics in giving by examining differences between CED nonprofits and grantmakers in size, leadership and proximity.
Key Takeaways: Grantmaking to St. Louis-Area CED Nonprofits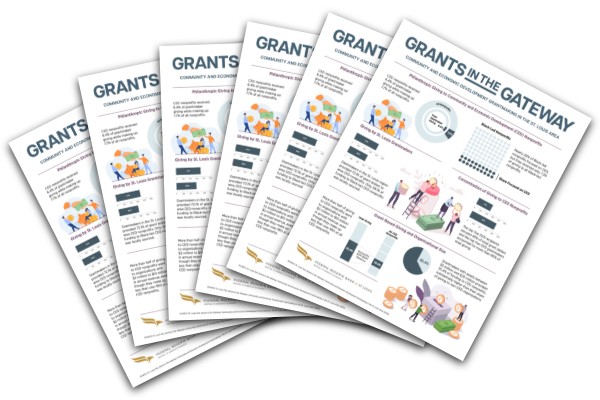 Philanthropic Giving to CED Nonprofits
CED nonprofits received 6.4% of total grantmaker giving while making up 7.7% of all nonprofits in the St. Louis area.
Nearly 20% of Black-led nonprofits in the St. Louis area focused on CED, but they received only 7.3% of giving to all Black-led nonprofits.
Most St. Louis-area CED funding came from public charities, even though they represented only 20.3% of all CED grantmaking organizations in the region.
Concentration of Giving to CED Nonprofits
CED giving appeared to be highly concentrated: The top five CED recipients secured 45% of total grant dollars and the top five CED grantmakers accounted for more than 80% of total giving.
Grant-Based Giving and Organizational Size
More than half of giving to CED nonprofits in the St. Louis area went to those with $2 million to $10 million in annual revenue, even though organizations of that size make up less than 20% of all CED nonprofits.
Grantmakers with assets between $5 million and $20 million provided 35.4% of funding to CED nonprofits in the St. Louis area, substantially higher than their contribution to non-CED organizations.
Giving by Local Grantmakers
Grantmakers local to the St. Louis region provided 72.1% of grant dollars to St. Louis-area CED nonprofits.
Among Black-led St. Louis-area CED nonprofits, only 58.1% of funding was locally sourced.
---
About the Authors
Learn more about the authors and their work:
Contact Us
For more information or media requests, please contact mediainquiries@stls.frb.org.