Social Purpose Real Estate Regional Conference
April 18, 2017 | Federal Reserve Bank of St. Louis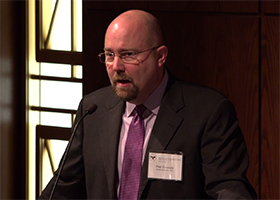 The Federal Reserve Bank of St. Louis and Social Innovation St. Louis co-sponsored a conference on April 18, 2017, on social purpose real estate (SPRE). More than 100 community leaders—from banking, philanthropy, nonprofit administration, government, academia and community development—gathered at the St. Louis Fed. Attendees listened to national thought leaders, studied case examples and reviewed emerging landscape projects in the St. Louis region. Principles to guide SPRE were identified through facilitated small-group discussions.
Included here are the conference agenda; videos from the conference; a conference photo gallery; and Nonprofit Co-location and Opportunities for Community Development Financial Institutions, a white paper produced by the Federal Reserve Bank of St. Louis.
Welcome, Introduction and Agenda
Daniel Davis, Community Development Officer, Federal Reserve Bank of St. Louis
Paul Evensen, Founding Director, Social Innovation St. Louis
Video: Welcome, Introduction and Agenda
Social Purpose Real Estate (SPRE) Background
Katie Edwards, Associate Director, The Nonprofits Centers Network
Video: Social Purpose Real Estate (SPRE) Background
Research Presentation: Nonprofit Co-location and Opportunities for Community Development Financial Institutions (CDFIs)
Michael Eggleston, Senior Community Development Specialist, Federal Reserve Bank of St. Louis
Ellen O'Neill, MSW student, Brown School of Social Work, Washington University in St. Louis; Intern, Community Development Department, Federal Reserve Bank of St. Louis
Video: Research Presentation: Nonprofit Co-location and Opportunities for Community Development Financial Institutions (CDFIs)
White Paper: Nonprofit Co-location and Opportunities for Community Development Financial Institutions
Lessons Learned
Sherri Magill, President, Jessie Ball duPont Fund
Video: Lessons Learned: SPRE Case Study
Understanding Three Local Stories
Paul Evensen, Moderator
Adrian Bracy
CEO, YMCA Metro St. Louis
Leslie Gill
CEO, Annie Malone Children & Family Service Center
Melinda Ohlemiller
CEO, Nurses for Newborns
Video: Understanding Three Local Stories
Closing Reflections
Nicole Hudson, Lead Catalyst, Learning through Ferguson