Community Development Funders Forum
Part of the St. Louis Fed's role in community development is to encourage partnerships among public and private organizations to help deliver credit to low- and moderate-income individuals and neighborhoods.
The St. Louis Community Development Funders Forum (CDFF), launched in 2021, seeks to advance cross-sector collaboration among financial institutions, corporate philanthropy, foundations, government and quasi-governmental entities to promote equitable community and economic development in the region.
[MUSIC PLAYING]
Paul Woodruff, St. Louis Community Credit Union: CDFF came together sometime in 2020, 2021.
Stacy Clay, First Bank: We started because there was an acknowledgment that the funding community wanted to support community development activities. But we weren't coordinated, and we weren't connected.
Natalie Self, Cortex Innovation Community: St. Louis is one of the most philanthropic regions in the United States. And when it comes to community development, we have fewer systems that can keep us aligned and coordinated.
Suzanne Hough, Carrollton Bank: We weren't as efficient as we can be as a region in trying to fund economic development and really help the most struggling communities in our region.
Neelu Panth, Federal Reserve Bank of St. Louis: So the Community Partnerships and Investments team here at the St. Louis Fed took the leadership to convene community and economic development funders through the St. Louis Community Development Funders Forum.
Jimmie Howlett, U.S. Bancorp Community Development Corp.: They wanted to bring all of our expertise, resources and technical assistance together, so that way we can provide the resources that are needed to fund equitable access to capital.
Barbara Carswell, YouthBridge Community Foundation: I believe that there is a need for us to align our efforts. A lot of funders and investors look for their goals and individual needs without really talking to each other.
Abdul-Kaba Abdullah, Park Central Community Development Corp.: Oftentimes, you have many people who are in different silos doing great work who may be doing very different things or the same thing. But people often stay in their little corner in their little section.
Hough: And this is hopefully going to provide a more efficient way of learning what is happening in the funding area in St. Louis.
Daffney Moore, St. Louis Development Corp. (former): And it also gives us an opportunity to really try to make a difference in communities that normally don't get those opportunities to thrive and to correct some of the wrongs that over time have happened in community.
Howlett: It's been decades of systemic racism that has denied individuals and groups equitable access to capital.
Woodruff: This is a time in America, but certainly in the St. Louis region, where we collectively, it feels like institutions and people have realized that it's enough.
Abdullah: I think this forum really helps to break down those barriers and really get people into position, where people do what they do well.
Moore: So I think it gives us an opportunity to show the world who St. Louis really is by coming together and working collectively.
Clay: We want to see St. Louis thrive. And we know community development and robust projects are critical to that.
Self: A vision for five years from now is that the Community Development Funders Forum is working so effectively that it is just its own machine.
Carswell: I hope to see us coming together through some joint investment vehicle, whether it's a community fund or other opportunities, so that we can deploy more money into the community and also continue aligning our efforts.
Panth: And we want the St. Louis Community Development Funders Forum to be that platform and to have a sustainable home.
The Community Development Funders Forum is intended to:
Motivate conversations among local funders about ways to target key needs, align and share metrics, and design collective action.
Strengthen regional capacity to deploy and absorb community and economic development capital and to create impactful outcomes.
NOTE: The Federal Reserve Bank of St. Louis is not a grant-making organization. Its role in the CDFF is to facilitate and coordinate potential opportunities for capital flow, education and information sharing. The St. Louis Fed does not endorse or make any representations as to the propriety or suitability of the participating organizations, investments or programs. Organizations should perform their own due diligence before engaging in any transactions with participating entities to ensure that any such transactions meet the organization's objectives.
Participation
CDFF participants represent foundations, financial institutions, funding intermediaries, economic development organizations and local government agencies.
Current Participants
St. Louis Community Foundation
Enterprise Bank & Trust
Missouri Foundation for Health
Simmons Bank
Deaconess Foundation
St. Louis Community Credit Union
YouthBridge Community Foundation
First Bank
Incarnate Word Foundation
St. Louis CDFI Coalition
Marillac Mission Fund
Montgomery Bank
Invest STL
Midland States Bank
Philanthropy MO
FCB Bank
Clark-Fox Foundation
St. Louis Bank
Plancorp
St. Louis City - Mayor's Office
Center for Civic Research and Innovation
St. Louis Development Corporation
Cortex
St. Louis County
US Bank
JP Morgan Chase
Carrollton Bank
Pillars of Work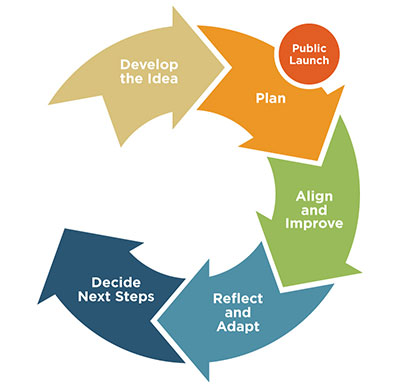 Through a process that involved four months of facilitated action-oriented collaboration, Community Development Funders Forum participants identified the following pillars of work that will engage them to align, coordinate and coinvest:
Regional funding coordination
Community and economic development ecosystem capacity-building
Affordable, quality housing
People of color-owned small businesses
CDFF: Inputs, Activities, Outcomes and Impacts
Inputs
• Committed funders who are investing in community development projects
• Community and economic development practitioners and experts
• Existing resources and capacity
• Thought partnership and leadership
• Transfer of knowledge and resources
Activities
• Convene periodically around current trends in community and economic development capital flows and projects
• Identify a collective vision for the group
• Seek out opportunities to collaborate on emerging initiatives
• Identify shared metrics

Outcomes
• A structured group of funders and stakeholders collaborating to advance equitable and impactful investment into community and economic development
•A hub for sharing data, metrics, outcomes, partnership stories and opportunities

Impacts
•Aligned and increased capital flow to stabilize and sustain the most challenged neighborhoods and sectors
•A stronger regional capacity to deploy and absorb community development capital
Background
The Federal Reserve Bank of St. Louis conducted 11 Investment Connection events in various parts of the Eighth Federal Reserve District. The events generated over 500 connection points between funders and nonprofit organizations, resulting in more than $2.7 million dollars of funding for participating organizations. However, consistency in funder participation varied throughout the region.
The first funders roundtable was piloted in St. Louis to strengthen connection among cross-sector funders of community and economic development projects in the region. This included banks, community development financial institutions, foundations, governmental entities, and individual or corporate philanthropies. Funders quickly began collaborating around ideas and projects.
The 2019 Investment Connection saw participation from financial institutions as well as other funders who otherwise would not have been at the same table.
The COVID-19 pandemic halted the Investment Connection program. Multiple emergency funds supported through collaborative grant-making were deployed in the St. Louis region to help communities respond to the pandemic and to promote racial healing.
In August 2020, the St. Louis Fed's Community Partnerships and Investment team hosted a second St. Louis funders roundtable to explore outlets for fostering long-term collaboration among community and economic development funders for equitable and sustainable economic recovery. At this roundtable, funders indicated that a forum could provide an opportunity to better align and coordinate their funding efforts.
Media Inquiries
For information on the CDFF and its work to promote community and economic development in the St. Louis region, contact MediaInquiries@stls.frb.org.