Headquartered in downtown St. Louis at the intersection of Fourth, St. Charles and Broadway, the Federal Reserve Bank of St. Louis takes great pride in serving "Main Street" audiences and representing their views. The St. Louis Fed is located in the Eighth Federal Reserve District and is a part of the Federal Reserve central bank system that's composed of 12 independent regional Reserve banks and the Board of Governors in Washington, D.C.
The Eighth Federal Reserve District includes all of Arkansas and portions of six other states: Illinois, Indiana, Kentucky, Mississippi, Missouri and Tennessee. The St. Louis Bank serves most of eastern Missouri and southern Illinois.
St. Louis Fed branch locations:
Decentralized by Design
The Federal Reserve is not a central bank for which the reserves and decisions are concentrated on Wall Street or in Washington, D.C. We're a decentralized central bank for which the reserves and decision-making are distributed across the country. The Federal Reserve's decentralized structure ensures that the economic conditions of communities and industries from all regions of the country are taken into account in monetary policy decision-making through the regional Reserve banks that serve the 12 Fed districts.
Learn more about the importance of the Fed's regional structure.
Our Purpose
The St. Louis Fed's most critical functions can be described as follows:
Promote stable prices and economic growth
Foster a sound financial system
Provide payment services to financial institutions
Support the U.S. Treasury's financial operations
Advance economic knowledge, community development and fair access to credit
Learn more about how the St. Louis Fed performs these functions.
Our Leadership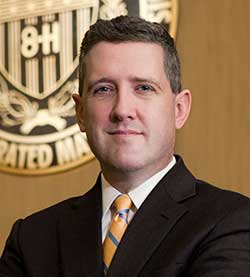 James Bullard, is the president and CEO of the Federal Reserve Bank of St. Louis. He also participates on the Federal Reserve's Federal Open Market Committee, or FOMC, which meets eight times each year to set the direction of U.S. monetary policy.
As required by the Federal Reserve Act of 1913, the St. Louis Fed is supervised by a board of nine directors who are familiar with economic and credit conditions in the Eighth District.
Learn about the Federal Reserve System
We have several resources aimed at helping people learn more about our nation's central bank.
Office of Minority & Woman Inclusion
At the Federal Reserve Bank of St. Louis, we are committed to building an inclusive workplace, where our differences—in age, gender, race and ethnicity, sexual orientation, gender identify or expression, disability, as well as in cultural traditions, religion, life experiences, education and socioeconomic backgrounds—are recognized as our strength.
Read about our diversity initiatives.
Inside the Economy Museum Tours
Our museum has nearly 100 exhibits that we bring to life through interactive displays, games, sculptures and videos. It's free and open from 9 a.m. to 3 p.m. Monday through Friday.
Visit the Inside the Economy Museum.
Stay in Touch
There are many ways to stay informed about news and views from the St. Louis Fed: