October 2023 Beige Book Interview – Little Rock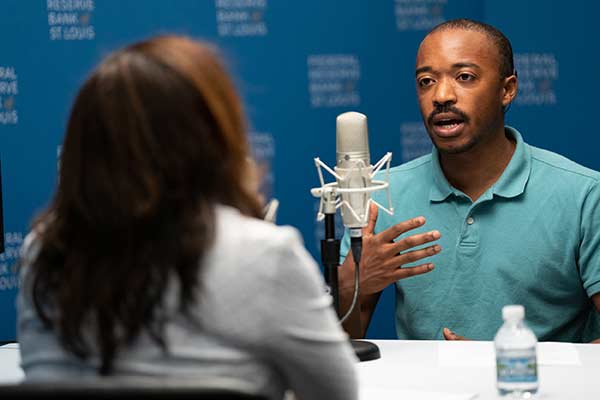 St. Louis Fed economist Nathan Jefferson discusses highlights from the national Beige Book summary. An overall summary of the 12 district reports is prepared by a designated Federal Reserve Bank on a rotating basis with the St. Louis Fed responsible for this edition. Also, Matuschka Lindo Briggs, senior vice president and regional executive of the Little Rock Branch, provides highlights and the latest perspectives about the Arkansas economy.
Matuschka Lindo Briggs: Thanks for joining us for an economic snapshot where we discuss in eight minutes or less what's happening across the state as shared by businesses and industry contacts in the Little Rock Zone of the Eighth [Federal Reserve] District.
I'm Matuschka Lindo Briggs, the regional executive with associate economist Nathan Jefferson. Well, it's a busy Beige Book time for the St. Louis Fed. Thanks for joining us, Nathan.
Nathan Jefferson: Oh, thanks for having me. Happy to take some time from the schedule and talk to you today.
Lindo Briggs: Do you want to explain what I mean on why the Beige Book has a heavier than normal lift this month for you?
Jefferson: Oh, sure. Absolutely. So we've been running around the past couple of days to write the national summary of the Beige Book. So the way the Beige Book works is each of the regional Federal Reserve Banks writes their own Beige Book prior to every FOMC meeting, on conditions in their region. But each time, one of the 12 Federal Reserve banks has chosen to write up a national summary, basically reading through all the individual based books and writing up a few national summary paragraphs of what's happening in the national economy based on those Beige books.
And this time it's our turn to take on that responsibility. So for the last couple of days here at the St. Louis Fed, we've been reading through all the regional Beige Books, communicating with the authors to make sure we understand everything, and then writing up our national summary paragraphs that you can find at the top of the National Beige Book.
Lindo Briggs: Okay, so the Beige Book report came out yesterday, October 18th. Let's pick out a few of the Beige Book Summary Economic activity and share the national outlook from you, and then I'll fold in some of the zone highlights if that works for you.
Jefferson: Sounds great.
Lindo Briggs: Okay, let's talk about labor markets. What does employment look like overall?
Jefferson: So, I would say the big story nationwide is similar to the story here in the district. We still have this pretty tight labor market overall, but it's really starting to ease a little bit. And we've got continuing reports of that easing nationwide. So what we were reading when we were looking through all the individual Beige Books, is that we saw a lot of reports of more people applying to jobs and less need overall for bonuses and increased compensation and the kind of special deals that employers were offering to really get people into their businesses.
That said, though, there are still a lot of industries and, you know, a lot of sectors, that are dealing with kind of really severe labor tightness. Skilled trades in particular was one that was highlighted by several Federal Reserve districts as an area where it's just a real challenge to get enough people to meet demand.
Lindo Briggs: Hearing similar stuff here in the state of Arkansas, wage inflation seems to be easing, which is great. Getting increasingly easier to hire workers than it was six months ago, especially for jobs in hospitality and entry level positions. Now, in some cases, we did hear that workers were actually reaching out to employers looking for work. So not that I heard that a lot, but even to hear it at all within the last six months or a month, that is truly a dramatic shift. So even though that was small amount of people saying that, I was just shocked to hear that overall.
Jefferson: That's a big change.
Lindo Briggs: A big change. Let's go into prices. What are you hearing?
Jefferson: So the story nationwide is that prices continue to increase, but we called it at a modest pace overall. We're not seeing the real fast, you know, run up in prices that we did see maybe two years ago or last year. But prices have still continued to increase. So one thing we heard or one thing we saw here was that gas and wages and insurance were a few things that were really highlighted by different districts as driving some input cost increases.
That said, though, affordability is a bit of a challenge for consumers, and businesses said that they just didn't have the ability to pass through all the price increases in the way that they used to be able to do so. So they're really kind of pulling back a little bit from those price increases.
So thinking about the outlook here, businesses still expect to raise prices, but those price increases are going to be slower moving forward just because affordability is such an issue.
Lindo Briggs: You hit on insurance. And I will tell you, that's something that I hear no matter where I am in the state, it's health care. Those prices have really been like a huge sticker shock and it keeps coming up again and again.
And yes, the other thing that I'm hearing, especially from restaurants, is with the various weather issues, it's causing huge volatile price and fluctuations with food. So it could be just limes, one month or avocados another month, and they are not able to pass those fluctuations in those rising input prices on to consumers. So you're spot on with that.
I do want to put a plug in that this Friday, October 20th, I have a Breakfast with the Fed [event] at the Little Rock Branch at 7:30 in the morning. Our director of research, Carlos Garriga, will be in town and we will have a Q&A following his remarks. So we'd love to see you there.
What are you hearing about consumer spending?
Jefferson: Well, I just mentioned affordability. That's really the issue nationwide and in the district as well. We're hearing that with new cars, with real estate, with food, that there's just all these different sectors of the economy where consumers are kind of pushing back against these price increases. They just don't really have the money, it's tighter conditions overall. So they're really just kind of really cautious about these price increases and affordability has been a challenge.
That said, though, reading through the national reports, there was a lot of variation here. There are some sectors that are still seeing some very strong consumer spending activity. There are some sectors that are really seeing kind of a drawback or a slowdown. So I would say that overall it's very much of a mixed bag. There's a lot of variation here.
But, you know, overall, it really does vary nationwide.
Lindo Briggs: Mixed bag is the key term I'm going to jump on. So I definitely think on consumer goods here in the state, there has been a slowdown and they are noticing those increases in price and they're halting. But again, still on experiences and even a little bit of retail activity, people are still shopping and they are still spending on experiences.
And in this state, we love to hear that. Since the pandemic, tourism has really peaked in the state of Arkansas. So we are appreciative that people are still spending on experience and still coming in to see what the Natural State has to offer.
Nathan, thank you for tying in that national outlook as we combined it with what's going on in the zone.
A reminder that the Beige Book Report came out yesterday, October 18th, and you can find it on the St. Louis Fed website under Research.
Thanks for listening to our special economic snapshot of what's happening across the country, as well as the state. The next Beige Book release will be November 29th, followed by our podcast November 30th.
Listen to previous episodes: Stream more interviews with Nathan Jefferson discussing prevailing economic conditions in Arkansas with host Matuschka Lindo Briggs.
View the latest Beige Book: The Beige Book is a Federal Reserve System publication about current economic conditions.
Economists and experts talk about their research, topics in the news and issues related to the Fed. Views expressed are not necessarily those of the St. Louis Fed or the Federal Reserve System.