July 2023 Beige Book Interview – Little Rock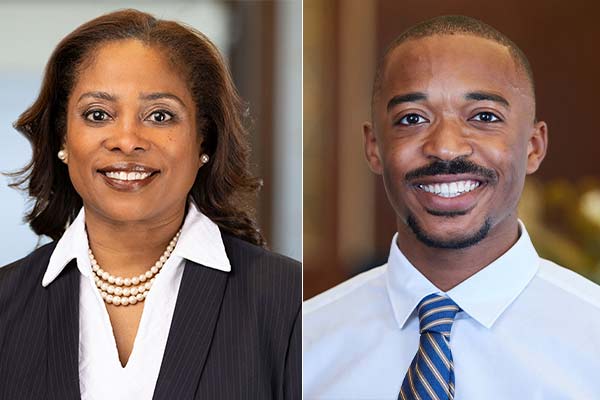 This 8-minute podcast was released July 13, 2023.
In this Timely Topics podcast episode, Matuschka Lindo Briggs, senior vice president and regional executive of the Little Rock Branch, and Nathan Jefferson, associate economist, discuss economic insights about the Arkansas region from the July Beige Book.
Matuschka Lindo Briggs: Thanks for joining us for our economic snapshot, where we discuss in eight minutes or less what's happening across the state as shared by businesses and industry contacts in the Little Rock Zone of the Eighth District. I'm Matuschka Lindo Briggs, the regional executive with associate economist Nathan Jefferson. Happy Summer, Nathan, and to everyone listening.
Nathan Jefferson: Thank you. I'm just trying to stay cool down here.
Lindo Briggs: Yep, it is. We've turned up the heat in Arkansas. It is very, very hot, but it's summer so I'm not going to complain. So the Beige Book Report came out yesterday, July 12. Let's start with what you heard for our Zone in banking and finance.
Jefferson: Well, I think here we had a continuation of the tightening conditions that we talked about on our last podcast. We heard the banks aren't really pulling back on lending, but small businesses are hesitant to get loans with these higher interest rates. So there's been a real slowdown kind of in loan demand. Overall, I think we've seen just an ongoing tightening conditions. We have heard, I mean, again, that margins have been compressed a little bit. But I would say overall, our contacts are pretty optimistic about kind of the stability of the sector. And there's an ongoing sense that even as things tighten, they are in a secure financial position. So that's good news there.
Lindo Briggs: What I'm hearing a lot about is deposits. And it's really a tale of two cities, or I guess you could say two regions. Northwest Arkansas bankers seem to be doing pretty good, but not without some work of making a lot of phone calls and being that community banker and letting them know that everything's good, we can take your deposits. Other parts of the state are fighting tooth and nail to build deposits, so that's something I'll keep asking about and taking a look at.
Consumer delinquencies, not seeing it in northwest Arkansas or central or southeast east, knock on wood. We are starting to hear about some in southern parts of the state where they are getting a slight uptick in those delinquencies. I have asked a few bankers if they're worried about landlords with empty buildings and loan defaults. And it was a hard no across the state, which was great to hear. I think in Arkansas, people just pretty much went back to work and they're not really working from home the majority of the week. So that's painting a picture of what I keep hearing throughout my visits, so they're not really worried about that.
What are you going to be focusing on when it comes to banking and the next Beige Book?
Jefferson: One thing I'm going to be looking at is credit card usage. We've seen that really start to tick up over the last few months. Now that says that people are still spending, but they might be getting stretched a little more thin now than they were over the last few months. So I'm going to look to see what's happening with credit card usage. I'm going to look as well to see if those delinquencies that we've talked about, they have been ticking up a little bit in some places for a while. I want to see if that continues because, again, that's a sign that that could be some stress there.
Lindo Briggs: Thanks for sharing that. I'm going to actually start asking about the credit cards, too. That's something that I haven't heard much about, so I'll start talking about that. Most of the conversations again with bankers, they're just saying that they all accept it's hard to be profitable right now, but hopefully they're thinking things will settle down and they'll be turning the corner, they hope, soon. They are keeping their eyes on delinquencies and tangible capital in the months ahead. What are you hearing about real estate? Let's talk about real estate and construction.
Jefferson: Well, in talking about this before, again, we've talked about how northwest Arkansas is a real kind of hot spot both across the district and even in the nation in some regards, and I'd say that's still ongoing. I think there's been a little bit of moderation of some of the runaway price growth that we've seen in the homebuilding sector. But construction is still pretty strong.
You talked about commercial real estate. I would say that in Arkansas, it's a little more of a bright spot than the rest of the District. There's been a lot of concern about, for example, office utilization in some other places. But in Arkansas, I would say the industrial and the retail sector and even the office sector has been holding up better than in other regions. So, the big thing here is construction, working through backlogs. Supply chain has improved. But I think the big thing for construction is the labor market and getting the workers, and the skilled workers particularly, that they need to meet demand here.
Lindo Briggs: That's great to hear. Yes, commercial loans and activity still seem to be alive and well, booming in northwest Arkansas and throughout the state. I would say projects are still moving at a moderate and steady pace as new buildings continue to go up. They are running fiber optic in the Pine Bluff area. You can see little yellow utility flags everywhere. So that's good to see. Single family home inventory remains low over the state. It's pretty much a weakness in northwest Arkansas. People, as you said, they're continuing to move in, but there are no homes to buy, no homes to rent. And those homes that are $400,000 or less, they're still going up to $20,000 over asking price. So, I was asking who are the people buying these homes? Where are they coming from? Majority of them, they say, are coming from California. So, I think maybe for the prices that they're used to out West, that's just $20K over is small change for them.
So, let's get into consumer spending overall in Arkansas as well as even the seven-state region.
Jefferson: I'd say consumer spending has largely been steady. We heard across the region a little bit of weakness in some areas, but I'd say that Arkansas has been holding steady. One thing that we have heard is that there's been a little bit of price sensitivity. So the high end might be holding up, but at the middle and lower end, they're a little bit softer as consumers try to just make the dollar stretch a little further. For example, we had a retail contact tell us that people are spending more on grocery essentials and less on kind of the discretionary goods. That said though, I think spending on services in particular has been holding up pretty steady. And I would say that overall, we hear that, for example, transportation volumes are up, vacation spending was solid. So, I think Arkansas consumers are still largely holding steady.
Lindo Briggs: How's the boating industry doing?
Jefferson: Oh, well, we heard that boat sales contacts said told us that people are still buying the high-end boats, and people are, by and large, still mostly buying the low-end boats. But it's the middle sector that saw those boat sales drop a little bit over the summer buying period.
Lindo Briggs: Yeah, we're still hearing a mix when it comes to retail activity. It seems that in Arkansas, they're spending their money on experiences. The Bill and Hillary Clinton National Airport has been packed. The flights are all filled. I talked about this in the last podcast. Hotel rooms, VRBOs by the lakes and rivers are all full. Trying to get a guide—they've been booked.
But I asked you about boats because I wanted to lead in on the true story of what I want to discuss here is that we did find a place on the White River. The second week of June. My husband and I went up and fished and I caught my first brown trout. It took a while…
Jefferson: Oh, congratulations!
Lindo Briggs: Thank you very much. It was like 24 inches. So just a little short. I had to throw it back in. But I do have evidence and photos, if anybody needs to see that.
Jefferson: I'm sure we will.
Lindo Briggs: So that was kind of my lead in. I wanted to talk about the boats and the lakes and everything, so I admit—I admit my guilt there. So is there any area that stands out for Arkansas in this latest Beige Book report, maybe with the labor market or workforce?
Jefferson: Well, when asking about the labor market, I think the story here has been the same as before. No big changes, still fairly tight overall, a little bit slow in job turnover, a little easier time finding applicants. We had a restaurant owner tell us that he's getting some unsolicited resumes for the first time in a long while, but still, I would say a pretty tight labor market overall. No big changes there.
Lindo Briggs: Thanks so much for a great discussion today, Nathan and all those updates. I really appreciate it. A reminder that the Beige Book report came out yesterday, July 12th. You can find it on the St. Louis Fed website under "Research."
Thanks for listening to our economic snapshot of what's happening across the state. The next Beige Book release will be September 6th, followed by our podcast September 7th.
Until next time, be safe and enjoy the rest of your summer.
Listen to previous episodes: Stream more interviews with Nathan Jefferson discussing prevailing economic conditions in Arkansas with host Matuschka Lindo Briggs.
Economists and experts talk about their research, topics in the news and issues related to the Fed. Views expressed are not necessarily those of the St. Louis Fed or the Federal Reserve System.