August 2023 Beige Book Interview – Little Rock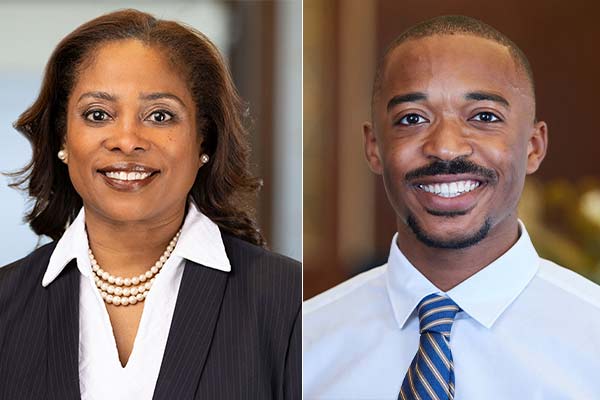 In this Timely Topics podcast episode, Matuschka Lindo Briggs, senior vice president and regional executive of the Little Rock Branch, and Nathan Jefferson, associate economist, discuss economic insights about the Arkansas region from the latest Beige Book release.
Matuschka Lindo Briggs: Thanks for joining us for our economic snapshot, where we discuss in eight minutes or less what's happening across the state as shared by businesses and industry contacts in the Little Rock Zone of the Eighth Federal Reserve District. I'm Matuschka Lindo Briggs, the Regional Executive, with associate economist Nathan Jefferson. What's going on, Nathan?
Nathan Jefferson: How are you doing, Matuschka? Always a pleasure.
Lindo Briggs: OK. Let's touch on banking and then discuss the results from a recent survey you distributed. What are you hearing in the banking world?
Jefferson: Well, in talking to our banking contacts, one thing we've heard is that delinquencies have continued to tick up. But I would say overall that banks are pretty confident about their financial position.
Now, the higher interest rates that we've seen over the last few months, or really, the last few quarters now, they really have slowed borrowing and businesses are stepping back from new credit requests. So there really has been kind of like a general tightening in a sense. But I would say that our banking sector contacts are still largely confident about where they stand about their liquidity position and the overall, you know, financial health.
Lindo Briggs: I'm hearing the same thing. When I ask financial institutions what should we be looking out for and what are their main concerns, is they are looking at consumer debt, like you said. It's what they're all talking about, what they're all watching. They're kind of waiting to see consumers make adjustments in spending. People are still spending in Arkansas and still traveling.
And when you talk about the credit cards and the high usage, they said they have noticed that that's actually slowing down and there's an increase in debit card and cash usage. So you're wondering why is that? A little concern may be, have they already maxed out those credit cards, and that's the reason they've gone back to their debit card and cash usage? So it will be interesting to watch that, especially as we go into the holiday season.
Jefferson: And in regard to that credit card point, one thing I point out is one of the most immediate effects of the higher rates is that it really impacts your ability to service your credit card and other personal debts. So that could be an area where consumers are kind of directly seeing some of the impact there. And the debt that they are carrying might be at a level, or might be like a little more onerous now than it was, you know, a few quarters ago.
Lindo Briggs: Great point. Can you tell our listeners about the latest survey? So tell them the purpose of the survey and what you heard from industries in Arkansas.
Jefferson: Well, every quarter, the St. Louis Fed distributes a survey to not just Arkansas, but across the Eight District. We send this out to a number of contacts across a range of different industries. And the survey is pretty short and straightforward. But the core idea is that we want to know what's happened over the previous quarter, what the major events have been in your industry and what your outlook is moving forward. So this survey, I would say kind of the headline takeaway is that activity was pretty flat, maybe down slightly.
In regards to your earlier point, we did hear that consumer spending has been softer for a lot of different sectors, just activity down a little bit. So, for example, we talked to a car dealership who told us that interest rates have really just killed the high-end vehicle sales. A lot of like the high-end goods that depend on financing. Those are areas where we've seen demand just be a little softer.
Another thing we heard is that inflation still remained the issue, particularly because you can't really pass on prices the way you could last year.
Lindo Briggs: It'll be interesting to see when 2024 models come out how that will be affected. And I want to follow up on what you're saying in manufacturing. I'm also hearing that the orders are slowing down so, some companies are fully staffed or now they may feel like they're a little overstaffed. So I think they're kind of sitting to see what happens as we move forward. So we'll be looking at how the job industry goes in that field.
Let's hit on agriculture. It's harvesting time here in Arkansas. What are you hearing in the ag world?
Jefferson: Well, you know, stepping back a little bit and looking at the District as a whole, we heard reports of extreme weather has been something that really impacted some agricultural businesses in other states. You know, you look at Missouri, Illinois, Kentucky, even, you know, southern Indiana. So that's an area where a lot of yields and a lot of places were affected by extreme weather.
But then focusing on Arkansas specifically, it sounds like we had fewer reports of that. So that was – I think the yields there were a little better than maybe some other sectors in the District. Is that pretty much in line with what you heard?
Lindo Briggs: Absolutely. I'm going to say yes. But I'm also going to knock on wood because I want to make sure, you know, as I said, it's harvest season, so we're still kind of in a wait and see mode as we start doing it. We started with corn and rice, and I'm hearing reports that yields are up almost 30% from last year. So really positive information to hear. The next couple of weeks we'll head to soybean and cotton in southeast Arkansas. So I was down in that Lake Village / McGehee area, also went and visited in Stuttgart to hear what was going on.
And it's kind of a Catch-22 here in Arkansas, especially when talking about rainfall. We want to keep everything dry, especially while harvesting. So we're hoping, you know, I think a little bit of rain wouldn't be bad, but not that deluge of rain. We're really afraid of that. That could really affect the yield. But at the same time, you look at the river and it's low, the Mississippi is low, and you're thinking of barges. There's a lot of sandbars out there and it's drawing a lot of concern.
So we do need a deluge of rain when we're talking about the river. So maybe we'll cross our fingers and say no rain for about four or five more weeks, at least not that heavy, heavy rain. So we're kind of waiting to see on that.
And the only other thing I heard in talking to some of our ag folks here in Arkansas is there is some concern on exports with inflation and prices. Farmers lost export business last year. And so we're hoping to get that back and raise those river levels. So that's kind of what we're looking like in ag.
Before we close out here, anything on housing when you were looking at some of those surveys?
Jefferson: Well, when it comes to housing, I'd say it's just more of the same really. We still do see the strong demand. I'd say it has been moderated somewhat by the higher mortgage rates and the higher interest rates in general. So it's not quite as strong as it was maybe this time last year.
But in Arkansas and specifically northwest Arkansas, still some really strong demand. Activity down a little bit due to the higher interest rates, though. One thing we have heard is that, you know, one of the issues is bringing, you know, supply onto the market because some projects have maybe slowed or stalled due to labor shortages or higher interest rates. So, I mean, it's really just—the issue is meeting this continued strong demand, even as interest rates rise and even as, you know, some construction elements get a little bit trickier.
Lindo Briggs: I don't really have anything to add to that, except I have heard that Northwest Arkansas is losing great talent resources, for example, teachers, as they have nowhere to live. So they're not being able to fulfill their contract and stay. So that's something that we'll want to keep an eye out as we move forward here with school and everything starting.
Thank you so much again for giving us that update and, you know, sharing with us what you got in the survey, Nate.
Jefferson: Always happy to get in touch.
Lindo Briggs: In closing, I would like to thank those of you who took our survey. Again, it's helpful for us to hear what is happening on Main Street in our region. For a full summary of what's happening in the Eight Federal Reserve District, visit the St. Louis Fed's website at stlouisfed.org.
The next Beige Book release will be October 18, followed by our podcast, October 19. Enjoy the end of your summer.
Listen to previous episodes: Stream more interviews with Nathan Jefferson discussing prevailing economic conditions in Arkansas with host Matuschka Lindo Briggs.
View the latest Beige Book: The Beige Book is a Federal Reserve System publication about current economic conditions.
Economists and experts talk about their research, topics in the news and issues related to the Fed. Views expressed are not necessarily those of the St. Louis Fed or the Federal Reserve System.