Stuttgart, a city of about 9,400, calls itself the "duck and rice capital of the world." Hard clay underneath the topsoil makes this area ideal for growing rice. The place also seems ideal for migratory birds escaping the cold in Canada. The city lies on the Mississippi flyway, near the meandering Arkansas and White rivers. The Bayou Meto and several lakes make the Stuttgart region that much more inviting to waterfowl. Ducks also like to gobble up any remains from the summer harvest of rice.
As the ducks flock to Stuttgart, so do hunters from across the country and world. Among the "big names" who come to hunt are Vice President Dick Cheney and Dallas Cowboys owner Jerry Jones, say city officials.
"We really don't need to advertise the duck hunting here," says Stephen Bell of the Chamber of Commerce. "It's pretty much on reputation. There are times it seems like the whole town is in camouflage."
The duck hunting season adds $1 million a day to the Stuttgart economy, says Bell. That's quite a chunk for a city whose budget last year was just $10.7 million. That's why city leaders keep their fingers crossed that there will be enough ducks for a full 60-day season every year.
To kick off the season, Stuttgart throws a big party during the week of Thanksgiving. Crowds fill the downtown streets to celebrate the Wings Over the Prairie Festival and the World Championship Duck Calling Contest. The city even holds a Queen Mallard Pageant. The local chamber organizes the festival, which last year cost about $370,000 and netted a $135,000 profit. "It's better than a bake sale," Bell jokes.
Many hunters pursue their quarry at one of the approximately 70 commercial and private duck clubs that lie within a 45-mile radius of Stuttgart. Farmers and duck-club owners use pneumatic tubes to flood acres of fields and timberland to lure the ducks for the hunters.
When the hunters are not sitting in duck blinds, they gather at Mack's Prairie Wings, a business on the edge of town that is dedicated to serving waterfowl hunters. What started as a small store downtown in 1944 has grown into retail and warehouse space that's almost as big as two football fields. Mack's does so much business that Winchester Ammunition of East Alton, Ill., has named it the No. 1 steel shot dealer in the world for seven straight years.
Fueling the boom was the addition of a mail-order catalog business in 1993.
"We went from being a state-wide company to being a national company when we began publishing the catalog," says Deena Fischer, a spokeswoman. This year, 1.8 million catalogs will be mailed out.
Stuttgart's economy doesn't depend solely on the great outdoors. Lennox Industries, for example, employs 910 in making commercial heating and air-conditioning units. Lennox is big enough that suppliers are opening up shop nearby. In late July, Assembly Component Systems Inc. opened a new plant in Stuttgart and hired 11 workers. The Kansas-based supplier makes fasteners for Lennox air conditioners. Two other suppliers also have opened up shop near Lennox: Scott Manufacturing Inc. and Industrial Crate and Supply Co.
Tim Walker, a Lennox executive, says he hopes Lennox can attract more suppliers to Stuttgart.
"Agricultural communities like this are full of talented, skilled workers who fit in well with heavy manufacturing jobs," Walker says. "Plus, when suppliers move close to us, we save money on travel costs and it frees up space for us. We don't need to keep as much inventory."
Downtown Stuttgart is a mix of mom-and-pop shops. Brenda Dickson, a third-generation florist, owns Fern and Feather. Business goes up and down, she says.
"This is a farming community," Dickson says. "If the economy does well, our store does well. Stuttgart is probably like just about every other small Southern town. We were hurt by Wal-Mart and other discount stores."
The Arkansas Department of Parks and Tourism hopes that Stuttgart's fowl reputation can sprout some new wings. State officials want the city to promote itself also as a bird-watching hub.
"It'd be kind of odd, though," Bell says. "People come in to kill ducks, but now we'd be asking them to come and watch them."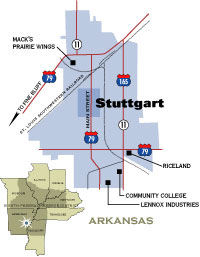 Stuttgart, Ark.
BY THE NUMBERS
Population
Stuttgart
9,377 (2004)
Arkansas County
20,130 (2004)
Labor Force
Arkansas County
11,584 (May 2005)
Unemployment Rate
Arkansas County
6.3 (May 2005)
Per Capita Personal Income
Arkansas County
$26,489 (2003)
Top Five Employers
Riceland Foods Inc.
1,025
Lennox Industries
910
Producers Rice Mill Inc.
425
Kinder-Harris Inc.
102
Rice Capital Inc.
97