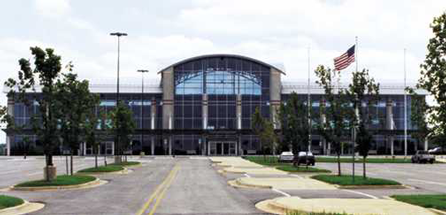 On Jan. 5, 1998, Tom Brokaw introduced America to MidAmerica St. Louis Airport on the NBC Nightly News. But if first impressions count for anything, viewers' perceptions of the new $330 million airport in St. Clair County, Ill., were about as positive as their feelings toward airline food, long layovers and lost luggage.
"What if they built an airport and nobody came?" were the words Brokaw used to open the report, which was part of the show's "Fleecing of America" series. The network lambasted MidAmerica, which had officially opened two months earlier, by describing it as a waste of federal tax dollars, particularly since Lambert St. Louis International Airport was in the middle of a multimillion-dollar expansion.
Almost three years later, the "white elephant" label—which local officials never considered justified—may be starting to subside. In August, PanAm launched passenger service at MidAmerica Airport, 25 miles east of downtown St. Louis in the town of Mascoutah. A couple weeks later, Lambert announced that it would put a freeze on new cargo business and would begin referring carriers looking to expand to MidAmerica.
On the opposite side of the Mississippi River from the Gateway Arch, St. Clair is the largest county in downstate Illinois. The growth of MidAmerica Airport and developments such as the extension of the MetroLink light rail service could serve to enhance the county's integration with the region in coming years
Now Boarding
At MidAmerica Airport, PanAm now services one flight each day to Gary, Ind., (near Chicago) and Sanford, Fla., (near Orlando). Airport Director Rick Hargrove says that MidAmerica fits right in with PanAm's business plan to fly into secondary airports in large urban areas. PanAm's presence has resulted in about 30 new jobs at the airport, most of which are part-time.
But given the negative publicity MidAmerica has faced, PanAm's decision to do business here was more of a psychological boost than an economic one.
"It's always hardest to get the first customer in," says Rick Hargrove, director of MidAmerica Airport. "Every new airport that is built takes three to five years to market and develop. We have other prospects talking to us that are interested in the airport for all aspects of aviation: passenger airlines, air cargo, maintenance repair and overhaul facilities. We have full expectations that the airport will develop relatively rapidly."
Currently, the airport has four gates. PanAm uses just one of them. The excitement over PanAm was tempered by the airline's announcement shortly before its first MidAmerica flight that it was cutting back from two daily flights to Gary to one because of poor ticket demand. Airport officials did not need that news to remind them that plenty of work remains to be done to fill the vacancies at MidAmerica.
"We have not just been sitting on our laurels since PanAm's decision to come here," says Terry Beach, marketing director at MidAmerica. "We are still out there working trade shows and making face-to-face presentations to targeted carriers that we believe should have a logical presence here.
Saving Scott
"In my view, Scott Air Force Base would be closed today if not for MidAmerica."
If St. Clair County Board Chairman John Baricevic's inclination is correct, the existence of MidAmerica Airport has helped save thousands of jobs at Scott, the largest employer in St. Clair County and the seventh-largest employer in the St. Louis region. Baricevic said that Scott was immune to closure during the Pentagon's first two rounds for technical reasons, but was unprotected during the last round. Closure would have resulted in the loss of more than 4,000 jobs, as well as the spending of more than 8,000 military personnel. In addition, a number of the 30,000 military retirees in the St. Louis area who depend on Scott for certain services like health care more than likely would have been forced to relocate out of the area.
"Scott is a major part of our economic backbone," Baricevic says. "Not just St. Clair County's, but the whole region's."
Why is MidAmerica so critical to Scott? The two entities function under a joint-use agreement, which greatly expands each facility. Hargrove calls the agreement "seamless" from an operational standpoint. Each side can use the other's facilities with no fees attached. Scott, with an 8,000-foot runway, now has access to MidAmerica's new 10,000-foot runway. A new control tower stands directly between MidAmerica and Scott. Currently, the Air Force controls the tower, but if civil traffic ever exceeds military traffic, the military will relinquish the tower to the Federal Aviation Administration.
Baricevic points out that there is no guarantee of Scott escaping closure in the future, but he and Hargrove believe that the joint-use agreement greatly lessens those chances. Beyond just keeping Scott surviving, they hope that the enhanced aviation offerings can help attract new business. An example is the Illinois Air National Guard's 126th Air Refueling Wing, which transferred to Scott from O'Hare Airport in Chicago. The move occurred in October 1999 and brought 300 new full-time jobs and 850 part-time jobs to the area.
"A Healthy Dose of Paranoia"
Comparing MidAmerica Airport with Lambert Field might seem unfair. Lambert has 83 gates, is in the midst of a runway expansion and is the hub of TWA. MidAmerica, however, has plenty of potential: It can be expanded to 84 gates, and the airport sits on about 8,000 acres—three times the amount that landlocked Lambert contains.
Hargrove stresses that MidAmerica is not seeking and has never sought to compete with Lambert. Instead, MidAmerica is intended to function as a reliever airport.
"Lambert has always been very pro-MidAmerica Airport," he says. "Lambert's only problem is that it is relatively restricted in available land...this airport is poised to help Lambert out, and that will improve the overall St. Louis region's aviation capabilities."
Jim Pennekamp, executive director of Leadership Council Southwestern Illinois, a regional economic development group, says, however, that there are those in the city of St. Louis who may differ with that line of thinking.
"There's a healthy dose of paranoia," he says. "With the city of St. Louis generating revenue off Lambert, there are some people who have some financial concerns."
Such opposition pales in comparison to the bitter battle in the 1970s between Missouri and Illinois over a proposed commercial airport in the Columbia-Waterloo area, 19 miles southeast of downtown St. Louis. Ground was never broken on that airport, which would have dwarfed Lambert in size and capabilities. Pennekamp adds that people should set aside their parochial interests because the idea that Lambert one day would be unable to accommodate all of the major aviation operations of the St. Louis region is "quite scary. People should be very concerned about that."
Like many people on both sides of the river, Pennekamp feels that the continued existence of TWA at Lambert is critical to the region. If the airline were to fold, Pennekamp says the results would be economically devastating.
"Forget MidAmerica, forget any other peripheral issues," Pennekamp warns. "What happens if you don't have a hub operation here is that you lose major businesses in the St. Louis area immediately...I think that everything possible must be done to secure TWA's existence at Lambert."
A Link to the Future
For what it's worth, the St. Louis area in about five years will become the first region whose two main passenger airports are serviced by one uninterrupted light rail line. MetroLink, which currently runs as far west as Lambert Field, will eventually stretch to the MidAmerica terminal when the second phase of the current St. Clair County extension is completed. The first phase, to be completed by next summer, will take MetroLink to the campus of Southwestern Illinois College in Belleville with eight new stops along the way.
The most telling aspect of the expansion may be that once phase two is completed, MetroLink will have 26 miles of rails on the Illinois side, compared with 17 Missouri miles. Whereas light rail proponents in Missouri have faced ballot box rejection and discord on where future routes should run, just the opposite has been true in St. Clair County.
"We capitalized on MetroLink's success right away," says Baricevic, who helped lead the push for the half-cent sales tax, which St. Clair voters approved in 1993 to help fund phase one. The sales tax pays only for about 28 percent of the $340 million expansion. The balance is being funded by the federal government.
But Baricevic speculates that MetroLink's progress east of the river also stems from the fact that Illinois residents have a greater sense of regionalism than Missourians do.
"We appreciate the city of St. Louis," says Baricevic, who added that nearly one-third of downtown St. Louis workers live in Illinois. "Folks in Missouri tend not to think of Illinois as part of the economic engine of this region. There are notable exceptions to that. But for the most part, I think the average citizen or businessman in Missouri only looks to the east to see if the sun is coming up."
Baricevic and others hope that in future years the progress of MidAmerica Airport and the expansion of MetroLink will be two chief factors in changing those perceptions.
St. Clair County, Ill., by the numbers
| | |
| --- | --- |
| Population | 260,050 |
| Labor Force | 122,541 |
| Unemployment Rate (County) | 6.4% |
| Per Capita Personal Income | $22,527 |
Top Five Employers
Scott Air Force Base

4,290 civilian employees

8,041 military employees

Memorial Hospital

1,400

Casino Queen

1,250

Union Planters Bank

1,047

St. Elizabeth's Hospital

874
The Regional Economist addresses the regional, national and international economic issues of the day. Views expressed are not necessarily those of the St. Louis Fed or Federal Reserve System.
---
Email Us