New and Improved Web Site
If you're looking for a way to pass the time in the air conditioning this summer, check out the St. Louis Fed's newly retooled web site at www.stls.frb.org.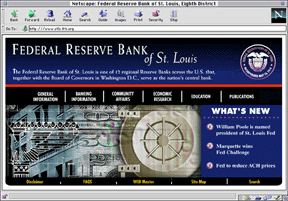 The site has been completely reworked to make it more appealing to visitors in terms of both the organization and presentation of information. Several new features have also been added, including pull-down menus (for those who have the latest browsers), an internal search engine and a site guide.
For more information on the St. Louis Fed's web site, contact Lora Holman by phone at (314) 444-8553 or by e-mail at webmaster@stls.frb.org.
More Coming Than Going in the District:
Domestic Migration of Population
| District State | Rank among 50 States | Net Migration 1996-97 |
| --- | --- | --- |
| Tennessee | 9 | 34,393 |
| Missouri | 12 | 12,956 |
| Kentucky | 15 | 8,041 |
| Arkansas | 18 | 5,128 |
| Mississippi | 21 | 3,501 |
| Indiana | 24 | 2,397 |
| Illinois | 48 | –68,612 |
| National Net Migration | | 0 |
Economic Education Never Takes A Vacation
School may be out for the summer, but educators District-wide are as busy as ever looking for ways to educate students about economics. The St. Louis Fed plays an active role in many of these efforts and, in fact, has listed education as one of seven critical success factors in its strategic plan.
For information on Fed economic education programs in the Eighth District, contact Dawn Griffitts at (314) 444-8421, or 1-800-333-0810. For other information on economic ed in the Eighth District, contact one of the state councils listed below.
National Office
National Council on Economic Education
1140 Avenue of the Americas
New York, N.Y., 10036
Phone: 1-800-338-1192
Arkansas
Arkansas Council on Economic Education
P.O. Box 3447
Little Rock, Ark., 72201
Phone: (501) 682-4230
Illinois
Illinois Council on Economic Education
Northern Illinois University
DeKalb, Ill., 60115
Phone: (815) 753-0356
Indiana
Indiana Council for Economic Education
Purdue University
1310 Krannert Center
Room 221
West Lafayette, Ind., 47907-1310
Phone: (765) 494-8545
Kentucky
Kentucky Council on Economic Education
203 E. Jefferson St.
Louisville, Ky., 40202
Phone: (502) 584-2100
Mississippi
State council is currently restructuring. For information, contact the National Office.
Missouri
Missouri Council on Economic Education
4747 Troost
Kansas City, Mo., 64110
Phone: (816) 235-2655
Tennessee
State council is currently restructuring. For information, contact the National Office.
The Regional Economist addresses the regional, national and international economic issues of the day. Views expressed are not necessarily those of the St. Louis Fed or Federal Reserve System.
---
Email Us