Community Profile: Action Jackson—Tennessee Town Seeks to Continue 10-Year Roll
A community's economic success can come in many flavors. In Jackson, Tenn., these flavors include cheddar, ranch, barbecue and sour cream and onion. For while Silicon Valley can point to the computer chip as the reason for its progress, those who live here in the Tennessee Valley have a greater appreciation for the potato chip.
For nearly 30 years, Procter & Gamble has produced its Pringles snack chip brand in Jackson, a city of 100,000 residents 80 miles east of Memphis. The Pringles plant has led the way in a manufacturing boom that has taken place here over the past decade. In a recent economic impact analysis, the Jackson Area Chamber of Commerce stated that between 1990 and 1999, more than 8,800 industrial jobs were created as part of a capital investment of more than $1.1 billion.
One of the results of this growth has been the proliferation of the restaurant and retail industry, particularly on the north end of town near Interstate 40. How is Jackson managing its unprecedented economic momentum, and what is being done to make sure the streak continues?
The Chip of the Iceberg
Between 1996 and 1998, Procter & Gamble poured $375 million into its Jackson plant and added nearly 400 new employees. The Pringles plant currently employs about 1,500 people, making it the second-largest manufacturer in Jackson. Although Procter & Gamble officials declined to give exact distribution figures, the Jackson plant is the largest exporter of all of the company's U.S. facilities.
"Jackson is an ideal location for us from a distribution standpoint," says Greg Stuart, quality systems manager at the plant. "Rail and road facilities are very good."
What Procter & Gamble means to the community is clear by examining the period between 1996 and 1998. During that time frame, the company accounted for more than half of the nearly $700 million of industrial investment in Jackson. When total investment in Jackson dropped by about $140 million in 1999, it was mainly because Procter & Gamble did not make any major financial upgrades to the Pringles plant that year. The company's value extends all the way to the three-year-old baseball stadium where the minor league West Tennessee Diamond Jaxx play—Pringles Park.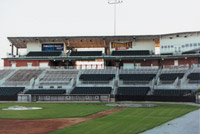 Procter & Gamble has operated its Pringles plant in Jackson for nearly 30 years; the city's three-year-old minor league baseball stadium, Pringles Park, illustrates the company's connection to the community.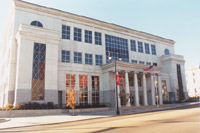 The recently completed federal courthouse is one example of the effort to inject new energy into downtown Jackson.
Other businesses that call Jackson home include a diverse mix. One is Pentair Corp., which employs a total of 2,300 people at two operations: Porter-Cable, maker of industrial power tools, and DeVilbiss Air Power Co., which produces air compressors and generators. In addition, Maytag Corp. makes dishwashers at its Jackson factory, and industry leader Bruce Hardwood Flooring is also located here. About 600 people work at Bruce Hardwood, which has been a member of the Jackson business register since 1892. The company recently added a new product line and this spring will introduce new proprietary laser scanning equipment to help identify and eliminate defects in wood, thereby increasing the company's yield. "What this says to the Jackson community is that even though we have been in business more than 100 years, we know that we have to change and be innovative or else someone at some point will pass us," says Jim Smith, general manager of the Bruce Hardwood plant.
What are some of the keys to Jackson's success with manufacturers? For starters, the state of Tennessee helps by offering corporate excise tax credits and franchise tax credits. Jackson and Madison County also offer at least two years of property tax abatement for new or expanding companies. Bob Cook, president of the Jackson Chamber, sees favorable labor/management conditions as another major factor. Nearly all of Madison County's employers operate without union participation.
"I think that is a large factor, but we want to be clear that low unionization does not mean low wages and benefits," Cook says. "We're very serious about wanting to see wages increase and benefits improve."
Cook also says that some of Jackson's success is due to its fortuitous proximity to growing markets in Nashville and Memphis.
"That does help us," Cook says. "We have suppliers here making components being purchased by Saturn and Nissan in the Nashville area. And some other companies take advantage of the fact that they can access the world through all of Memphis' distribution capabilities."
"But that's not the sole reason, or even the primary reason, that Jackson is doing so well. Jackson has developed its own manufacturing base that is independent of those two cities. That's where we've really seen the growth."
Northern Exposure
On the northern edge of town, where Interstate 40 cuts through, a new road was opened a decade ago. The Highway 45 Bypass provided a shortcut for drivers needing to get downtown. These days, the Bypass is anything but. Restaurants, shopping centers and new subdivisions line this road, making it one of Jackson's busiest thoroughfares.
Open acreage began filling in with shops and establishments to serve a rapidly growing labor force. An important development came in 1986 when a change in the law in Madison County allowed for liquor sales by the drink. Until then, chain restaurants steered clear of Jackson. The new law paved the way for a restaurant explosion, especially along the Bypass and other roads near the interstate where passing motorists could stop to shop or eat. The high restaurant volume resulted in Restaurant Business magazine ranking Jackson second among all U.S. markets in its Restaurant Growth Index in 1998.
Michael Philpot, executive director of the West Tennessee Industrial Association, believes that even though 55 percent of Madison County's workforce comes from the eight surrounding counties, even greater numbers of people regard Jackson as a hub for other activities too.
"Jackson has become a regional draw for things like entertainment, retail, health care and banking," he says. "Having more than 400,000 people living within a 50-mile radius has made this area an attractive place for businesses like restaurants to invest in."
In fact, all of this growth has led to serious discussions of the need for another bypass off Interstate 40.
"The way this town is spreading out, we're going to have to develop some new roads or else we won't be able to get the traffic from one end of town to the other too easily," says C.J. Roper, region president for BancorpSouth.
"We Can Compete"
After losing re-election to the U.S. Congress in 1834, Davy Crockett stood in the center of downtown Jackson and told his constituents: "You can go to hell, I'm going to Texas." He later died defending the Alamo. While Crockett won't be coming back to downtown Jackson anytime soon, city officials are hoping that small businesses, visitors and residents will. In fact, some already are.
Wary of the possible costs of a junior-sized urban sprawl, Jackson leaders have begun to revitalize the downtown area. In the past five years, a new city hall building, criminal justice center and federal courthouse have been constructed. In 1999, a new cultural arts center opened downtown as well. There are new building facades, improved street lighting and an effort to convert some older buildings into loft apartments.
"There has been unprecedented investment, both public and private, downtown recently," says the chamber's Cook.
But the area's top priority is to continue the industrial progress of the past decade. Cook and others hope that new developments like the Tiger Jones Technology Park just north of the Maytag plant can attract new businesses. A 150,000 square-foot spec building was erected in the park last spring. The hope is that the park's modern amenities and infrastructure will entice even more businesses to Jackson.
The task for people like Cook and Philpot is to show prospects that Jackson offers many of the advantages of a larger market.
"The toughest thing," says Philpot, "is battling the perception that we won't be able to provide what a primary market like Memphis, Nashville or Atlanta can. But when we get people to come to Jackson or the surrounding area, it's very eye-opening. We can compete."
Jackson has achieved a great deal over the past decade, but in this concluding remark in its aforementioned Economic Impact Analysis, the Chamber of Commerce itself acknowledges that nothing in the world of economic development is guaranteed:
"We must never lose sight of the fact that industries mature, management sometimes fails, facilities become obsolete, and recession happens. Economically, we are at the top of the curve, and unless we continue to aggressively recruit industries that will be responsible citizens, the curve will quickly turn over."
Jackson, Tenn., by the numbers
| | |
| --- | --- |
| Population | 101,611 |
| Labor Force | 57,700 |
| Unemployment Rate | 3.3% |
| Per Capita Personal Income | $23,725 |
Top FiveEmployers
Jackson-Madison County General Hospital

3,800

Pentair Corporation

2,300

Jackson-Madison County Board of Education

1,554

Procter & Gamble Manufacturing

1,450

Maytag Corporation

800
The Regional Economist offers insights on regional, national and international issues. Views expressed are not necessarily those of the St. Louis Fed or Federal Reserve System.
---
Email Us