Community Profile: Storming Forward After Terrifying Tornado, Fort Smith, Ark., Continues to Rebuild
Excuse the people of Fort Smith, Ark., if they were not camped out at the box office in May 1996 anxiously awaiting the opening of the movie "Twister." Just a few weeks earlier, Mother Nature provided residents with a most unwelcome sneak preview. The reaction from local critics? "Thumbs down, and lighten up on the special effects, please."
It was April 21 when a tornado touched down on this northwestern Arkansas community of 76,000, cutting a five-mile swath through downtown and the northern residential areas. The aftermath revealed damage, much of it severe, to more than 200 businesses and 3,000 homes--in total, more than $500 million in damage to Fort Smith and nearby towns in Sebastian and Crawford counties.
Although the tornado threw a huge scare into the state's second-largest city, Fort Smith five years later continues its economic revival, which began even before the storm hit. Nevertheless, the worst tornado to strike the area since 1898 will not soon be forgotten.
"We sit on the edge of Tornado Alley, so we are fortunate that this type of thing hasn't happened more often," says Sam Sicard, president of First National Bank.
"God Can Put Asunder"
Remarkably, only two people were killed during the tornado.
"It could have been much worse as far as human life is concerned," Sicard says.
The town is lucky that the tornado occurred late on a Sunday night, Sicard says, given that the storm swept right through the downtown business district, including heavily commercial Garrison Avenue.
Buddy Spradlin, president and CEO of Riverside Furniture Corp., agrees. His company lost an 80,000-square-foot upholstery plant that employed 50.
"It was a real eye-opener," Spradlin says. "One thing I learned is that you need to have reinforced concrete shelters to protect your employees in case something like this happens."
Riverside, which employs more than 1,300 people in Fort Smith, rebuilt the upholstery plant on its sprawling manufacturing and distribution complex near downtown. Spradlin says that the company lost $2 million as a result of the natural disaster.
Garrison Avenue businesses near the Arkansas River were particularly ravaged. Where historic four- and five-story buildings once stood, empty lots now exist.
But on one of the hardest-hit blocks, downtown almost witnessed an immediate payoff when Beverly Enterprises Inc., the nation's largest nursing home operator, bought the land with the intention of demolishing the buildings and constructing a 10-story headquarters on it. Beverly had been leasing office space in more than 20 locations throughout the city. Ultimately, the company decided it needed more space than the downtown location could offer; so it moved its 900 local employees to a new campus on the south side of Fort Smith. As for that land downtown, Beverly donated it back to the city, which is converting it into a park that will connect to the national historic site just to the south.
One of the many businesses that suffered the twister's wrath was Griffin Properties, which saw 13 of its commercial and residential sites ruined. The naked facade that remains from one of the company's Garrison Avenue buildings is a striking testament to the storm's fury.
"What man maketh, God can put asunder," says Rick Griffin, manager of the properties. "We spent the next year as a company trying to get back to where we were the day before the tornado."
Of the three buildings that Griffin Properties lost downtown, one burned down two days after the tornado when the electricity was turned back on. The company had only recently purchased the buildings and was preparing to renovate them.
"We had big plans for all three of those downtown properties, but the tornado changed those plans completely," he says. "We'd like to have had those properties back. They were well-situated and well-constructed buildings."
New Opportunities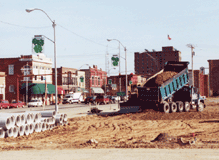 In the wake of the 1996 tornado that rendered several buildings obsolete, ground was recently broken for a new park along Fort Smith's main street, Garrison Avenue.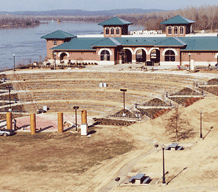 A riverfront amphitheater, one of several civic projects under development, will be completed this summer.
Like everyone here, Chamber of Commerce President Billy Dooly wishes that the tornado never happened. As it is, he prefers to look toward the positives that resulted from the storm.
"We have opportunities that would not have been presented to us if not for the tornado," Dooly says.
One of those opportunities materialized when voters passed a half-cent sales tax hike in 1999 to fund four major projects: an addition to the city's convention center; a new building for the main library and for three branch libraries; a riverfront redevelopment plan that includes a new amphitheater; and Garrison Avenue streetscape improvements. All of these projects are nearing completion.
Dr. Jerry Stewart, chairman of the chamber board of directors, partly attributes the renewed civic pride to a change in attitude after the tornado.
"Over the years, Fort Smith has been pretty conservative and anti-tax," Stewart says. "These new projects will have a significant economic impact on the area."
A Promising Road
Fort Smith economic development leaders are pegging much of the city's future success to the completion of Interstate 49. The chamber is working with other cities in Arkansas, Louisiana and Missouri to finalize funding and construction of the highway, which, when finished, will stretch from southern Louisiana to Kansas City. Drivers will be able to link to other interstates at each end to form a new mid-continent interstate link between Canada and Mexico. The highway is being completed one section at a time in broken stretches. Congress recently appropriated money for completing the portion between Texarkana, Ark., and the Louisiana border.
"Our goal is to be driving on this road within 10 years," Dooly says.
I-540, which currently runs from Fort Smith to nearly the Missouri border, would become part of I-49. A new south-bound interstate will need to be constructed to connect Fort Smith with Texarkana to complete this NAFTA trade corridor.
Part of that new highway will pass through Fort Chaffee, a 72,000-acre Army base on the southeastern end of town that was closed in 1995. In late 2000, the Department of Defense transferred 7,000 acres to a local public trust primarily for commercial redevelopment. The Arkansas National Guard uses 62,000 acres of the rest of the base for training. The public trust has funding to make road, water and sewerage infrastructure improvements to the land it received and hopes these steps will help woo new industries to the base. Phil Reeves, executive director of the Fort Chaffee Public Trust, says residential housing on the base is also in the works.
"But our prime objective is to create new jobs," Reeves says. "And we want to show significant progress by 2003."
That is the year of the next round of base closings. At that time, Reeves hopes the Pentagon, which still maintains overall responsibility for Fort Chaffee, will grant the trust additional land for redevelopment.
Not far from Fort Chaffee is the Walker Industrial Park, the part of town that enables Fort Smith to stake its claim as the manufacturing capital of Arkansas. The park boasts an excellent supply of natural gas and electricity with access to rail lines and close proximity to the port of Fort Smith. On almost a thousand acres, the park is the home of the area's leading manufacturer, Whirlpool, as well as plants for companies like Hiram Walker, MacSteel, Owens-Corning, Planters Peanuts and Rheem-Ruud. Businesses at the park help account for what the chamber estimates as 1,200 new or expanded industries over the last 15 years in all of Fort Smith for a total of more than 20,000 jobs.
Recently, one park tenant, TransKrit, closed its plant. The maker of business forms employed 180 people. At about the same time, however, MacSteel announced a $26 million expansion, the ninth straight year the company has expanded.
This kind of counterbalance allows Fort Smith to hedge itself against any deep economic downturn, Dooly says. "We're not 100 percent dependent on the mill at the end of the road like some towns are."
Keeping the same positive outlook that he had after the tornado, Dooly quips, "If a recession is coming, we may just choose not to participate in it."
Fort Smith, Ark., by the numbers
| | |
| --- | --- |
| Population | 193,000 |
| Labor Force | 97,700 |
| Unemployment Rate | 3% |
| Per Capita Personal Income | $21,257 |
Top FiveEmployers
Whirlpool Corp.

4,575

OK Industries

4,500

Sparks Health Systems

2,800

Baldor Electric

1,711

St. Edward Mercy Medical Center

1,703
The Regional Economist offers insights on regional, national and international issues. Views expressed are not necessarily those of the St. Louis Fed or Federal Reserve System.
---
Email Us