How the Russia-Ukraine War Helped Fuel Record Fertilizer Prices
KEY TAKEAWAYS
Russia's invasion of Ukraine in February 2022 exacerbated already tight conditions for global fertilizer supply, pushing fertilizer prices to hit all-time highs in March.
Fertilizer is among farmers' largest expenses, and despite measures meant to ease price pressures, a recent survey showed higher input costs were a top concern.
Natural gas is a key resource for producing fertilizer. Volatility in the natural gas market will likely keep global and U.S. fertilizer prices high for some time.
The price of fertilizer, which is among farmers' greatest expenses, reached all-time highs in the spring of 2022 after Russia, the world's top fertilizer exporter, invaded Ukraine in February. The Russia-Ukraine war exacerbated an already tight global supply situation that had begun in 2020 with COVID-19-related worker shortages and factory shutdowns, the first of several disruptions that sparked volatility in the fertilizer market.
In response to economic sanctions imposed by the international community, Russia halted hundreds of exports. While fertilizer exports were not explicitly banned, Russia's Ministry of Industry and Trade recommended that its fertilizer manufacturers temporarily stop exports of their products amid shipping concerns. Russia later announced further export restrictions on fertilizer that will last through May 2023 to secure sufficient supply for domestic farmers. In addition, shipping companies, as well as Western financing and vessel insurance companies, steered away from Russia amid international financial sanctions and safety concerns. The result was that global and U.S. fertilizer prices surged to record levels in March 2022.London-based CRU International's fertilizer price index reached a record weekly high of 390 on March 25, 2022, well above the previous record of 360 in 2008. According to the World Bank, global fertilizer prices had risen 30% by early 2022 on the heels of an 80% hike in 2021.
The following figure shows that Bloomberg's Green Markets Weekly North America Fertilizer Price Index reached an all-time high of 1,270.4 on March 25, surging past the former record of 932.3 set in 2008. The index is based on the benchmark prices of three fertilizer ingredients: nitrogen, phosphorus and potassium, collectively known as NPK.
Green Markets Weekly North America Fertilizer Price Index, January 2006-September 2022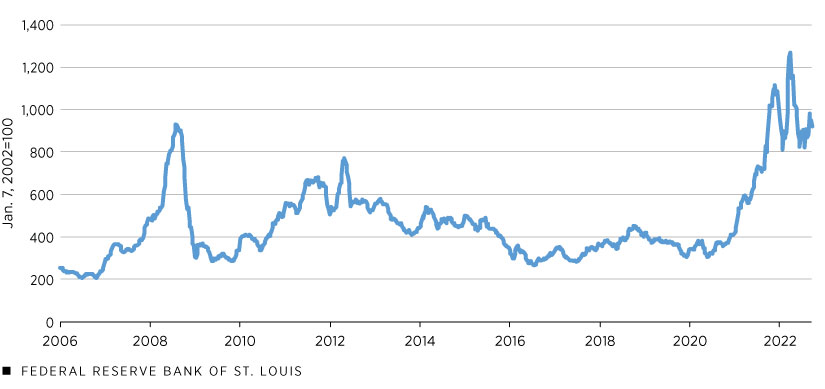 SOURCE: Green Markets, FertilizerPricing.com. ©Bloomberg LP.
NOTE: The Green Markets Weekly North America Fertilizer Price Index uses the U.S. Gulf Coast urea, U.S. Corn Belt potash and New Orleans (NOLA) barge diammonium phosphate (DAP) benchmark prices and is value-weighted based on annual global demand for each nutrient. Figure data are from Jan. 2, 2006, to Sept. 23, 2022.
Fertilizer use varies significantly by crop and by soil. On average, it accounts for 36% of the operating costs of U.S. corn farmers and 35% of the operating costs of U.S. wheat farmers. Soybeans require less fertilizer, and it accounts for only 10% of that crop's operating costs. More than 50% of farmers surveyed in August by the Purdue University Center for Commercial Agriculture said that higher input cost was their greatest concern for the next crop year, while 12% of respondents reported that input availability was their greatest concern.See the September 2022 Purdue University/CME Group Ag Economy Barometer report for additional survey results. Indeed, this spring's rise in fertilizer prices prompted some farmers to cut back on fertilizer use or to change their crop mix. More farmers may do so next year if the outlook weakens for grain and oilseed prices.
The Interconnectedness of the Global Fertilizer Trade
Synthetic fertilizers have helped triple global grain production since the 1960s. But producing fertilizer components, such as nitrogen, requires resources like natural gas and others. Some components, like phosphorus and potassium, are mined. Only a few countries have the right mix of ingredients and access to natural gas to economically produce fertilizer. China, Russia, the U.S., India and Canada are the world's five largest producers of fertilizer, while Russia, Canada, the European Union, China and Belarus are the world's five largest exporters.See the June 30, 2022, report Impacts and Repercussions of Price Increases on the Global Fertilizer Market from the U.S. Department of Agriculture.
Top 5 Global Fertilizer Exporters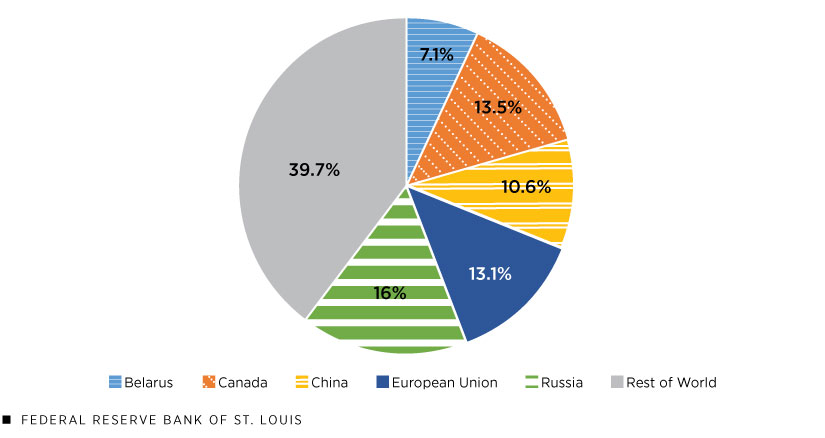 SOURCE: IFASTAT data cited by the U.S. Department of Agriculture.
NOTE: Data are the 2017-19 average.
Disruptions That Helped Upset the Global Fertilizer Cart
Disruptions started to occur in the global fertilizer supply chain mid-2020, when COVID-19 produced labor shortages that hindered natural gas production. More disruptions occurred in February 2021 after a deep freeze covered the U.S. southern Plains and froze natural gas wells. In late August 2021, Hurricane Ida hit the southern U.S., again impacting both natural gas and fertilizer production.See the June 2022 paper "An Examination of Recent Fertilizer Price Changes (PDF)" from Iowa State University's Center for Agricultural and Rural Development. Last fall, China, the world's largest exporter of phosphorus, implemented quotas limiting international shipments of the nutrient that were initially set to end in June 2022. The quotas were recently extended through the end of the year and possibly into mid-2023.
The Russia-Ukraine war has also disrupted natural gas flows. Russia halted exports of natural gas to Bulgaria and Poland in April, followed by Finland and the Netherlands in May, and Latvia in early August. It also reduced flows to the rest of Europe, causing spikes in European natural gas prices that led at least 10 of Europe's fertilizer plants to close or cut output in July 2022 alone.
Ameliorative Moves
Several developments over the summer relieved supply pressures and reduced fertilizer prices. For example, the U.S. International Trade Commission voted on July 18 to reject substantial anti-dumping and countervailing duties on imports of urea ammonium nitrate, or UAN, a key nitrogen product, from Russia and Trinidad and Tobago. In 2021, 80% of U.S. UAN imports came from these countries.
On July 22, Russia and Ukraine signed separate agreements with Turkey and the U.N. clearing the way for Ukraine to export grain and other agricultural goods while also ensuring that Russian food and fertilizer would have access to world markets. The agreement, which expires in November after 120 days but can be renewed, included Russian assurances that it would not attack Ukrainian port facilities on the Black Sea. By mid-August, the first ships loaded with wheat began departing from Black Sea ports, and some fertilizer shipments from Russia had resumed as well.
Repercussions of the Fertilizer Price Shock
Russia's invasion of Ukraine in February 2022 exacerbated already tight global fertilizer supplies, boosting prices to all-time highs in March. While certain ameliorative measures have eased some of the price pressure on U.S. farmers, volatility in the natural gas market will likely keep fertilizer prices high for some time.
Given tight supplies and the uncertain geopolitical situation, U.S. farmers seeking to price or book their fertilizer needs early for next year's crop are finding that suppliers have increasingly shifted to a just-in-time pricing structure. In addition, both farmers and suppliers are moving toward more-formalized contracts that go beyond handshake or verbal agreements.
Meanwhile, the fertilizer price shock has sparked interest in high-tech precision-application tools and equipment that reduce the required amount of fertilizer, as well as in biotech solutions like nitrogen-producing microbes that can add nutrients to soil without the need for natural gas during production.
Notes
The Regional Economist offers insights on regional, national and international issues. Views expressed are not necessarily those of the St. Louis Fed or Federal Reserve System.
---
Email Us