Offering Security in a Rural "Food Desert"
This post, originally published Dec. 14, 2022, has been updated with information about the expansion of grocery services and more recent food insecurity statistics.
Rural towns can be great places for families and "where everybody knows your name." They are often described as easygoing communities where it's safe to live and raise children. However, they can lack resources to assist families in creating an equitable quality of life.
One challenge that was worsening even before the COVID-19 pandemic has been food insecurity in rural communities. Food insecurity, defined as not having enough to eat "sometimes" or "often," was roughly similar across the states in the Eighth Federal Reserve District,The Eighth Federal Reserve District includes all of Arkansas, eastern Missouri, southern Illinois, southern Indiana, western Kentucky, western Tennessee and northern Mississippi. with the exception of Mississippi, as of late December 2020. Six of the seven states in the Eighth District experienced food insecurity rates between 12% and 16%, while Mississippi faced rates at 19%.
As of late last year, food insecurity rates were more varied across the District states, although Mississippi's rate was still the highest at nearly 20%, according to the U.S. Census Bureau's Household Pulse Survey from Dec. 9-19, 2022. For the other six states, they ranged between 10.9%, in Illinois, and 16.3%, in Kentucky.
Different organizations in the St. Louis Fed's District have come up with various ways to help address food insecurity. One example is the effort that started with an organization in Drew, Miss. Founded in 2009, We2gether Creating Change, a not-for-profit organization, sought to address that issue and others within its town. The mission of We2gether is "to be a change agent in the transformation of poor and low income communities from perceived places of poverty, low skills, and despair to places of prosperity, abundant skills, and hope," according to the organization's website.
A Collaborative Plans for Growth and Health
In 2015, We2gether led a group of community leaders called the Drew Collaborative to host meetings to engage community members in strategic planning. The collaborative was established by We2gether to be inclusive of the diverse group of individuals, views, opinions and ideas within the town. They focused on the future of Drew by identifying needs and challenges and prioritizing activities to advance the town's growth and health.
Through its strategic planning, the Drew Collaborative agreed upon a shared vision, which states: "By 2026 the city of Drew will be an economically prosperous, growth oriented and unified model community with clean and excellent infrastructure, safe affordable housing for all income levels, B performing schools, and the residents will have easy access to nutritious and healthy food."
What a Grocery Delivery Service Means to Residents
When its last grocery store closed in 2012, Drew became a "food desert," an area with limited supplies of fresh, affordable foods. To tackle this issue, the Drew Collaborative launched a Grocery Online Ordering Distribution Service (GOODS) in 2021. Groceries can be ordered online and held for pickup at the former U.S. Army National Guard Armory in Drew. Residents can either pick up their groceries, or upon request, deliveries can be made to housebound customers.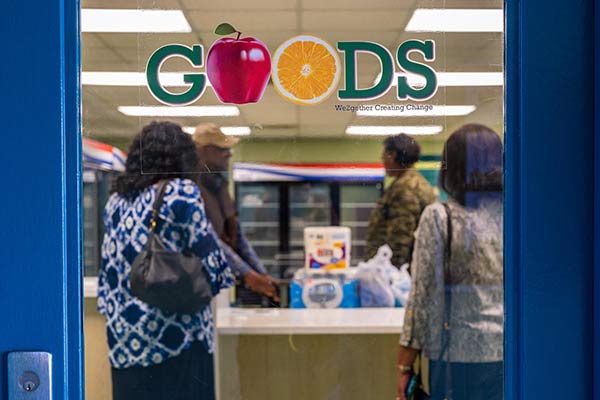 Photo submitted by We2gether.org.
GOODS serves the communities of Drew, Ruleville, Parchman and Rome and added service to Shaw in February 2023. The Mississippi towns have no public transportation systems, and GOODS helps residents avoid having to use expensive ride-hailing services and provides the convenience of online ordering.
To understand the challenge of food insecurity and the impact of having the grocery delivery service, I interviewed Evelyn Smith, a nurse practitioner who lives in Drew, in November 2022. Earlier that year, Smith suffered an injury that limited her mobility. She shared how she and her clients cope with some of the inconveniences of living in the rural area, and how using GOODS helps them. (Responses were edited for length and clarity.)
How long have you lived in Drew? Is the community considered a farming community, where accessing food shouldn't be an issue? (Note: Some food deserts are in areas where farming is or has been vital to the local economy.)
Drew, Miss., is my hometown and where I was born. I left Drew to attend college but moved back after finishing. It is a rural community where farming was the livelihood over 30 years ago. It was not considered a town where farming would "feed the town." Through the years, the [economy] has moved from farming to factory work.
Was this [lack of a grocery store or food access] one of the most pressing issues for you? (Note: Declining populations mean that a number of rural communities are without an adequate customer base for a local store. A certain population, on average 3,252 as of 2005, is needed to maintain a grocery store, according to a 2010 Center for Rural Affairs report.The report cited "Small Town Grocers in Iowa: What Does the Future Hold?" by Meghan O'Brien, published in 2008 by Iowa State University Extension and Outreach. Data from the 2010 census show the population in Drew was 1,927.)
When the grocery store and drugstore closed, it was like removing the "heart and the aorta" from the town. Drew has supported two grocery stores and a meat market in the past. I was really confused as to why the last grocery closed, because I felt it had enough business to stay viable. It has never been made clear why it closed. Every little town needs a grocery store and not a convenience store.
Since the grocery store closed, what other options have you had for accessing food?
A [local dollar store] took the place of the grocery store. They carry canned and frozen foods, but there are no fresh foods. There have been farmers markets in Drew, but it has not been consistent. My work schedule would conflict with the timing of when the farmers markets were held. I have driven five miles to Ruleville, Miss., for fresh vegetables, and they can be expensive per pound. Ruleville, a neighboring town, is thriving and has maintained its grocery store. It has always done so due to its tax base. Ruleville has had a local hospital and rural clinic for years, which have generated revenue for the town.
Did you experience any difficulty in purchasing what you needed? For example, was cost, transportation, availability, etc., an issue?
I have a car, but convenience becomes an issue when there is no grocer located within the community. When you have to shop outside of town, you have to make sure you get everything that is needed; there is no backup. The quality of foods found at [the local dollar store] can be an issue. You have to watch the expiration dates on the products.
Not having a local grocery store causes a hardship for those who work and have transportation, even more for those who don't work or [don't] have transportation. There are people who make their living transporting people to Walmart or Cleveland [Miss.] and charge them at least $20 per trip, or whatever the going rate is for that day. It's not cheap. It's a hardship on people with fixed incomes.
I had to modify my work schedule because I realized that during the first part of the month is when [clients] were taking care of their monthly business [around the arrival of checks and bill due dates]. Waiting for me to come for their visit was really hindering some of them from doing what they needed to do. So, I stopped seeing people the first through the fifth of the month. I would give them those first few days to try to do what they needed to do: go to the bank, [to the store, etc.]. I did not want to disrupt their routine.
Why does [the delivery service] matter to you or other citizens of Drew?
I've always used the Walmart curbside pickup service; that worked fine for me. Earlier this year [2022], I had a trauma that threw my world out of whack! Personally, I thought [the Drew Collaborative] was promoting another grocery store. It was not clear that it was a grocery delivery business. When I got a better understanding of the service, it really became a lifesaver to me. All I had to do was to continue online ordering, have it delivered to my house, and they would place it where I wanted them to. Before, I didn't really need [delivery], so I didn't pay that close attention to it. But the delivery is the great part of the service. I think it's needed. It would be great for a lot of people who are spending their money with local transportation services. As [I am] getting better, I'm not going to stop using it. I'm going to continue.
GOODS Is Expanding
GOODS has been so popular that the site in Shaw was added in February 2023. In Drew, the collaborative has started a community garden behind the GOODS site to increase residents' access to fresh food, such as vegetables.
Through GOODS and other initiatives implemented in Drew, "we are trying to create a healthy community that allows people to thrive," stated Gloria Dickerson, founder and CEO of We2gether.
The Drew Collaborative and We2gether have taken a holistic approach to health, focusing not just on food access, but nutrition, housing, recreation and environmental cleanup. Their goal is to have a thriving community where people are healthy physically, emotionally, mentally and spiritually. For additional information, view the GOODS website.
Notes
The Eighth Federal Reserve District includes all of Arkansas, eastern Missouri, southern Illinois, southern Indiana, western Kentucky, western Tennessee and northern Mississippi.
The report cited "Small Town Grocers in Iowa: What Does the Future Hold?" by Meghan O'Brien, published in 2008 by Iowa State University Extension and Outreach.
This blog explains everyday economics, consumer topics and the Fed. It also spotlights the people and programs that make the St. Louis Fed central to America's economy. Views expressed are not necessarily those of the St. Louis Fed or Federal Reserve System.
---
Email Us