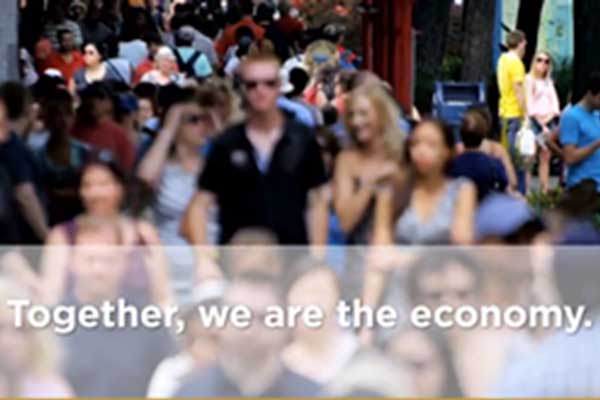 At the St. Louis Fed, we think of our public website as the "front door" to our organization. It's the one place where everyone—career-seekers, community leaders, business professionals, government officials, bankers, news media, educators, students and the curious general public—can come to learn about our people, our culture and the work we do.
For you, this site might be a jumping off point to find specialized information about job opportunities, banking, economic research and data, or the latest community development tools. Or perhaps it is your primary destination to view upcoming events, news and our latest publications and podcasts.
You may wish to explore recent remarks about the economy from St. Louis Fed President and CEO Jim Bullard and other Federal Open Market Committee participants. Maybe you'd like to learn more about us and St. Louis Fed leadership … or even get your "Fed FAQs" answered in plain English.
No matter why you're here, we are glad you are! And we invite you to explore, bookmark and share a redesigned www.stlouisfed.org.
"No matter why you're here, we are glad you are! And we invite you to explore, bookmark and share a redesigned www.stlouisfed.org."
Open and direct communication from the Fed plays a vital role in earning the public's trust: your trust. Digital media are central to a more transparent Fed. The St. Louis Fed launched its first website back in 1995, and we have been constantly improving, iterating and innovating ever since in order to better reach our diverse audiences.
My colleagues and I have been listening to visitors like you who expressed a desire for a more intuitive, more searchable and more streamlined website. After taking in feedback during our overhaul project, we redesigned the homepage to feature more relevant information about who we are, what we do, and how you can connect with us.
We have also introduced better ways for you to search and find the content you care about and to subscribe to receive timely updates on the topics you find most valuable.
The St. Louis Fed works hard to build strong connections and communications throughout our seven-state district with individuals, schools, businesses, agencies and organizations. You are the voices of Main Street, and all of us at the St. Louis Fed take great pride in serving the Federal Reserve's Eighth District by providing the information and resources you'll find here.
If you have any questions or feedback about the new site, please email us at webmaster@stls.frb.org. Thank you for visiting, and we hope you'll be back soon!
This blog explains everyday economics, explores consumer topics and answers Fed FAQs. It also spotlights the people and programs that make the St. Louis Fed central to America's economy. Views expressed are not necessarily those of the St. Louis Fed or Federal Reserve System.
---
Email Us
All other blog-related questions