What You Need to Know about Unemployment Insurance
Have you ever wondered how people who suddenly lose their jobs would support themselves?
Luckily, there is an unemployment insurance program in each state. While people cannot live off UI for the rest of their lives, it does provide some monetary relief while looking for a job.
This post examines several aspects of the UI program:
when it began
who is eligible for benefits
how benefits are calculated
what extended benefits are, and
why UI is important today.
The Beginning of Unemployment Insurance in the U.S.
A federal-state partnership program that included a tax on employers to support it was established in the 1930s, as Senior Economic Education Specialist Jeannette N. Bennett discussed in a Page One Economics essay, "Unemployment Insurance: A Tried and True Safety Net."
"Within federal guidelines, states were given the freedom and flexibility to set criteria and design their programs," she wrote. "State unemployment offices were created to implement their UI programs and make payments to workers who qualified."
Eligibility and the amount of benefits people receive vary based on the state, previous income, work history and other factors, Bennett explained.
Sample of Normal State Unemployment Benefits, August 2020
State
Normal maximum weekly benefits
Arkansas
$451
California
$450
Florida
$275
Georgia
$365
Indiana
$390
Kentucky
$552
Louisiana
$247
Massachusetts
$823
Mississippi
$235
Missouri
$320
Nevada
$469
North Dakota
$640
Oklahoma
$539
Tennessee
$275
Texas
$521
Washington
$844
SOURCE: Coronavirus and Unemployment Benefits: 50-State Resources on Justia Co. website, compiled for December 2020 Page One Economics essay "Unemployment Insurance: A Tried and True Safety Net," by Jeannette Bennett.
Who Is Eligible for Unemployment Insurance?
To qualify for unemployment benefits, individuals must meet three criteria, regardless of state residence, according to the Page One Economics essay. They must be:
able to work
available for work
actively seeking work
These requirements are in line with the official Bureau of Labor Statistics definition of unemployed, as discussed in an Oct. 15, 2020, post on the FRED Blog. However, the CARES Act temporarily expanded this definition.
"The specifics of the CARES Act allow people to receive benefits so that they do not have to report to work if their health conditions make it too dangerous," the post said. Although the beneficiary is not technically unemployed because there is no active job search, the person still receives the benefits through a state's UI program, according to the blog post, which highlights data available in St. Louis Fed economic database FRED.
Under normal circumstances, workers are not eligible for the benefits if they voluntarily leave their jobs, are looking for their first job or are self-employed—among other scenarios, Bennett pointed out in her Page One Economics essay. However, under the CARES Act, self-employed individuals were able to receive unemployment benefits.
States can deny benefits to workers, Bennett noted. This occurs if people knowingly make false statements to obtain benefit payments. It also can happen if people voluntarily leave work without good cause or are discharged for misconduct connected with work, she wrote.
How Does an Unemployed Person Stay Eligible for Unemployment Benefits?
Bennett noted that states require recipients to file claims weekly to maintain eligibility. Individuals must also report any earnings for the period, and include any job offers accepted or declined. This reporting impacts eligibility and the amount received in benefits.
Many states also require a work history listing a minimum time worked and a minimum amount of earnings based on a 12-month period, according to the Page One Economics essay, which cited an August 2020 update to an unemployment benefits resource on the Justia website.
The FRED chart below shows that the pandemic caused a record number of continued claims, or insured unemployment, though the claims have decreased more recently with the slowing of the spread of COVID-19.
Continued claims are those filed by workers who have already filed an initial claim and are seeking benefits for an additional week of unemployment. Continued claims data are based on the week of unemployment, not the week when the initial claim was filed.
However, Bennett pointed out that workers who had been eligible for unemployment benefits can become ineligible if they don't continue meeting the criteria—that is, if they become unable or unavailable to work, or are no longer actively seeking it. Refusing a suitable job offer also is a reason someone could become ineligible, she wrote, citing a UI fact sheet (PDF) from the U.S. Department of Labor.
How Are Unemployment Benefits Calculated?
Bennett noted that states have their own way of determining unemployment benefits, and the number of workers receiving unemployment compensation changes based on economic conditions. (See the map.) Her essay cited the Pew Charitable Trusts' Stateline analysis of U.S. Department of Labor and U.S. Bureau of Labor Statistics data.
Share of Labor Force Receiving Unemployment Benefits, August 2020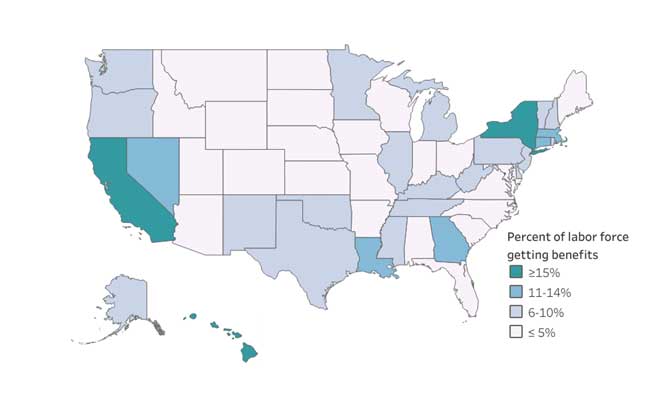 SOURCE: Pew Charitable Trusts' Stateline analysis of U.S. Department of Labor and U.S. Bureau of Labor Statistics data, via Page One Economics essay, "Unemployment Insurance: A Tried and True Safety Net."
Description: Darker shading in the U.S. map indicates states where a higher percentage of the labor force was getting unemployment benefits based on data released Aug. 27, 2020. Hawaii, California and New York had the highest percentages, at over 15%.
Often, benefits are calculated as a percentage of a worker's income over the past year, up to the state's maximum, Bennett explained. Some states offer part-time workers reduced benefits, too.
"Since payments are capped, UI may replace a smaller share of previous earnings for higher-income workers than for lower-income workers," Bennett wrote.
Low-wage workers, meanwhile, can be especially impacted by earnings and work history requirements, Bennett noted. Depending on how steady their previous employment was, low-wage workers may not qualify for unemployment benefits, the essay said.
Most states provide up to 26 weeks of benefits to workers who qualify. "However, this does not mean all workers receive the benefits for the entire time—only for the time they qualify," Bennett wrote.
What Are Extended Unemployment Benefits?
States may also offer extended unemployment benefits when there is a recession or special economic condition, as Bennett discussed in her essay. She cited the Federal Pandemic Unemployment Compensation program, which was enacted as a response to the COVID-19 pandemic, as an example. The benefits from the program have been in addition to the benefits from regular UI state programs.
States have the option to stop offering extended benefits prior to the federally legislated closure in September 2021, as discussed in a June 10, 2021, FRED Blog post. In the next several weeks, numerous states will have withdrawn from federal emergency UI benefit programs. These "halting states" will no longer participate in programs such as those that extend eligibility to many workers who otherwise wouldn't be covered by state UI programs and give a $300 weekly add-on to UI recipients, and the states won't offer an extension of benefits beyond the regular state programs' duration, according to the blog post.
Why Unemployment Insurance Is Important Today
While UI programs can change based on economic conditions and individual state decisions, they all serve the same purpose: They help eligible workers who have lost their jobs (or qualify under the CARES Act) by replacing a portion of their wages temporarily, as Bennett noted. These benefits are especially critical in recessions and economic downturns, including during the COVID-19 pandemic, she said.
"Unlike the days of the Great Depression, workers today have some protection from unemployment," Bennett wrote. "The federal-state unemployment insurance program continues to serve its intended purpose with reasonable results."
This blog explains everyday economics, explores consumer topics and answers Fed FAQs. It also spotlights the people and programs that make the St. Louis Fed central to America's economy. Views expressed are not necessarily those of the St. Louis Fed or Federal Reserve System.
---
Email Us