How Is COVID-19 Disrupting Communities across the U.S.?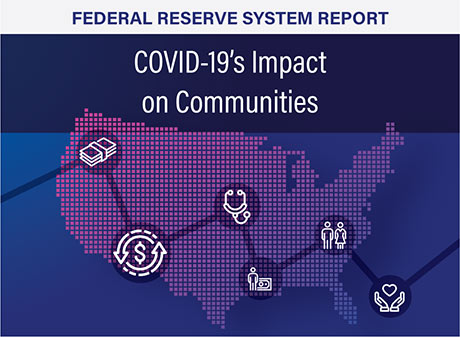 The spread of the novel coronavirus and the many efforts to slow it have affected communities across the nation. A new report from the Federal Reserve System, "Perspectives from Main Street: The Impact of COVID-19 on Communities and the Entities Serving Them" (PDF), shows the scope and scale of challenges that American communities, including lower-income communities, say they are facing amid the pandemic.
The Board of Governors and all 12 Federal Reserve banks in April surveyed nonprofits, government agencies, financial institutions and other community-based organizations for their perspectives on such questions as:
What level of disruption is COVID-19 having on economic conditions in the communities you serve?
What are the top impacts of COVID-19?
In what ways has COVID-19 impacted the entity you represent?
This outreach resulted in nearly 3,900 responses from organizations serving urban, suburban and rural communities across the United States—including more than 300 organizations served by the St. Louis Fed here in the Eighth Federal Reserve District, which includes all of Arkansas and parts of Illinois, Indiana, Kentucky, Mississippi, Missouri and Tennessee.
The map shows where respondents do most of their work.
States and Territories Where Respondents Conduct Most of Their Work
How COVID-19 Is Disrupting Economic Conditions
The vast majority—69% of respondents—indicated that COVID-19 was significantly disrupting economic conditions in the communities they serve and that recovery was expected to be difficult.
Another 22% of respondents considered the disruption significant but expected economic conditions to bounce back quickly after things settle. None of the respondents characterized the disruption of economic conditions as minimal.
What Are the Top Impacts of COVID-19?
In an open-response question, participants were asked to share the top impacts of COVID-19 on the communities they serve. The top impacts included income loss, business impacts, health concerns, basic consumer needs, effects on vulnerable populations and nonprofit impacts.
INCOME LOSS
including loss of jobs and self-employment, leading to the inability to service debt and pay bills

BUSINESS IMPACTS
including closures, revenue loss, and supply chain disruptions

HEALTH CONCERNS
including efforts to preserve health, prevention of COVID-19 spread, and the limited availability of testing and personal protective equipment

BASIC CONSUMER NEEDS
including food and housing

EFFECTS ON VULNERABLE POPULATIONS
including homeless and aging populations and those without access to the internet or computers—that are exacerbating existing disparities

NONPROFIT IMPACTS
including challenges reaching and serving clients remotely, access to funds, and closures
How COVID-19 Is Affecting Organizations
We asked community-based organizations about the level of disruption they were experiencing, too.
Some 72% of respondents indicated that COVID-19 is having a significant disruption on the entity they represent. Digging a little deeper, 41% of all respondents called the disruption significant and said they expect their organization to bounce back quickly after recovery begins, while 31% said they expect the recovery to be difficult.
Nearly 2 out of 3 respondents indicated that demand for their services has increased or is anticipated to increase. More than half of the respondents noted a corresponding decrease or anticipated decrease in their ability to provide services.
Finally, a quarter of respondents indicated that their entity could operate for less than three months in the current environment before exhibiting financial distress.
About Community Development at the Federal Reserve
Increasing economic opportunity is good for individuals, communities and the overall economy. That's why the St. Louis Fed's Community Development team works to foster economically resilient communities. We bring people together to help remove barriers to upward mobility in underserved communities and ensure that people have access to the information and resources that help them thrive.
As economic conditions across the nation, and here in the Eighth District, continue to evolve with and after this pandemic, the Fed will continue to seek perspectives from Main Street.
Additional Resources
This blog explains everyday economics, consumer topics and the Fed. It also spotlights the people and programs that make the St. Louis Fed central to America's economy. Views expressed are not necessarily those of the St. Louis Fed or Federal Reserve System.
---
Email Us