Historic Facts about Your Thanksgiving Spread
The cranberry industry may have illustrated antitrust issues in the early 1900s. The breeding of "family-sized" turkeys helped feed Virginia's turkey boom in the 1950s.
Researchers and journalists have tracked those and other trends responsible for Thanksgiving food abundance. Help yourself to four tidbits of history about the food that has your holiday table groaning, courtesy of digital library FRASER and Jona Whipple, a senior digital projects librarian at the St. Louis Fed.
Right-sizing Your Turkey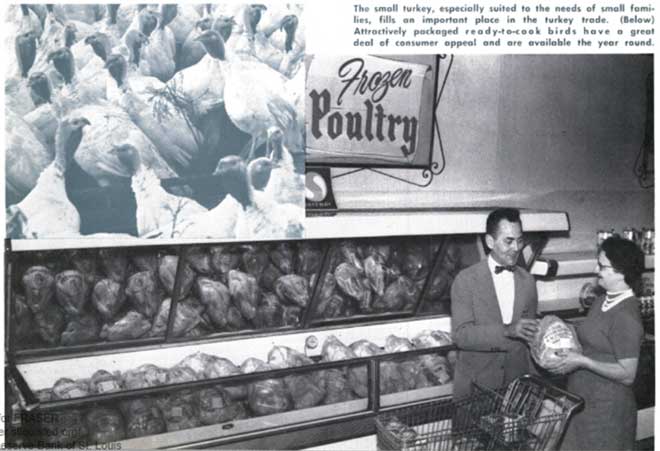 Accessed via FRASER digital library
Do you buy a 10-pound turkey for a family of four rather than one of the big birds needed to feed a crowd?
Better breeding led to smaller, "family-size" turkeys developed by the U.S. Agricultural Research Center in Beltsville, Md., the Richmond Fed's Review reported in 1958. (The Review has since been replaced by the Economic Quarterly.)
The breeding improvements also helped propel the mid-century turkey boom in the Richmond Fed District, which includes Maryland, Virginia, North Carolina, South Carolina and most of West Virginia. Starting in 1949, the industry in the District tripled in output over eight years — to more than 12 million turkeys raised in 1957.
Sweet Potatoes Aren't Just for Humans
Sure, people like their sweet potato pie, but experiments in growing and processing sweet potatoes in the 1940s suggested they could be a boon for other consumers — farm animals, according to an article in a 1942 issue of the Atlanta Fed's Monthly Review.
If using sweet potatoes for livestock feed were successful in practice, "It is possible that a revolution is in store" for growers in the Atlanta Fed's region, said the now-retired publication. That is because, as anyone who's enjoyed sweet potato pie on Thanksgiving knows, sweet potatoes are full of carbs.
Says the article:
"Actual feeding tests have demonstrated the value of the sweet potato as a livestock feed. Tests made in the Mississippi Agricultural Experiment Station showed that pulp from sweet potato starch manufacturing was 95 per cent as valuable for milk and fat production as crushed ear corn and sugar beet pulp."
Cranberries: a "Prime Necessity" and Antitrust Act Illustration

Accessed via FRASER digital library
Cranberries were "an article of prime necessity" for Thanksgiving tables in 1907, according to a Commercial and Financial Chronicle article.
Cranberries' importance coupled with the "recent systematic organization" of the cranberry business in Southeastern Massachusetts made their industry a good one for illustrating problems with the Sherman Antitrust Act, the article said. The act was intended to crack down on anticompetitive conduct.
"[N]o sane man could fail to see either the necessary conclusion that this is a trust or the even more necessary duty not to make himself absurd by prosecuting the cranberry," the writers noted, parlaying Cape Cod cranberries into a passionate argument about commerce, freedom and justice.
When 40 Cents a Pound for Butter Looks Pricey
Butter is essential for a number of Thanksgiving dishes. Are we paying less for it than families did about a hundred years ago?
According to this 1922 bulletin from the Bureau of Labor Statistics, consumers in Chicago were paying nearly 40 cents a pound for butter in December 1913. That's a deal compared to the cost in December 1919, when the price soared to a 30-year peak of over 74 cents a pound, according to historic retail price information in FRED, a St. Louis Fed economic database.
But 40 cents a pound works out to about $10 in today's U.S. dollars, according to an inflation calculator—more than the $3 to $6 you might pay for four 4-ounce sticks today.
---
Bringing More to the Table
From cranberries in 1907 to turkeys in 1958, it's clear that the foods that grace our holiday tables have for centuries held a special place not just in our hearts, but in our economy.
For updates on what's new in our digital library, get the FRASER newsletter or follow @FedFRASER on Twitter.
This blog explains everyday economics, explores consumer topics and answers Fed FAQs. It also spotlights the people and programs that make the St. Louis Fed central to America's economy. Views expressed are not necessarily those of the St. Louis Fed or Federal Reserve System.
---
Email Us