Fascinating Facts about Cellphone and Smartphone Usage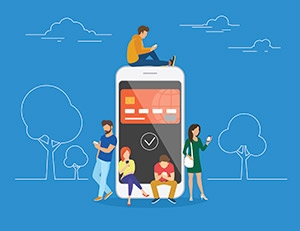 This year marks the 15th anniversary of the Blackberry 6210. According to Time Magazine, it was the first Blackberry to combine phone functionality—sans headset—with email, SMS and web-browsing capabilities. That may sound humdrum now, but the device's long-term impact was enough for Time to rank the Blackberry 6210 among "The 50 Most Influential Gadgets of All Time."
To quantify the evolving impact of phones on our lives, we bring you three fascinating areas of trivia.
When Did the Majority of Americans Go Wireless-Only?
The latter half of 2016 was the first time that a majority of American homes had wireless telephone service but no landline. This was noted in the April issue of Page One Economics by Jeannette Bennett, a senior economic education specialist with the St. Louis Fed's Memphis Branch.
That finding comes from the Centers for Disease Control and Prevention's National Center for Health Statistics, which has been releasing briefs on wireless substitution trends in America since late 2006. The center's July-December 2016 National Health Interview Survey (PDF) revealed that, for the first time, more than half of American homes did not have a landline, but did have at least one wireless telephone. This was a turning point in the long-running survey.
The number of wireless-only homes continued inching up, to 52.5 percent, in the latest survey release, January-June 2017 (PDF). Other preliminary findings:
Nearly 75%

of 25- to 34-year-olds live in wireless-only households, versus about 24 percent of people 65 and older.

About 71%

of adults who rent live in wireless-only households. Meanwhile, only 43 percent of adults living in owner-occupied homes are wireless-only.

Only 37.4%

of adults in the Northeast are wireless-only. In the South, it's 57.1 percent; in the West, 55.5 percent; and in the Midwest, 52.5 percent.
How Many Americans Own Smartphones?
About 87 percent of the U.S. adult population has a mobile phone—and 77 percent of those phones are smartphones. This is courtesy of the Federal Reserve Board, which began conducting extensive surveys of American consumers' use of mobile financial services in 2011. The latest Consumers and Mobile Financial Services report, released in 2016 (using 2015 survey data), also found that:
43%

of all mobile phone owners with a bank account had used mobile banking in the 12 months prior to the survey period. For smartphone owners, that was 53 percent.

The top 3

mobile payment activities among smartphone users were paying bills, purchasing a physical item or digital content online, and paying for something in a store.

41%

of people with smartphones used their phone to get product reviews/information while shopping at a retail store—and more than three-quarters of them changed the item they purchased based on this information.
This video shows more highlights from the Federal Reserve Board's findings.
Which Nation Has the Most Mobile Subscriptions?
That depends on how you look at the numbers. For sheer volume of subscriptions (as of 2016, the last year for which data are available), here are the top five:
China, with more than 1.3 billion mobile subscriptions
India, with over 1.1 billion
The U.S., at more than 395 million
Indonesia, at over 385 million
Brazil, with about 244 million
This is according to the World Bank, as reported by the World Telecommunication/ICT Development Report and database.
But if you measure mobile subscriptions per capita, the runaway winner is tiny Macao. This special administrative region of China has about 322 mobile subscriptions for every 100 people. In second place is nearby Hong Kong, with about 241 subscriptions per 100.
With about 123 mobile subscriptions per 100 people, the U.S. comes in at 72nd of about 250 nations for which 2016 data are available.
---
Additional Resources
This blog explains everyday economics, consumer topics and the Fed. It also spotlights the people and programs that make the St. Louis Fed central to America's economy. Views expressed are not necessarily those of the St. Louis Fed or Federal Reserve System.
---
Email Us