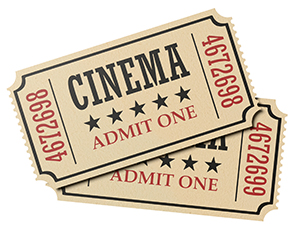 The movie Den of Thieves hit theaters last month. Its cat-and-mouse story pits a group of L.A. County Sheriff's Department detectives against criminals with an ambitious target: The Federal Reserve branch in downtown Los Angeles. The thieves' plan includes a stolen vehicle, rolling brownouts and some Chinese takeout.
This isn't the first flick to feature the Federal Reserve as either backdrop or plot device. See Die Hard with a Vengeance (1995, New York Fed) or Mad Money (2008, Kansas City Fed).
Given Hollywood's fascination with the Fed, let's expound on some of the concepts shown in these films.
Does the Fed have branches in multiple U.S. cities?
Although it's the nation's central bank, the Federal Reserve is decentralized by design. The Federal Reserve System comprises 12 main Reserve Banks that carry out day-to-day operations.
Most of these districts have branch locations, as well—24 in total. In fact, the L.A. building featured in Den of Thieves is a branch of the Twelfth Federal Reserve District, headquartered in San Francisco. The Twelfth District also includes branches in Portland, Ore., Salt Lake City and Seattle.
Meanwhile, St. Louis serves as headquarters for the Eighth District. Our branches are located in Little Rock, Ark., Memphis, Tenn., and Louisville, Ky.
This structure helps monetary policymakers consider economic conditions from around the whole country. In that way, regional Reserve Banks and branches amplify the voice of Main Street.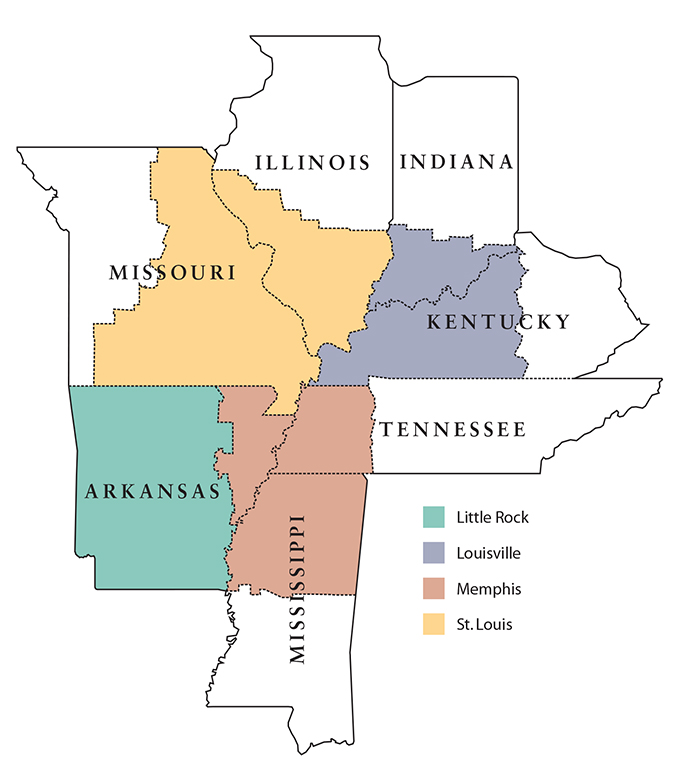 Why does the Federal Reserve handle cash?
The Fed does not print money. That's the job of the U.S. Bureau of Engraving and Printing. But the Federal Reserve Board is the issuing authority for Federal Reserve notes. Together, the Board and Reserve Banks work to maintain the integrity and supply of U.S. currency.
Throughout the U.S., 28 cash offices provide services to about 8,400 banks, credit unions and savings and loans. This includes Eighth District cash offices in St. Louis and Memphis.
If a depository institution orders currency, a Reserve Bank prepares and releases the shipment to an armored carrier.
If a depository institution deposits currency, the Reserve Bank securely stores the cash until it's verified on sophisticated processing equipment.
When it comes to receiving currency, "the thought process is, 'follow the money,' " explained a manager in our Cash department.
Among the first steps of this process is the strap-and-bundle count of incoming currency. A bundle contains 10 straps, and a strap has 100 notes. This manual count double-checks the accuracy of the original deposit ticket. Later, every piece of currency in a deposit is authenticated by a high-speed machine that can sort 40 notes per second.
So, how did Den of Thieves do when portraying this part of the Fed? "As I was watching the movie, there were a lot of things I saw that just weren't proper," the Cash manager said. "But they built a storyline. It was entertaining."
What about security?
This is a serious question. And it's one that Federal Reserve law enforcement officers take extremely seriously, especially in the post-9/11 era.
"I think it evolved a new mentality among security and law enforcement personnel to change your mindset from, 'I'm protecting a building and the people in it,' to 'I'm protecting the most critical financial infrastructure on the face of the earth,' " said a Law Enforcement official for the St. Louis Fed.
With such a weighty responsibility, Law Enforcement takes a multifaceted approach to security that includes screening, surveillance and information-sharing with other agencies. Officers receive ongoing professional training in addition to classroom, defensive tactics and firearms training.
"To new recruits, we emphasize that you're joining an institution with roots all the way back to Alexander Hamilton," said our Law Enforcement colleague. "It's really a very special thing. You may not be involved in setting monetary policy, but you're protecting the people who are."
Do Reserve Banks really shred currency?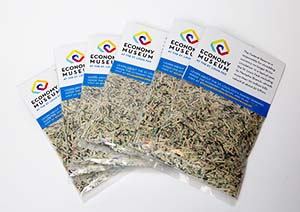 Die Hard with a Vengeance went for the gold in the New York Fed's vault. Meanwhile, Den of Thieves and Mad Money focused on currency set to be destroyed.
That's a real thing: Reserve Banks with cash offices are charged with culling currency that's too worn, too old or otherwise unfit for circulation. The high-speed counting machine used to authenticate bills also assesses their fitness.
In 2017, St. Louis Cash Operations shredded 137,390 pounds of currency. But in St. Louis, the destroyed money isn't hauled away in a garbage truck, as in Den of Thieves. Rather, the shreds are sent for environmentally responsible composting.
Can I see what it's like inside the Fed?
If you're curious, skip the movies and check out the St. Louis Fed's Inside the Economy® Museum. It's free, and it even features a video from inside our vault.
You won't see Gerard Butler, Diane Keaton or Bruce Willis. But you will learn more about the Federal Reserve System's critical functions. And you can even score a bag of real shredded currency.
Additional Resources
This blog explains everyday economics, explores consumer topics and answers Fed FAQs. It also spotlights the people and programs that make the St. Louis Fed central to America's economy. Views expressed are not necessarily those of the St. Louis Fed or Federal Reserve System.
---
Email Us
All other blog-related questions