The St. Louis Fed's Institute for Economic Equity: Pursuing an Economy That Works for Everyone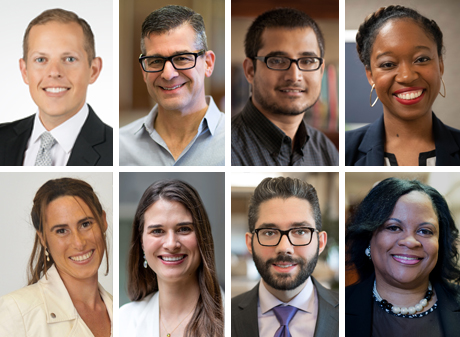 For generations, the seven states composing the Eighth Federal Reserve District have been central to the pursuit of equity in the United States. In St. Louis, a freedom suit filed in 1853 by Dred Scott resulted in a landmark decision by the U.S. Supreme Court that spurred the antislavery movement. Sixteen years earlier, across the river in Alton, Ill., publisher Elijah Lovejoy became the first martyr of the abolitionist movement, and in 1864 U.S. Senator Lyman Trumbull, also of Alton, co-authored the 13th Amendment to the U.S. Constitution abolishing slavery.
Ida B. Wells, while living in Memphis, crusaded against lynchings taking place around the nation in the 1890s. The reaction to 14-year-old Emmett Till's murder in the Mississippi Delta in 1955 contributed to the launch of the modern civil rights movement. Images of the Little Rock Nine outside of Central High School in 1957 Arkansas serve as powerful symbols of school desegregation. Whitney Young, from Shelby County, Ky., catapulted the efforts of the National Urban League in the 1960s. Meanwhile, Fannie Lou Hamer, of Ruleville, Miss., organized the Mississippi Freedom Summer Project to register Black voters and co-founded the National Women's Political Caucus.
St. Louisan Frankie Muse Freeman served as the first woman on the U.S. Commission on Civil Rights. Louisville native Muhammad Ali championed investments in the education of underserved youth. Martin Luther King Jr. delivered his "mountaintop" address in Memphis, supporting the campaign of sanitation workers, the evening before he was assassinated.
Public response to the deaths of Michael Brown in Ferguson, Mo., and Breonna Taylor in Louisville has brought a new generation of inequity dismantlers to the table. The list of those committed to equity is long, and I expect it will continue to grow.
At the St. Louis Fed, we have been working to discern how our efforts can build on the District's rich legacy and meaningfully contribute to the conversations of equity and the associated responses taking place in our communities at this important moment and in the years to come. We have a long history of partnering to promote stronger economic outcomes in our region and conducting research that underscores how structural and historical factors—including racism and discrimination—contribute to a broad range of economic inequities along racial, ethnic, gender, educational, residential and generational lines.
Today, we are launching the Institute for Economic Equity to support an economy in which everyone can benefit regardless of race, ethnicity, gender, or where they live.
The Institute will work to:
examine how low- to moderate-income, low-wealth or systemically disenfranchised individuals and communities interact with the economy;
identify structural and institutional disparities that suppress the ability of historically marginalized communities to participate in and derive benefit from the economy;
and advance evidence-based ideas and policy analysis to foster a more equitable economy.
To further the Institute's aims, we are sunsetting our Center for Household Financial Stability and combining the Center's staff with staff from our community-based policy and analysis unit. Institute staff will work in coordination to use quantitative and qualitative analysis, as well as regular input from the communities we serve, to create greater awareness of the unique challenges individuals and marginalized populations encounter as they relate with the economy and the associated opportunities to overcome those challenges. In the days to come, we will launch a nationwide search for the Institute's inaugural director.
We are forming this Institute because we understand that economic outcomes can vary for communities of color and by the diverging opportunities available in rural and urban communities. They also can vary by gender, generation and socioeconomic class. We understand that these economic outcomes can result from historical policies and practices, as well as systems and structures that inhibit full economic participation.
We are committed to deepening our understanding of these issues and making our research available so that others can learn as well. Ida B. Wells encouraged that "the way to right wrongs is to turn the light of truth upon them." Our role in helping decision-makers and the general public have a stronger grasp on current economic inequities is one we take seriously. We can't wait to share with you the work already underway by the Institute's staff.
Additional Resources
This blog offers commentary, analysis and data from our economists and experts. Views expressed are not necessarily those of the St. Louis Fed or Federal Reserve System.
---
Email Us
All other blog-related questions