"Excess" Retirements during the COVID-19 Pandemic
During the COVID-19 pandemic, how many workers retired earlier than they otherwise would have?
Senior Economist Miguel Faria-e-Castro sought to answer that question in an Economic Synopses essay published in October, and he found that there were slightly more than 2.4 million "excess" retirements due to the pandemic as of August 2021.
Labor Force Participation during the Pandemic
Faria-e-Castro noted that the labor force participation rate declined from 63.2% in the fourth quarter of 2019 to 60.8% in the second quarter of 2020, and it had rebounded slightly to 61.6% by the second quarter of 2021. That rate was still 1.6 percentage points below the pre-pandemic rate, which indicates that about 4.2 million workers had left the labor force as of the second quarter of 2021, the author pointed out.
He highlighted several reasons why people may have left the labor force, including retirement. He wrote that "a significant number of people who had not planned to retire in 2020 may have retired anyway because of the dangers to their health or due to rising asset values that made retirement feasible."
Share of Retirees in U.S. Population
Faria-e-Castro looked at the percentage of retirees in the U.S. population. He noted that the share was around 15.5% from 1995 until 2008, but it rose thereafter as baby boomers (those born between 1946 and 1964) began retiring.
The percentage of retirees had increased to 18.3% in February 2020, just before the pandemic, he noted. After that, the share increased at a much faster rate and was 19.3% in August 2021. (See the figure below.)
Percentage of Retirees in the U.S. Population and the Baby Boomer Retirement Trend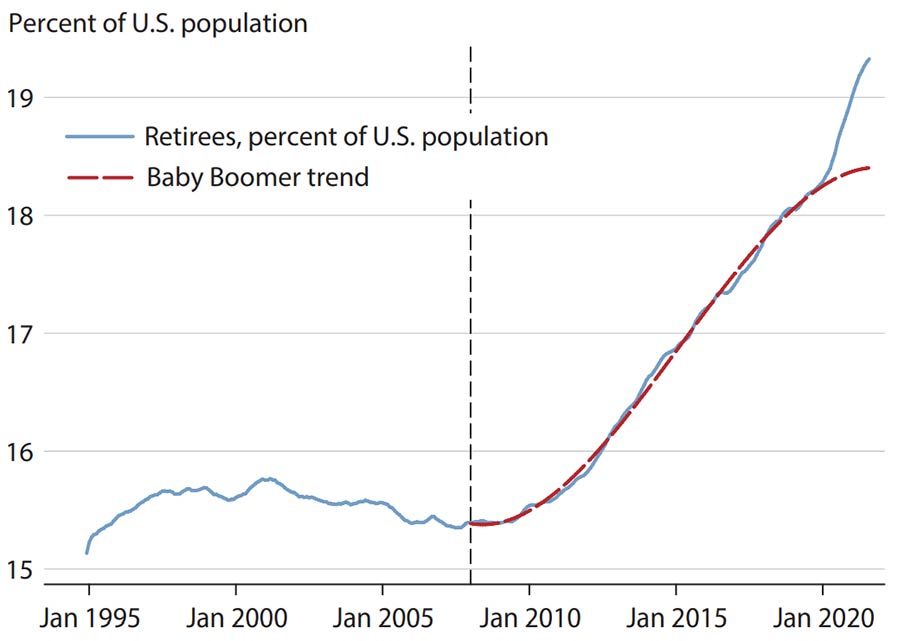 NOTE: The percentage of retirees is a 12-month moving average, and the Baby Boomer trend is a cubic trend estimated between January 2008 and February 2020.
SOURCES: Current Population Survey and author's calculations.
Estimating COVID-19 Retirements
Faria-e-Castro then compared the predicted percentage of baby boomer retirements from 2008 to February 2020 (which he considered "normal" retirements) with the actual percentage of retirements. The difference between these (in this case, 0.92%) can be considered "excess" retirements, he explained.
"Based on that number, as of August 2021, there were slightly over 2.4 million excess retirements due to COVID-19, which is more than half of the 4.2 million people who left the labor force from the beginning of the pandemic to the second quarter of 2021," he wrote.
Why Did People Retire Early?
Faria-e-Castro highlighted a couple of reasons why some workers may have opted to retire earlier than they otherwise would have:
The "excess retirees" tended to be older people, and they may have left the labor force because of the serious risk of COVID-19 infection and death for that age group.
The COVID-19 recession was associated with rising asset values, including for housing and stocks, which suggests that retirement may have become feasible for many.
Are these excess retirements permanent? "If they are, then the amount of slack in the labor market may be smaller than the 4.2 million 'lost workers' may suggest," Faria-e-Castro wrote. "However, many of these new retirees may decide to return to the labor force, which will depend on personal factors as well as aggregate labor market conditions."
This blog offers commentary, analysis and data from our economists and experts. Views expressed are not necessarily those of the St. Louis Fed or Federal Reserve System.
---
Email Us
All other blog-related questions