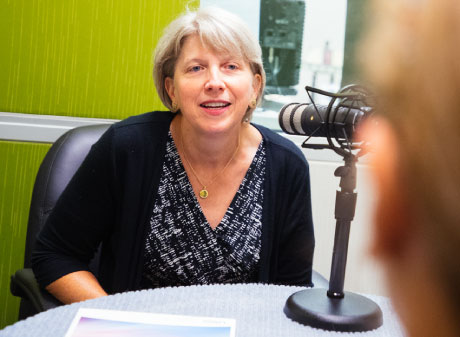 Lucia Foster knew early on that she wanted to go into the economics profession. A high school teacher's influence and real-world applications of the profession saw to that. But it was the creative aspects she learned from her father that inspired her career path.
In a recent Women in Economics podcast, Foster—chief economist at the U.S. Census Bureau and chief of the Center for Economic Studies—discussed how these two influences converged to forge her path forward.
In high school, one of Foster's teachers had a straightforward assignment for the class: Each week, students would clip articles that interested them and write a short essay on how economics played a role in that story.
"I found it very inspiring to think about … what I was learning from the class but then applying it to real-world situations and then to thinking about how people could use that to help policies to help people," Foster said.
Adding fuel to her economics fire was her father's inspiration. He took the time to talk to his children as adults about real-world issues. He listened when they shared what they thought was happening.
To top it off, he was also into the creative arts, which served as further inspiration. "I also highly value creativity," Foster said, "and I would say one thing that I think people find surprising about economics when I talk about it is how much creativity there is involved in it."
The combination of the two people's influences—the science part from her teacher and the creativity part from her dad—set her on the road to being an economist.
"You're producing something that no one's ever seen before, and you're helping people understand the world in a way that they never have before," Foster said. "So that's what drew me to economics."
Additional Resources