The Sadie Collective and Reaching Black Women in Economics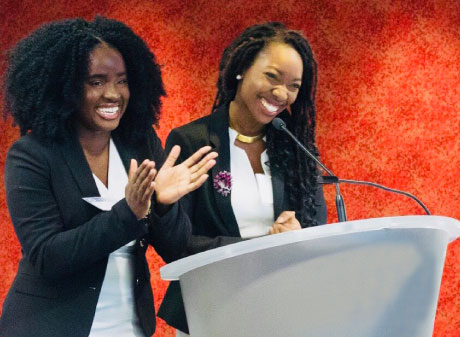 Sadie Tanner Mossell Alexander was a woman of many firsts:
The first African-American in the U.S. to earn a Ph.D. in economics
The first African-American woman to earn a law degree from the University of Pennsylvania
The first African-American woman to practice law in Pennsylvania
To Anna Opoku-Agyeman and Fanta Traore, she epitomized the ideals of their recently launched organization, the Sadie Collective, which seeks to empower, equip and educate black women in fields such as economics, public policy, finance and data science.
In a recent Women in Economics podcast, Opoku-Agyeman and Traore discussed the collective, which they started based on their experiences as black women studying economics.
Opoku-Agyeman studied economics at the University of Maryland, Baltimore County, and Traore is a research assistant at the Federal Reserve Board of Governors.
The two became acquainted when Opoku-Agyeman reached out to Traore to learn more about the American Economic Association summer program. Over the ensuing weeks, the two continued talking, getting to the point where they had become good friends by the time they finally met face to face at the 2018 ASSA conference. It was also there that they first heard that the share of black women entering the field of economics was declining.
"For me and Anna, we were very confused by this statistic," Traore said, "and it was also discouraging for us, because we understand how economics can be used to advance the public good, especially for the communities that we're from and that we care about. So, we wanted to do something about it to really understand why this is the case."
For the two friends, "doing something about it" involves bringing the issues facing minority women in economics to light. Opoku-Agyeman noted that some of the underlying social problems within the economics profession are being discussed in major media outlets. "But what a lot of these articles are failing to address is the lack of underrepresented minority women in the profession," she said.
For example, Opoku-Agyeman noted that of all the Ph.D.s awarded in economics in 2017 (around 1,150), only seven went to black women.
"It's a very staggering statistic," Traore said. "And it's an unfortunate one and the reason why the Sadie Collective exists."
Additional Resources
This blog offers commentary, analysis and data from our economists and experts. Views expressed are not necessarily those of the St. Louis Fed or Federal Reserve System.
---
Email Us
All other blog-related questions