Reflections of a Former St. Louis Fed Director: Susan S. Elliott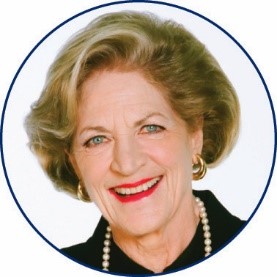 The 12 Reserve Banks, including the St. Louis Fed, reach out to their districts in many ways. The most formal and enduring way is through their boards of directors. Periodically, the On the Economy blog features thoughts and experiences of former directors. This post is by Susan S. Elliott, founder and chairman of the board of Systems Service Enterprises, Inc. (SSE), who served on our board from 1996 to 2000.
Serving on the board of directors of the Federal Reserve Bank of St. Louis was one of the most rewarding opportunities of my 50-year business career. Working alongside fellow directors—from banking, aerospace, nonprofit, agriculture and other industries—to help further the economy was purposeful, informative and also insightful in terms of running my own company.
As background, building on my experience as a mainframe programmer, I founded my own information technology (IT) business, SSE, in 1966 after being required to leave my employer because I was pregnant, a common practice in those days. Interestingly, a large commercial bank that also couldn't hire me as a pregnant woman could (and did) turn right around and retain my services through my new company. (Thankfully, times have changed.) SSE to this day provides IT services to businesses small and large, including St. Louis-based powerhouses like Monsanto, Anheuser-Busch and Emerson.
My Experience with the Fed
In 1996, I was appointed as a director of the Federal Reserve Bank of St. Louis and served as deputy chairman for three years and chairman for two years. Why was the Fed one of the most important experiences in my business career? Here are a few reflections that come to mind.
Discussions at the Board Table
At every board meeting, the directors made brief but detailed oral reports on economic conditions and trends in their respective industries and geographies. Together, these reports created an important and timely view of the economy. Plus, the examination and analysis I did of my own IT world in preparation for that presentation (including the discipline of boiling it all down to three minutes) was a huge benefit to me personally. Other board business was equally fascinating, like ensuring that the St. Louis Fed was prepared for Y2K.
Chairing the Board
As the St. Louis Fed's first female chairman, I am happy to report that my gender made no difference whatsoever. I was respected as an accomplished business person. And, honestly, I didn't pay much attention throughout my career to the fact that I was a woman. I always felt that one would be rewarded for hard work and successful accomplishments. Today, five of the nine St. Louis Fed directors are women, including the chair and deputy chair.
The Search for a New St. Louis Fed Leader
As St. Louis Fed board chairman, I led the search for a new president of the Reserve Bank, the result of which was the appointment of William Poole in 1998. Our search focused on finding an outstanding economist, which is what my fellow directors and I believed the Fed needed, especially at a time of the dot-com bubble and other world events. Economic scholarship continues to be a priority at the St. Louis Fed today.
Federal Reserve System Interaction and Learning
Twice a year, I had the opportunity along with the chairmen and deputy chairmen from all 12 Reserve Banks to go to Washington, D.C., for the Conference of Chairmen meeting with Alan Greenspan and the other Fed governors. It was an extraordinary experience: discussing national and local economic issues, putting world affairs into a different perspective and getting to know these distinguished Fed leaders as real people.
That brings me to one last highlight: the opportunity to serve during Alan Greenspan's tenure. He was a master of communications, and had to be in that era of "irrational exuberance." I fondly recall sitting next to him at a St. Louis Fed board dinner. I came prepared with a number of questions for him, but he didn't give much away. He was, as always, masterful!
Additional Resources
This blog offers commentary, analysis and data from our economists and experts. Views expressed are not necessarily those of the St. Louis Fed or Federal Reserve System.
---
Email Us
All other blog-related questions