Beige Book: Overall Economic Activity Expands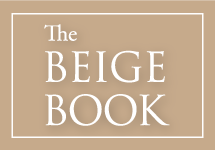 Reports from the 12 Federal Reserve districts suggest that overall economic activity expanded during the latest reporting period, according to the latest issue of the Beige Book. The St. Louis District1 was one of three to report modest growth. Several districts expected growth to continue at a modest or moderate pace.
Real Estate
Since the previous report, most districts reported expanded activity in and positive outlooks for the residential real estate, commercial real estate and construction sectors. Home prices rose across much of the country, which contacts in some districts attributed to low inventories relative to demand.
Home sales in the St. Louis District increased on a year-over-year basis, and contacts expected demand for single-family homes to stay the same or increase in the next quarter. Commercial and industrial construction activity continues to be positive throughout most of the District, and contacts reported an increase in speculative industrial space.
Labor Markets
Employment levels were up slightly overall during the reporting period, and a slight growth in wages was reported by most districts. The St. Louis District was one of three districts to mention instances of layoffs, though 50 percent of contacts said employment was unchanged from the previous year, and 40 percent said employment was higher or somewhat higher.
Most contacts (60 percent) in the St. Louis District said wages were higher during the past three months than during the same period last year, with the remaining contacts saying that wages remained about the same.
Consumer Spending
Consumer spending increased across most districts, with only the Richmond (retail sales unchanged) and New York (retail sales fell slightly) districts reporting otherwise. Inventory levels were mostly reported as satisfactory, and auto sales were up across most districts.
In the St. Louis District, consumer spending grew at a modest rate since the previous report. Auto dealers reported increased year-over-year sales, on net.
Notes and References
1 The St. Louis District includes all of Arkansas and parts of Illinois, Indiana, Kentucky, Mississippi, Missouri and Tennessee.
Additional Resources
This blog offers commentary, analysis and data from our economists and experts. Views expressed are not necessarily those of the St. Louis Fed or Federal Reserve System.
---
Email Us
All other blog-related questions