Follow the conversation between a mother and her daughter as they discuss job résumés in this episode of Personal Finance 101 Chats.
Please note: Due to recent upgrades to some internet browsers, the Personal Finance 101 Chats may not work well for all users. We suggest using the chat transcript below as an alternative to the chat application.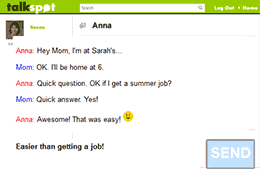 ---
Chat Transcript
Anna: Hey Mom, I'm at Sarah's...
Mom: OK. I'll be home at 6.
Anna: Quick question. OK if I get a summer job?
Mom: Quick answer. Yes!
Anna: Awesome! That was easy!
Mom: Easier than getting a job!
Anna: What? Really? Why?
Mom: Getting a job takes work, pardon the pun.
Anna: Ugh! No puns, please! What kind of work are you talking about?
Mom: You need to research employers and then apply.
Anna: Research? I do enough of that for school!
Mom: Sorry kiddo, research is something you'll be doing for the rest of your life! Do you know where you want to apply?
Anna: Sort of.
Mom: Sort of won't cut it. You need to know what businesses do and what you can do for them as an employee before you apply.
Anna: Makes sense. I was thinking about applying at Mike's Grocery.
Mom: Great! What skills will make Mike want to hire you?
Anna: I'm friendly and polite.
Mom: Yes and yes. What else? Think about what you can do.
Anna: OK. Add math whiz!
Mom: And?
Anna: I write well and speak well.
Mom: OK. You get the idea. You can put all of that on your résumé.
Anna: Do you mean resume this later?? I want to talk about it now!
Mom: Sorry! I meant résumé...it's pronounced Rez-ZOO-may.
Anna: Mom, that didn't help.
Mom: It's a document you use to show your experiences and skills to employers.
Anna: Experience? I've never had a job!!!
Mom: But you have lots of volunteer experience.
Anna: True.
Mom: That's what you call transferable experience.
Anna: Don't you put that stuff on an application?
Mom: An application is a standard form for basic information. A résumé and cover letter look more professional and increase your chances of getting an interview.
Anna: COVER LETTER?! UGH! What is THAT?
Mom: Was that a whine?
Anna: Sorry!
Mom: A cover letter goes with your résumé to a potential employer. You write it to a specific person or to the human resources department to say you are interested in working at that company.
Anna: How do I know where to send them?
Mom: You can usually find the right person by looking online. Search for the company name and then look for job openings or the Human Resources department.
Mom: Many places have online applications and you can attach your résumé. For Mike's Grocery, I'd hand your letter and résumé to him, personally.
Anna: Wouldn't I have to fill out an application FIRST?
Mom: Maybe not. For many companies, you simply need a cover letter and résumé to apply for a job. The employer will let you know if they want an application too.
Anna: So, I can apply for jobs just by giving them a résumé and cover letter?
Mom: Yes. The purpose of a résumé is to get a potential employer interested enough to call you for an interview
Anna: So, I guess a résumé is pretty important! How do I write one though??
Mom: It is important! You can find templates for sample résumé s and cover letters in word processing programs and online. Some let you fill in the blanks, but you can modify them as well.
Anna: Cool.
Mom: Remember, what you put ON the résumé is more important than how it looks. It should show your skills and make potential employers want to call you for an interview.
Anna: So, once I have it done I can just mail out the same résumé and cover letter to a bunch of different places, right? Sweet!
Mom: No, you can't use the exact same cover letter and résumé for every job you apply for. You'll have to highlight the areas of skill for each position or place of business.
Mom: For example, the skills for a job at the pool will be different than those required for working at a restaurant. You need to prove to employers that YOU are the woman for the job!
Anna: I'll do my best!
Mom: Great! Be positive! But remember...no one has to hire you.
Anna: I know.
Mom: Hey, cheer up! Challenge yourself. Applying for work isn't like a kindergarten soccer camp where every kid gets a ribbon.....You want to WIN!
Anna: Yes I do!
Mom: That's my girl!
Anna: I'll list my skills tonight.
Mom: Great! Don't forget your experience!
Anna: Right. Volunteering. Babysitting.
Mom: And band, as well as any clubs, school activities or teams.
Anna: Those can help me get a job? Seriously?
Mom: They show you are active and may help you get an interview!
Anna: Awesome!
Mom: Start looking for résumé templates online. You should be able to find one that helps you highlight skills and not necessarily work experience.
Anna: Will do. You were right, Mom. Finding work is work!
Mom: Yes, but worthwhile. See you tonight. I can help you.
Anna: Thanks Mom! ...and WHEN I get my interview, I will be asking you to help me get ready!
---
If you have difficulty accessing this content due to a disability, please contact us at 314-444-4662 or economiceducation@stls.frb.org.