Encontrar respuestas rápidas a preguntas de finanzas personales frustrante que pop hasta ahora y otra vez. Seleccione un tema y ver un breve intercambio de mensajería instantánea (pregrabado) con un experto financiero.
Please note: Due to recent upgrades to some internet browsers, the Personal Finance 101 Chats may not work well for all users. We suggest using the chat transcript below as an alternative to the chat application.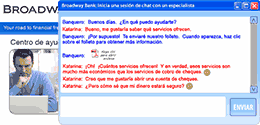 versión inglés / English version
---
Transcripción de conversación
Banquero: ¿En qué puedo ayudarte?
Katarina: Bueno, me gustaría saber qué servicios ofrecen.
Katarina: ¡Oh! ¡Cuántos servicios ofrecen! Y en verdad, esos servicios son mucho más economicos que los servicios cobro de cheques.
Katarina: Creo que me gustaría abrir una cuenta de cheques.
Katarina: ¿Pero cómo que me dinero estará seguró.
Banquero: ¡Buena pregunta! En primer lugar, nuestra bóveda es muy segura.
Banquero: Te maestro una foto.
Banquero: Ademá, estramos asegurados por la FDIC.
Katarina: ¿Y eso qué significa exactamente?
Banquero: Significa que todos los depósitos están asegurados hasta $250,000 por la Buena fe y el honor del Gobierno de los Estados Unidos. Te paso el vínculo al sitio web la FDIC por si deseas visitario: http://www.fdic.gov/
Katarina: ¿Así que aun cuando el banco quiebre o lo asalten, mi dinero estará seguró
Banquero: Correcto. Los depósitos están aseguardos hasta $250,000.
Katarina: ¡Más seguro que el cajón de mis calcetines!
Katarina: Lo que no sé es qué necesito para abrir una cuenta.
Banquero: Muy sencillo. Simplemente puedes venir a alguna de nuestras sucursales con tu tarjeta de Seguro Social y tu licencia de conducer o pasaporte.
Katarina: Perfecto.
Katarina: Una vecina mía también necesita una cuenta bancaria, pero no es ciudadana de EE. UU. ¿Puede hacer algo por ella?
Banquero: Por supuesto. Ella también puede abrir una cuenta bancaria. Sólo necesita tres cosas:
Banquero: 1) Su tarjeta de Seguro Social o comprobante de su número de identificacín tributaria (TIN). Si bien la mayoría de los bancos pide el número de Seguro Social, generalmente no tienes que presentario si no lo tienes. Haz clic aquí si necesitas más información: https://www.ssa.gov/pubs/10096.html.
Banquero: 2) Su tarjeta verde.
Banquero: 3) Y su licencia de conducer vigente.
Banquero: 3) O bien, su pasaporte.
Katarina: ¡Bravo! Se lo dire. Para mi cuenta, ¿tengo que completer mucho papeleo?
Banquero: Sí y no… debes completer un formulario, pero es corto y simple. ¿Te gustaría que te eníe una copia?
Katarina: Sí, ¡Buena idea! ¡Muchísimas gracias!
Banquero: Fue un gusto hablar contigo. Espero que pronto abras tu cuenta en nuestro banco. ¡Aquí va el formulario!
---
En caso de experimentar dificultades de acceso al contenido de esta página, en especial debido a alguna incapacidad, favor de contactarnos al 314-444-4662 o vía el correo electrónico: economiceducation@stls.frb.org.