Interview with Emmanuel Farhi (Harvard University)
Paper: "The Safety Trap"
The paper's main takeaways, according to Farhi:
If you look at a lot of big financial crises, like the Great Recession, they've been associated with a zero lower bound episode. Risk premia and returns of risky assets are not at the zero lower bound. Actually, they're relatively high, so that's an indication that we are more in a safety trap than in a standard liquidity trap.
That perspective has very important implications for the way you think about how you're going to deal with that situation from the policy perspective. Increasing the inflation target is something that would work well. Doing forward guidance is something that would not work so well. And quantitative easing is something that would work relatively well.
The Federal Reserve Bank of St. Louis hosted its 40th Annual Fall Conference on Oct. 15-16, 2015. David Andolfatto, a vice president and economist with the St. Louis Fed's Research division, sat down with each of the conference presenters and discussed their work in plain English. The content below is from those interviews. All interviews have been edited for clarity and length, so the content below should not be considered a transcript.
ANDOLFATTO

What is a safety trap?
FARHI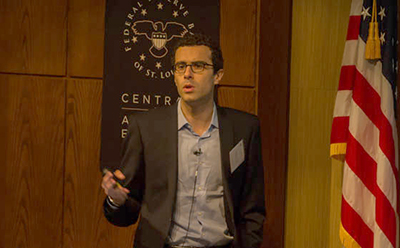 We chose that title, "The Safety Trap," because it's related to a liquidity trap. A liquidity trap is a situation where there's a lot of demand for assets and there's a shortage of assets in general, so much so that the price of assets goes up, which means that the interest rate goes down. But the interest rate can't go below zero, because there's money and bonds would be dominant of the money if the interest rate were to go negative.
ANDOLFATTO
You say there's a shortage of assets, but a particular type of assets, right? Not like a shortage of General Motors shares?
FARHI
That's right. A liquidity trap doesn't make a distinction between different forms of assets. They will have the same expected return. The perspective that we try to bring in is that the situation that I think we're in now is a shortage of a very specific kind of asset—safe assets—and not a shortage of assets in general. So it's a different form of asset shortage that brings you to a similar situation: the zero lower bound.
What we try to explain in the paper is that the fact that it's a very specific form of asset shortage, and an asset shortage in general, makes a very important difference for the way you to want to think about the situation and the way you want to think about policy, in particular, in this situation.
ANDOLFATTO
What type of assets do you have in mind?
FARHI
Safe assets, broadly speaking. By that, I mean essentially Treasuries. You could also think government bonds, safe government bonds. Or you could think about very highly rated tranches of securitization products, AAA-rated securities and things of that sort that would be backed by some form of real assets, eventually backed by land or some form of real estate, or by corporate assets.
ANDOLFATTO
W hat does it mean to have a shortage of these assets? For example, there's a shortage of highly skilled labor, and what we would expect is the price of highly skilled labor to reflect that shortage. Is that not the same case with a shortage of safe assets?
FARHI
It's exactly the same thing, and actually there's a way to view shortages of safe assets as a benign phenomenon. If there's not enough safe assets, the price of safe assets is going to go up. If the shortage intensifies, the price will go up even further.
The problem is that when you're at the zero lower bound, the piece that's supposed to make this adjustment—the interest rate—cannot do the job. And so instead of having virtuous equilibrating mechanisms through decreasing interest rates, you're going to have a perverse equilibrating mechanism that's going to come into play through a reduction in output and a recession, which is going to bring back the safe asset market and equilibrium.
ANDOLFATTO
In most cases, we would expect this asset shortage to be reflected, say, in the price of bonds or the bond yield. The scarcity should be reflected in the higher price for the security, a lower yield. But if at some point the yield is bounded below by zero or some lower bound, because the price mechanism is no longer able to equilibrate the market, the equilibration has to take place through another dimension?
FARHI
That's exactly right. The market cannot equilibrate through prices, and instead it would equilibrate through quantities.
ANDOLFATTO
But what are these safe assets doing that their shortages cause the output to fall below normal lines?
FARHI
What we have in mind is that people demand these assets for a variety of reasons. We actually don't go too much in detail into these reasons. We assume that there are some people who are extremely risk averse. So for either preference reasons, institutional mandates reasons or regulations reasons, they have a demand for these safe assets, even though these safe assets are not doing anything special. They just preserve value, and that's what these agents care about, either because of their preferences or because they're obligated to do that. That drives up the demand for the safe assets.
The fact that there is a lot of demand chasing a little pot of safe assets, that's what creates the problem.
ANDOLFATTO
Suppose I'm a risk-averse agent, I want to hold a lot of bonds, and I'm out there bidding for these bonds. What is the idea, that I should be out buying shoes and restaurant meals, but instead I'm chasing government bonds?
FARHI
It's a market failure, which means that agents are doing the best they can from the prior perspective. It just ends up creating a problem at the level of the economy in general.
ANDOLFATTO
What should they be doing if they're not buying these safe assets?
FARHI
They are. In the equilibrium, they are trying to buy them, and they're succeeding in buying them. They're satisfying their demand.
ANDOLFATTO
How does this manifest itself as a reduction in output?
FARHI
The reduction in output takes place because you have nominal rigidities. That means that output is going to be demand determinant. It's a recession that's going to end up lowering the demand for safe assets, and that's an equilibrium phenomenon.
ANDOLFATTO
Firms would like to produce more output, but they cannot?
FARHI
No. They would not like to produce more. They would like there to be more demand for their output. But there is none, and they cannot lower their prices to attract more demand because there are now more rigidities. Or maybe wages are rigid. That would have a very similar implication.
ANDOLFATTO
So the zero lower bound problem. There have been a number of economists who have advocated that the Fed, or other banks in other jurisdictions, has done this to lower the nominal interest rate into negative territory. Would those types of policies alleviate this problem?
FARHI
To the extent that it's possible. I think that's probably possible to lower interest rates a bit below zero. It would help. I do think that there's a limit to these policies.
ANDOLFATTO
What is the question, the key question or the set of questions you're addressing in this paper? How are you building your theoretical setup to address this question?
FARHI
Just to recap: The model makes the point—and builds a structure that delivers—that a safe asset shortage can drive the interest rate all the way to zero. But it will not drive the expected return on every asset to zero. You already have risk premium, and that conforms with some of the recent evidence. You've seen that everybody has commented on the fact that there's been a secular decline in short- and long-term interest rates. At the outset in the recession, the interest rates quickly reached zero. But there's evidence that the equity premium has actually increased.
ANDOLFATTO
Can you explain the risk premium and the equity premium?
FARHI
The idea is that risky assets compensate their holders for the risk that they're bearing by paying a higher return. If you look in the market, equities have a higher return than bonds. The question is: How big is the gap?
The fact seems to be emerging that this gap has widened. Even though interest rates have been going down—especially since the beginning of the recession—it's a trend that predates the recession. The rate of return on risky assets, like equities, has not gone down. So you've seen a divergence between these two things.
In my mind, this is the signature of the fact that the shortage of assets that we're seeing is not a shortage of assets in general, but a shortage of safe assets. Risky assets are not particularly expensive. Safe assets are very expensive.
Now we build this structure, and we explain how this situation can lead to a recession. It's something that could rationalize part of what's going on or what has been going on in the U.S. during the Great Recession.
Then we try to understand what policy could do. We already talked about one kind of policy, which would be trying to lower nominal interest rates below zero. And I think we could probably do some of that, but then we would reach some limits at some point because people would start substituting into cash.
We looked at other policies that have actually been deployed during the Great Recession, and we tried to assess their performance in the model and compared their performance in the model to their perceived performance in the data. The kind of policies that we looked at were unconventional monetary policies.
One thing that works really well in this model is to increase the inflation target, because that allows you to run negative real interest rates—even though nominal interest rates are at zero—because you have inflation. So that would be a good idea in the model. If you can't do that, there are other things you can try to do.
Another dimension of unconventional monetary policy is what people call "forward guidance." Forward guidance means you can't do anything with the current interest rates because those are already at zero, but you can try to promise to keep interest rates low in the future when the economy recovers. That's a policy that in typical models of liquidity traps works really, really well. It stimulates output and is very effective. Empirically, people have observed that the potency of this kind of policy might be much more limited. People are starting to term this phenomenon "the forward-guidance puzzle." This is something that we can rationalize in our model.
In our model, if our explanation is correct, forward guidance is very ineffective in contrast to standard liquidity traps analysis. If you're in a safety trap where what drives the economy to the zero lower bound is a shortage of safe assets, forward guidance doesn't work very well. This is in sharp contrast to what happens in a liquidity trap where the economy reaches the zero lower bound because you have a shortage of assets in general, and where forward guidance works really well.
Another policy that we consider is quantitative easing. There have been several rounds of quantitative easing that have been implemented in the U.S., and we have some evidence as to their effects, even though it's very debated. So we have had different programs—QE1, QE2 and QE3—and we tried to understand how that would work in our environment.
It turns out that one thing that works really well in a safety trap is for the government to purchase risky assets and to issue safe assets. A version of QE like QE1 is something that will be very effective. The government would either issue reserves or issue other forms of safe short-term liabilities, and acquire private risky assets. By doing so, the government increases the supply of safe assets and stimulates the economy. So it's a theory of quantitative easing that could rationalize why these kinds of policies can be effective.
ANDOLFATTO
Let's go back to the beginning in terms of what in your mind would be the driving force that would lead to such a shortage. Specifically, what sort of shocks might have led the economy to fall into the recession that we've recently seen? Or as you mentioned, there seems to be some sort of secular phenomenon at work here too. What is the driving force behind the shortage of safe assets?
FARHI
For the secular decline, people have mentioned different kinds of hypotheses. They go from the global savings glut to the accumulation of reserves by emerging markets to precautionary savings in the emerging markets. Some people have mentioned demographics. Some people have mentioned the decline of erratic prices of investment goods and things of that sort.
What I want to point out is that a lot of these explanations rationalize the decline in interest rates, but not necessarily the increase in the risk premium. That's a phenomenon that has to be driven, I think, by other things. And I think it's an important driver of the declining interest rate, one that shouldn't be neglected.
I think there are two things mechanically that can drive up this shortage of safe assets. It's demand or supply, to put it very simply. I think there's an element of both, especially if you think about what triggered the recent sharp decline in safe interest rates at the onset of the crisis.
I think there are some supply factors, so I think it's reasonable to have the following view: There are a lot of assets that people thought were safe, and they suddenly realized they were not so safe anymore. For example, you can think about some kind of assets backed by residential real estate and some tranches of securitizations of products that were sold and marketed as being very safe, and people perhaps perceived that they were really safe. In fact, it turned out that they were much more risky than people imagined. That could lead to a contraction in the supply of safe assets.
Another kind of asset that people thought was safe and turned out not to be so safe anymore is sovereign debt of a periphery country in Europe. These assets had very, very low yields, very low spreads compared to very safe countries before the crisis. These yields, these spreads exploded at some point during the crisis. So you have a contraction in the supply.
I think it's very natural to imagine that there's also an increase in the demand for safe assets at the onset of a recession like this one. People are just scared and afraid for a variety of reasons. And financial intermediaries are also hitting all kinds of regulatory constraints. That's going to drive up safe asset demand.
ANDOLFATTO
I want to touch back on the very interesting subtle point you made. I've never heard of this apparent distinction between a liquidity trap and a safety trap. And the suggestion that the standard forward guidance kind of principle of [economist Michael] Woodford et al. works very well in a liquidity trap situation but not so much in a safety trap situation. Can you distinguish between a standard type of liquidity trap and what you are labeling here as a safety trap?
FARHI
I'm going to answer your question by first saying again that what distinguishes a safety trap and a liquidity trap is whether it's a shortage of safe assets specifically or assets in general. Now, how is that relevant for how forward guidance plays out and the effectiveness of forward guidance?
You can think of forward guidance in a very schematic form as follows in a typical liquidity trap. You're going to promise low interest rates in the future. That's going to stimulate consumption and demand today through a variety of channels. One of them is that it will increase the value of assets in the future, because interest rates will be lower. If you expect the value of assets to go up in the future, the value of assets will go up today. So forward guidance would boost the value of assets today, and it will stimulate spending and demand through a wealth effect. People who are richer spend more, and it stimulates the economy.
In a safety trap, this logic doesn't go through. Why? Because what you're trying to do is to increase the value of assets after the economy has recovered. And you will achieve that, so the value of assets after the economy recovers will be high. The question is whether it's going to increase the value of assets today. And what happens in a safety trap is that the effect is largely dissipated through an increase in risk premium today when you're in the safety trap, so the value of risky assets actually doesn't go up all that much. As a result, wealth doesn't go up all that much, and spending is not stimulated that much, so forward guidance loses some of its bite.
You can think about it in the following way. Forward guidance is a failed attempt at revaluing risky assets, and it's largely dissipated in high-risk premium. So it doesn't boost the value of risky assets all that much, and it's because it's trying to increase the supply of risky assets. That's not the problem in the safety trap. The problem is the supply of safe assets.
ANDOLFATTO
Direct interventions or direct purchases of these risky assets—either through Federal Reserve balances or I suppose even the U.S. Treasury issuing safe bonds—either way, essentially a swap of private risky debt for safe public debt. These are the policies that seem to work?
FARHI
You could think about increasing the supply of safe assets through two kinds of policies along the lines that you suggested. The first one would be just to increase the level of public debt. We have all sorts of reasons to be worried about increases in public debt and to worry about fiscal sustainability and all of these things. I don't want to minimize them.
I want to point out that increasing the supply of public debt in a situation like this could also have beneficial effects—because it would increase the supply of safe assets—to the extent that it doesn't crowd out private safe assets. We have a way in the model of trying to think about how much crowd-out there's going to be in different regimes. And issuing debt or swapping debt for private risky assets will be more effective if there's less crowd-out. It's something that you can try to measure empirically: how much crowd-out there is.
ANDOLFATTO
In terms of the other policy you mentioned—raising the inflation target—would that be, in your view or through the lens of your model, relatively less effective, less desirable or equivalent?
FARHI
In the model, that works really well, and it's a model that's not necessarily very good at thinking about all the costs of inflation, which I also think that collectively as economists we don't understand so well. So I don't want to comment too much on what would be the costs of increasing the inflation target. I do want to point out that there is a benefit in this model, which is that it would stimulate the economy.
ANDOLFATTO
I'm a little surprised by that, because I think if we could just raise the inflation rate, we'll have the effect of lowering the real rate of interest, we'll have a negative real rate of return, and the economy is going to be really good. I don't normally associate negative real rates of interest with good, well-functioning, growing economies. Am I thinking about this the wrong way?
FARHI
I think there are two things. The first thing is: Suppose there are a variety of shocks driving the economy. So the interest rate is naturally going to go up and down. We would expect some correlation between interest rates and economic activity just from the shocks that are hitting the economy, not thinking about policy.
Then there's another question, which is: What is the effect of monetary policy? And do you believe that lowering the nominal interest rate is something that would stimulate the economy or contract the economy? The way some people think that monetary policy operates is that when you lower the nominal interest rate, you end up lowering the real interest rate and that stimulates the economy. That's exactly what would happen if you had a higher inflation target in a safety trap. You lower the real interest rate, and you stimulate the economy.
ANDOLFATTO
Prior to the lead-up to the crisis, we had several private-label products, AAA-rated tranches of mortgage-backed securities, serving as collateral in repo markets. Like you mentioned, people were perceiving these objects to be relatively safe. Suddenly, this perception seemed to have evaporated.
In your model, I think you also deal with the issue of the private provision of these assets, what motivates people to create these assets, what limits their ability to do so, and whether there's any reason to believe the private sector could be left to its own devices to produce these products. Can you tell us a little bit about the endogenous supply of these assets and what role there might be for government regulation of these products?
FARHI
That's a very good and important question. In the paper, we try to ask precisely this question, whether private agents would have the right incentives to create the safe assets, or whether, in our words, the private incentives to securitize will be aligned with social incentives to securitize. What we find is the following: In normal times, when you're away from the zero lower bound, you're not in a safety trap, private and social incentives are aligned, and there's no particular reason for the government to intervene in the securitization market. There's no market failure.
But when you're at the zero lower bound, when you're in a safety trap, there is a market failure. Private incentives are not aligned with social incentives in a very particular direction, which is the following: Agents are going to do too little securitization compared to what's socially optimal because they're not internalizing the micro-stabilization benefits of issuing more safe assets, which is in aggregate demand externally.
There's a role for the government to correct for this externality by encouraging the private supply of safe assets. And there's a way in which it relates to very concrete policies that governments implement in financial crisis, like helping financial institutions make sure that the securitization process can work effectively. This was the motivation that was given for a lot of these programs to restart the securitization market, and that was perceived to be very important.
ANDOLFATTO
So what this paper does is outline guiding principles for a well-designed public policy.
FARHI
That's right.
ANDOLFATTO
Downplaying certain types of incentives that different government agencies might have, I guess.
FARHI
Not downplaying them, but explaining what could be the benefits of certain government policies.
ANDOLFATTO
If you had to make a recommendation to the Treasury or the Fed as to what the appropriate basket of risky assets would be to purchase, what would you recommend?
FARHI
I think you have to be very careful there because the independence of the Fed is a fragile construct that we need to be very aware of. But I think it's a question that people are asking actually in Europe right now. What kind of assets should they be purchasing? What kind of risky assets should they be purchasing? And they're considering expanding into much riskier private risky asset classes. It's something also that the Bank of Japan has done. They've even purchased equities.
ANDOLFATTO
But this could be a Treasury operation. This is something that the Fed doesn't even have to do.
FARHI
Yes.