Interview with Ellen McGrattan (University of Minnesota)
Paper: "Intangible Capital and Measured Productivity"
The paper's main takeaways, according to McGrattan:
This is still a work in progress. There's a lot to be done. What I've done is looked at cyclical movements. I'm still thinking about how to deal with trends. When we think about intangible investments, think back to 1980. In 1980, there was no software industry, there was no Internet. So there's more to be done in the area of modeling changes across time.
I would like people to update their baseline model instead of saying: "Hey, my model can beat the baseline model of the 1980s." We know that baseline model is going to fail along certain dimensions because it's not taking into account intangible investments that people have estimated to be as large as tangible investments.
The Federal Reserve Bank of St. Louis hosted its 40th Annual Fall Conference on Oct. 15-16, 2015. David Andolfatto, a vice president and economist with the St. Louis Fed's Research division, sat down with each of the conference presenters and discussed their work in plain English. The content below is from those interviews. All interviews have been edited for clarity and length, so the content below should not be considered a transcript.
ANDOLFATTO

Could you start by giving us an idea of what this paper is about?
McGRATTAN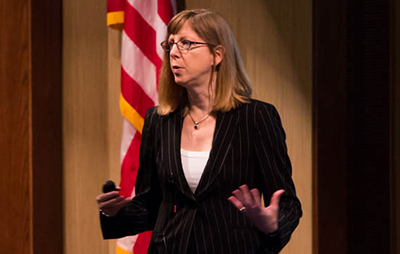 The paper is part of a bigger research program focusing on intangible investments. By intangibles, I mean things like research and development, software, mineral exploration, and artistic originals.
When you watch Gone with the Wind, for instance, profits are made by firms that produced it, and those profits are long lasting. We need to take into account that some of that profit is an investment. This issue is relevant for business cycle research, which is something I'm interested in, because when firms make large investments—and in the U.S. they do—it matters if they are not counted. Think about the national accounts of, say, the United States or any other country, and the calculation of gross domestic product. Prior to 2013, investments in intangibles such as research and development were not counted in GDP.
For example, during the tech boom of the 1990s, companies were doing lots of research and development. We have the Internet coming online, big developments in telecommunications. We did not see large increases in output. We did see large increases in inputs like hours of work. So measures of productivity, like GDP per hour or something we call total factor productivity, did not change a lot—it seemed like the economy wasn't booming, when in fact the economy was booming.
ANDOLFATTO
You mentioned when we watch Gone with the Wind, an intangible form of capital that generates a stream of income. But surely when we watch Gone with the Wind, it generates advertising revenue for the owners of this capital. Isn't the income produced by that capital counted in the GDP? What is not counted then? The actual investment?
McGRATTAN
Yes, the investment. Let's go back to basic economics. We count our products and our incomes. Wages to researchers and developers—the scientists—that gets counted. Wages to those in advertising—that gets counted. But the actual investments show up as intermediate goods. It shows up as an expense to the firm. Effectively, it looks like the investing firms have lower profits and lower investments. It's counted in some sense, but as an intermediate good, not as a final good.
When we add up everything to get total GDP produced in the economy, what it looks like is simply that one business paid another business. The investment wasn't capitalized; it was expensed. So we—the macroeconomists—don't see it. It looks to us like output or GDP, as we normally measure it, is not booming when other things like tangible investment, investment in buildings and equipment, and hours are booming. To us, it looks very confusing because we think: "Wow, these are good times, but we don't see it in the productivity measures." We are left wondering what is going on.
ANDOLFATTO
Is this mismeasurement issue more of a recent phenomenon?
McGRATTAN
We don't know. Ed Prescott, who's at the Federal Reserve Bank of Minneapolis and Arizona State University, and I have been involved in different projects that look more under the hood to better understand the measurement. We did a study of the 1990s.
This work that I'm doing now tries to look beyond the 1990s to see if there is a problem of measurement more generally. I'm aided with data from the Bureau of Economic Analysis. In 2013, after we did our study of the 1990s, the BEA introduced some of the intangible investments into the accounts. They now include research and development and software as final goods.
ANDOLFATTO
But when they included it as expense items, you have data for that as well, do you not?
McGRATTAN
We did. We always had part of it. We have what the BEA calls the input/output tables. In the input/output tables, you'll see estimates of intermediate inputs. We also have survey data from the National Science Foundation since 1953.
So we knew these investments were being made. That helped us when we were thinking about the 1990s, because we could look at those investments directly. The BEA is now coming up with a new concept of GDP and integrating information on intangibles into their notion of output or GDP. This information was not in GDP before.
ANDOLFATTO
If a dedicated researcher wanted to, they could go back and reconstruct the actual GDP? And when one does that, people would be interested in what the differential is over time? Is it a lot? Has it been growing when one performs this exercise?
McGRATTAN
It's interesting that you ask that, because the best guess is that only about 30 percent of intangible investments—what people have measured directly or indirectly—is currently included in GDP. So there's still a big measurement issue.
There is a lot of indirect evidence. We can see stock valuations. When companies make investments, their stock values reflect that. But as you know, the stock valuations move around a lot. It's oftentimes hard to disentangle the investments from other things that might be changing their prices.
It's a bigger research program—bigger than just this one paper—to try to get an overall sense of the impact that these intangible investments have on the overall macroeconomy.
ANDOLFATTO
It might useful to just really briefly describe what you and Ed did in terms of explaining the '90s. What was the puzzle there? What was the resolution?
McGRATTAN
When we were thinking about the 1990s, I was at the Federal Reserve in Minneapolis. The president, Gary Stern, repeatedly asked us: "Why are hours going up so much? Why is employment booming? I don't see anything in the productivity statistics. You guys study theories where productivity matters a lot. Explain it to me." We had no good answer. We scratched our heads for years.
Meanwhile, we had been doing another study that looked at stock valuations. We quantified the size of the intangible capital stock. At that point, we connected the dots. We realized that introducing intangible investments could help us think about both stock valuations and business cycles. If it's missing in our models of the stock market, it's missing in our models of business cycles.
So we scratched our heads for a long time, but we figured out that the lackluster productivity measures were a result of our mismeasuring GDP. We extended the standard model. And when we extended the standard model, we saw that the big hours boom was not only showing up in the data but also showing up in our theory once we accounted for the intangible investments.
Now the 1990s is a period of a big boom. When you look more recently—say, at the downturn of 2008–2009—you will see the flip side. We see that measures of productivity didn't fall very much, but GDP and hours fell a lot. That's why I started thinking that a more general issue of mismeasurement is involved here. We're seeing little change in the measure of productivity with big changes in economic activity, a fact that has sent people in many different directions, for example, thinking that it's got to be something about financial markets or something about labor markets. It could be that our old standard model actually does quite well in accounting for the downturn if we properly measure movements in productivity.
But it is the flip side. The period of the '90s was a boom. The recent downturn is a recession. If our theory is right, we should see little movement in measured productivity and conventionally measured GDP and lots of movement in hours.
ANDOLFATTO
The question you're asking is one of trying to understand to what extent this intangible capital is playing into the dynamics of the measured productivity over the course of now the recession that we just came out of? You use a model to bring to bear on this question. How do you do this? What are you doing here?
McGRATTAN
First of all, I go to the data. I look at the new accounts, how they're remapping the input/output tables and redefining GDP. I made further updates beyond what the BEA has done to reallocate other categories that I know are going to be reallocated in future revisions of the national accounts.
I use those new accounts to parameterize a theoretical model. I know things like, for each industry, how much is spent on intermediate inputs, how much is sold to consumers, how much is sold to other businesses in terms of capitalized investment. I can use all that data to parameterize the theoretical model, updated to include intangible investments.
Then I ask myself: "What's the contribution of just the ebbs and flows of productivity over the business cycle from the lens of that model?" To answer this, I have to use some statistical methods to simulate the model and compare the model's prediction with the data from the BEA. The idea is to work with parameters of the model that imply a good match between model predictions and observed outcomes.
I want to also allow for the possibility that I could be completely wrong: The model could be a bad match to the data. To allow for this, I include some measurement error. The way I add the measurement error is very specific. I know the old models without intangible investments did a very poor job in matching hours. That's what we saw in the '90s. I allow for something that could make hours move around, as we saw in the U.S. data. Then, if the theory is wrong—if productivity is not affecting intangible investments, and intangible investments aren't affecting GDP—the measurement error would account for movements in observed data.
I f I found that measurement error was needed, I'd say this is a poor theory of the U.S. economy. The main finding is that the added measurement errors are small. In other words, the extended model with the intangible investments included does a very good job accounting for the cyclical activity over the U.S.—all the way back to 1948.
ANDOLFATTO
For this model, it seems to fit the data pretty well, especially when you account for the intangibles. What does the model identify as the causal impulse of the recent crisis and recession?
McGRATTAN
That's a good question, because we're taking as given that there are fits and spurts in actual total factor productivity.
ANDOLFATTO
So the actual is unobserved as far as you're concerned and you're trying to estimate it?
McGRATTAN
Exactly.
ANDOLFATTO
Was it a sectoral TFP movement or was it an aggregate?
McGRATTAN
It was something hitting all sectors. It was something hitting the common component of TFP. And it's coming in strongly for all the sectors in the model. Now one might ask: "What generates this?"
ANDOLFATTO
And was it actually a decline in the TFP?
McGRATTAN
I'm talking about changes relative to a trend. If you think about total factor productivity—I want you to think back to 1900 in the U.S. and all the way up to 2015. With the same factors of labor and capital over time, we make more and more widgets, and we do better and better. We're more and more efficient.
What I'm looking at are movements in efficiency around that overall growth trend. When I say it's going down, it's really not going down overall because there's an overall upward movement in our knowledge. We get better and better at producing with the same amount of inputs of capital and labor. But sometimes we're really good, and sometimes we're not as good. There can be times when there's very high total factor productivity relative to trend and low.
Now there are also some negative factors—for example, when anything hinders efficiency. If you increase regulatory burdens for firms, that can look like a negative or a not-as-good time for productivity, because you're affecting the efficiency of firms. When the firms have to do a lot of accounting for every little detail, that can look like a negative productivity shock in my model.
ANDOLFATTO
Many critics of neoclassical theory will point to what they regard to be the implausibility of these major events, these crises. Well, it's perhaps a bit more plausible when you and Ed were talking about the boom in the 1990s.
McGRATTAN
But they have to think of it as relative to a trend, right? Because remember, this is not saying that productivity is going negative; it's that the growth is slowing.
ANDOLFATTO
That's quite a bit more plausible, right? I mean, as opposed to actually estimating that productivity contracted by 5 or 10 percent.
McGRATTAN
Right. They would say: "Wow, you're throwing out the blueprints?" No, we're not. But, of course, there are factors that are negative. If you make firms fill out lots of paperwork, that can make TFP growth negative.
ANDOLFATTO
So this is interpreting the TFP a little more broadly to include regulatory burden, for example?
McGRATTAN
Because that's what we're going to pick up.
ANDOLFATTO
I heard you mention that one of your lifelong goals is to develop a framework suitable for policy analysis. And we've been working at this a long time. I've been seeing this model become richer and more realistic and better.
Does the model, the competitive equilibrium in your model, model government regulations necessarily?
McGRATTAN
No. There's nothing that impedes competition.
ANDOLFATTO
So the recent crisis we went through was completely efficient. It was just a by-product of a slowdown in productivity growth?
McGRATTAN
That's a good question. A lot of people think there were some disruptions in financial markets. That may well be. The baseline model that they'll typically use to analyze the economy and build on is the baseline without the intangible investments included. That model economy has no chance of accounting for what we recently saw.
What I'm trying to do is develop a better baseline model, one with competitive markets, no frictions, no disruptions. This is what I presented today. I want to set a higher bar for people who would say: "I've added something to the standard model that does much better in accounting for the data." My response is: "I want you to start with my baseline model. Then, add to that baseline model the financial disruptions that you see in the U.S. economy." It would be nice to know how much of the aggregate fluctuations are due to factors that the government can't fix.
The government could fix some regulatory issues—no doubt about it. But if it's about how much we're getting out of scientific progress—those ebbs and flows in scientific progress—there's nothing that the government can do about that.
We have to be a little bit skeptical when people say we now need the Fed to do this or that. Or now we need Congress to do this or that. We have to know what the policy will do in a decent baseline model that fits the data well.
ANDOLFATTO
I noticed from the graph the estimated fit to the actual data. Your model-to-data fit looked really, really tight. That's just basically ascribing zero role to financial market frictions in the recent episode.
McGRATTAN
Unless they manifest themselves as changes in TFP.
ANDOLFATTO
Most people are just going to say this is crazy. So what do you say to them?
McGRATTAN
I would say that if you think that the financial frictions had some impact, it's very likely going to show up as a misallocation of factors across sectors. What we see when people theorize about the financial crisis is that it shows up elsewhere—as in something that affects investment decisions across time.
I'm saying no, look elsewhere. If your financial frictions are having an impact on the aggregate economy, it's very likely that they're having an impact by misallocating factors across sectors. So that's where I would look if I were going to make the case that it's financial disruptions. Look at the sectors. Look at misallocation of capital. Look at misallocation of labor.
ANDOLFATTO
Think about an aggregate demand shock, a shock that makes everybody more frightened, more risk averse. They're less secure about investing in private label collateral objects. Instead of going out and spending their money, they invest in government Treasuries, for example. And so there's an aggregate portfolio substitution out of financing private capital into, say, government bonds. To an econometrician, this would look like a sudden collapse in private investments. Not a sectorial thing. An aggregate decline.
McGRATTAN
Right. And there's clear evidence it's not that.
ANDOLFATTO
That's the evidence that is telling you that, given that if you take into account the intangible capital properly?
McGRATTAN
Right.
ANDOLFATTO
I admire you for carrying on this fight. We have to challenge people.
McGRATTAN
They have to confront the facts. And I welcome disagreement. Models can be horse-raced.
I would like to raise the bar. I would like anyone who is ready to take on the standard competitive model to compare their model predictions with the Bureau of Economic Analysis data. Take their model, do the statistical analysis that I'm doing. I would welcome that because then it'll be very clear how well those theories do vis-à-vis the data.