Ayse Imrohoroglu (University of Southern California)
Paper: "The Chinese Savings Rate: Productivity, Old-Age Support, and Demographics "
The paper's main takeaways, according to Imrohoroglu:
It's not terribly puzzling to understand savings rates. People have come up with many, many different explanations, like culture for example.
Chinese save a lot because they're very patient. I don't think you need those things to understand the Chinese saving rate.
The Federal Reserve Bank of St. Louis hosted its 40th Annual Fall Conference on Oct. 15-16, 2015. David Andolfatto, a vice president and economist with the St. Louis Fed's Research division, sat down with each of the conference presenters and discussed their work in plain English. The content below is from those interviews. All interviews have been edited for clarity and length, so the content below should not be considered a transcript.
ANDOLFATTO
I thought I'd begin by just asking how macroeconomists define the savings rate. Why is it important for us to study it?
IMROHOROGLU
I would start at the individual level, actually, to define a saving rate. For a person or for a household, it's just whatever you don't consume:

You have your income.
You subtract your consumption.
The leftover is your savings.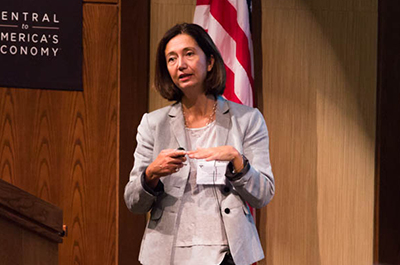 Then, we can look at your savings as a function of your income and get the saving rate. So that will be money you put aside for the future or emergencies. Whatever you put in the bank, that would be your savings.
For the country as a whole, it's going to be not just the individuals, but it's also going to be the government and the corporations that will be behaving in a similar way. When we look for the macro aggregates, we would be taking the total income in the economy, which is GDP, and subtracting total consumption and total government expenditures from it to find the savings for the whole country.
Why is it important? Because the money you put aside is available for firms to then borrow to invest. If individuals are saving the money in a bank, let's say, the firms will borrow from that money. They buy capital goods, build factories, buy machines, whatever, and that increases the future output in the economy. So the more money that's available for firms to invest or that will become cheaper for them to invest, the more they will invest. People believe that there's a relationship between, say, how much people save and the growth rate of an economy because there will be more funds to increase the capital stock.
ANDOLFATTO
Your paper is all about China, and you mention that the national saving rate in China has more than doubled since 1980. Could you give us a flavor as to what is the saving rate in China and how it compares to other countries like the United States?
IMROHOROGLU
The particular measure of the saving rate we use is called net national saving rate. It went up from 20 percent in the 1980s to 40 percent, pretty much, in 2010. The U.S. in that measure is probably about 6 percent.
There's a huge difference between these saving rates. I'm from Turkey, and the saving rate in Turkey is also very low. Often you would see newspaper articles that would say, "If only we could save like the Chinese, then everything would be great. We would grow much faster." So there's always this impression that high saving rates are really good and desirable, and somehow we are being very bad not doing it.
The same thing happens in the U.S. Especially before the Great Recession, there were many articles asking why Americans are not saving. There were household saving rates that were negative even. So it's kind of puzzling why some countries save a lot and some countries don't save a lot. And lots of explanations exist.
ANDOLFATTO
So the paper is about China, but I'm wondering if the pattern of economic development for China—in particular with respect to the saving rate—is very much different than the pattern that we've witnessed in the past with other developing economies or emerging economies. Is your paper really just about China, or can it be more applied to emerging economies in general?
IMROHOROGLU
The same framework can be applied to other economies. In fact, my first paper on savings was on the Japanese saving rate, and we showed very different patterns.
What happened in Japan was in the '50s and '60s they had a very high saving rate. It was maybe like 25 percent with this measure. And then it went down to 5 or 6 percent. So then the puzzling thing about Japan at that point was why it was so high initially and why it went down.
For China, it's the opposite. It was low, and then it went up. I'm also looking at Latin America. I have a paper on Chile and Mexico, and their pattern is that it's very low overall. Compared to China, very, very low.
So the same framework can be used to understand other countries as well.
ANDOLFATTO
Let's get to China then. The main question seems to be to understand what drives the high national saving rate in China and what caused it to double since 1980. How do you go about addressing this question?
IMROHOROGLU
W hat we noticed—and everybody knows this— is that there are a few important things about China I think that might make it unique. In 1980, they implemented the one-child policy. For a country like China where children traditionally take care of their parents, that means that after 1980, in like 20 years, you're going to have many, many families with one child. Suppose two adult children get married. They're going to have four elderly parents to take care of. That's going to make it quite difficult.
Another unique thing about China is that there's no government-provided long-term care. For example, we have Medicare here. We have Medicaid for the poor. If they face long-term health risks, we have government-provided policies that take care of them.
In China, no such thing exists. With the elderly, what they do, or used to do, is that they would rely on their children. They would live with their children, or one of the adult children would take care of a sick parent. This isn't going to be able to happen. After basically 2000, 20 years after the one-child policy was passed, you're going to have more and more families who cannot depend on their children. So it's really easy to imagine that they're going to save for old age.
For that, we built a model that has dynastic families. In these models, parents and children maximize a joint utility function, so you don't have to say "This is how much they care about their children," or "This is how my children care about their parents." They care as much as they care for themselves. They're equal.
I actually like those models a lot. What happens in those models is if the children are poor, the parents will give them money. They pay for education. They take care of them. If the parents are poor or are needy, then the children take care of them. In a model like this, if you introduce a one-child policy, very naturally you get this jump in savings that we see in the data.
We have a graph that starts from 1980 and goes to 2013, and then you see the saving rate going up. We drew the model, and we were actually quite surprised at how similar the saving rates look.
ANDOLFATTO
I presume your model provides an estimate of how much of the rise in the saving rate is attributable just to this one-child policy?

IMROHOROGLU
Yes. Before I tell you that number, let me also say that there are other things that increase the saving rate. There are shocks to productivity, which make capital more productive, and then people save more because they have more returns that they would be getting. There is Social Security, which is not sufficient, so they save for that. And lastly we also introduced individual income risk into this model. So at the end we can do a decomposition. We can say, "How much does long-term care risk matter? How much does productivity matter? How much does Social Security matter?" And currently with the numbers we have, long-term care risk matters like for 40 percent.
I know typically we do these decompositions and talk about these numbers, but I'm trying to be a bit more careful about this because I hate to say that I've calibrated to the Chinese economy. It's such a big economy with so many things going on. And so many numbers are not terribly reliable. So even Penn World Tables comes up with GDP numbers that are different than what the government is announcing.
What I want to say at the end of this paper is that, with these four elements, you get something that looks so much like the reality that you never will think this is puzzling.
ANDOLFATTO
So, we're happy to just say, well, the effects are likely large without actually pinning a specific number on it.

When people see China's high saving rates, it often invokes a kind of envy. But from what you've just been telling me, these high saving rates might be symptomatic of some problems in the Chinese economy: a lack of an old-age-security program or something like that, or some restrictive policy on family structure. To what extent do you think that's true? That we should be not so envious of these high savers?
IMROHOROGLU
It's totally true. In the case of Turkey, the fertility rate is so high that people have, like, three children compared to one, and they do rely on children's support. So it wouldn't be a very good policy implication to say, "Oh, OK, have fewer children and you'll have higher savings." What purpose does that serve?
I think one has to really think deeply about why a country is saving a lot. Although an envious part, a part of the high savings in China is coming from high productivity. That part is an important positive thing.
ANDOLFATTO
High productivity growth or high productivity?
IMROHOROGLU
Total factor productivity is high, so the growth rate of total factor productivity is high.
ANDOLFATTO
Don't people usually want to borrow against higher future productivity, not save?
IMROHOROGLU
That's true, but if it's temporary, and they usually are. Those are the better times that you would invest and save. In our model, saving and investment are equal to each other.
ANDOLFATTO
So technically, your theoretical framework in which you're addressing this question is a closed economy? And, of course, we know, in fact, China is not a closed economy. It was running large, large trade balance surpluses.
IMROHOROGLU
Yes.
ANDOLFATTO
That might affect perhaps some of the quantitative results?
IMROHOROGLU
I don't think so, because if you look at the graph, both investment and saving are going up in China. It's not like they're behaving differently. It's a puzzle that saving is greater than investment, and that's the part that's creating the surpluses. That will have its own explanations, I'm sure. But what we're after is trying to understand why both of them are going up. I don't think the answers will change. I think there will be additional answers or factors to why one is higher than the other all throughout this time.
ANDOLFATTO
In terms of say policy implications, if you were invited to speak on certain policy reforms, would you have any lessons to draw from this work or your other work, not only for China, but perhaps even other economies? Anything you'd like to stress?
IMROHOROGLU
I think China is trying to implement government-provided long-term health care. And I think it is important for them to do that. People do need that kind of insurance. It's a big risk. There are anecdotal stories that some Chinese elderly commit suicide because they don't want to rely on their kids and ruin their lives. Health care risks are really important risks, and providing insurance for that is an important role of the government, I think.